Dear Artist,
While browsing calls to entry recently, I came across an exhibition aimed at artists over 60. The gallery's mission, said the call, was "to create a dialogue with the arts community supporting our belief that older, lesser-known artists must not be overlooked due to age or decreased marketability in the current art scene." The gallery is the project of the Carter Burden Network — a New York non-profit which advocates for the efforts of older people. The gallery, as part of this mission, has classified these artists as, "re-emerging."
The terms "emerging," "mid-career" and "established" have long functioned to gather professional artists into loose categories for the purpose of helping collectors determine their investability. They're art world labels — a little like identifying a stock as a penny or a blue-chip — and are mostly just troublesome for the artists themselves. "If I've been plodding for 30 years with only a modicum of heat, can I still be considered "emerging" for the sake of my future potential?" asks an artist in his 50s — or 80s. Meanwhile, a pimple-faced has-been scrambling to prop inflated auction results no longer enjoys the freshness of the term. This dehumanizing taxonomy is meant to follow an artist's market value rather than her age, though the art world is hardly exempt from the greater world's obsession with juvenilia. How long does one really get to stay "emerging," as opposed to, say, "somewhat permanently undiscovered?" Art professionals struggle to agree but the answer could be found in the amount of time a blushy starlet gets invited to play the ingenue. By a totally different set of values, what professional achievement, exactly, signals "established?" Does it involve what my Dad called, "the dirt nap?"
While we can all agree that labels are for suckers, we may also acquiesce to their usefulness, when suits. When Yayoi Kusama turned 90 in 2019, she was among the most skyrocketed artists alive. Her beginnings in Nagano Prefecture, Japan were perhaps like a lot of other arty dreamers seeking fame and fortune: she escaped a stifling upbringing, toiled against systemic exclusion and cultural conservatism, attended art school, gate-crashed the pillars of the establishment and moved to New York in time for her 30th birthday. She also suffered from hallucinations and mental illness, which she channelled into a personal, future-forward painting practice; plus sculpture, performance, environments and films. Kusama stirred the pot with a thirst for publicity and recognition, and garnered a respectable amount of attention until the dominant movements of 1960s New York shifted away from her antics and psychedelics to a more conceptual, and often distinctly American aesthetic. Kusama returned to Japan and drifted out of the scene. By the late 1970s, she was voluntarily living in a psychiatric hospital.
In 1989, 32 year-old curator Alexandra Munroe flew to Japan and retrieved Kusama's archive in preparation for a retrospective at New York's Center for International Contemporary Arts. "The time," Munroe later wrote, "was right for a rigorous reappraisal of modern Euro-centric and gender-biased art history that integrated Kusama's work into a more expansive view of postwar and contemporary culture." Kusama, or at least her star, had re-emerged; she was 60. Four years later the New York Times, when reviewing her solo retrospective for the Venice Biennale's Japanese Pavilion, called her comeback "a resurrection."
Sincerely,
Sara
PS: "Our Earth is only one polka dot among millions of others… We must lose ourselves in the ever-advancing stream of eternity!" (Yayoi Kusama)
Esoterica: "Carter Burden Gallery targets NYC artists over the age of 60, fostering a supportive and culturally-diverse community of re-emerging artists. We celebrate this community's unique ability to share lifetimes participating as vital members of New York's arts culture, and work to create opportunities for networking and responding to each other's work, thereby invigorating the creative process. In recognizing this community, we confirm their continued value and contribution to the arts." So reads the mission statement of Carter Burden Gallery in Chelsea, New York. If you're 60-plus, you can reply to their latest call to entry, here.
"Professional artists never stop doing what we do, and in many cases we get better at it as we go along." (Marlena Vaccaro, Director of Carter Burden Gallery, NYC)
Have you considered a Premium Artist Listing?  With each letter, an artist is featured at the bottom of this page. The Premium Artist Listings are a means of connecting artist subscribers through their work. Proceeds from each listing contribute to the production of The Painter's Keys. 
"Long ago, I decided that all I could do was express my thoughts through my art and that I would continue to do this until I died, even if no one was ever to see my work. Today, I never forget that my artworks have moved millions of people all around the world." (Yayoi Kusama)
Featured Workshop
January 23, 2022 to January 30, 2022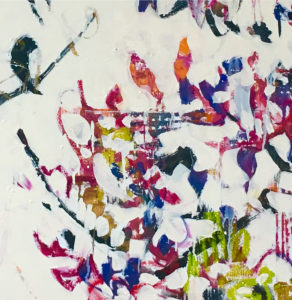 Join Ellie Harold for "Intuitive Painting: Permission to Paint Expressively," designed especially for mature women artists of all skill levels who wish to explore this medium for soulful exploration. The retreat provides attractive accommodations (your own room!) along with lightly structured activities for centering, relaxation and low stress art-making. You'll have plenty of free time to muse, paint, write and reflect while enjoying the colors, textures and flavors of San Miguel. This Retreat has the potential to transform not only your art but your life! You'll return home with a specific art "care plan" to assure support for further creating. Details at www.EllieHarold.com.
Featured Artist
Gardens are my enduring inspiration, and getting to the heart of the flower, my passion.