Dear Artist,
Those of us who sometimes mentor and instruct students are familiar with trying to get people to really look at things. Recently, after a few days walking around in a subject-rich environment, I was agog with new possibilities. Burdened with reference, I returned to the studio and proceeded to paint the worst thing I've done in some time. It was one of those paintings that can have you considering a career in accountancy. During the fiasco I began to better understand a syndrome I've had all my life. It's what I call "the tyranny of reality."
Let me explain. When we are overloaded with subject matter, we have an automatic tendency to neglect style and imagination. Subject matter is no match for spirit. Too much observation can change the creative event from one of spirit to one of rendering. Surprise, chance, illusion, personality, audacity, confidence and desire are the most affected. Abandonment and even desertion may have to be contemplated.
Sad to say, but glorious nature stomps on creativity. The artist becomes not a master, but a slave. On the other hand, reflecting in tranquility, uncluttered by overabundance and the need to get reality right, one is free to pass to another level. "Reality," said Joyce Cary, "is a narrow little house which becomes a prison for those who can't get out."
In 1970, the distinguished critic and social theorist Roland Barthes wrote, "Painting can feign reality without having seen it." When I first read that statement a door opened. Time and again I've seen the idea make timid artists brave. Those who dare to "feign reality" are in the agreeable business of surprising themselves. Believe me, it's anticipated surprise that keeps us at our easels. I hardly know of an evolved artist in any field who doesn't understand this. "The job of art," said Françoise Sagan, "is to take reality by surprise."
Bogging down in detail will spoil the fun every time. I can't think how many times I've failed to break down that door. Clive Bell, another critic lashing out in the age of hyper-realism, noted, "Detail is the fatty degeneration of art." He has a point. Fat is tyranny. Reduce.
Best regards,
Robert
PS: "The aim of art is to represent not the outward appearance of things, but their inward significance, and this, and not the external manner and detail, is true reality." (Aristotle)
Esoterica: Many significant artists might say that the opposite is true, and for many, it is. Artists with no respect for or understanding of reality can be a slave to their own imaginations. When these imaginations are shallow, which they sometimes are, there's nothing like a shot or two of the real world. One of the hazards of art instruction is where you suggest one person might loosen up, and you tell another to start looking more carefully at things. Within earshot, people are getting the opposite information. It's not like accountancy at all.
This letter was originally published as "The tyranny of reality" on April 15, 2008.
The Letters: Vol. 1 and 2, narrated by Dave Genn, are available for download on Amazon, here. Proceeds of sales contribute to the production of The Painter's Keys.
"I believed that by a process of what I can only describe as inward dilation of the eyes I could increase my actual vision." (Paul Nash)
Featured Workshop
August 19, 2019 to August 26, 2019
Discover the majestic island of Santorini with George Politis AWS, SDWS, RI. Small and large format, painting in watercolour and other watermedia like watercolour pencils, acrylic inks and collage, learning techniques and how to see and find a subject (often far from the obvious). Boost the creativity by new inspirational ideas, winning techniques for an once-in-a-lifetime experience. Pure watercolour to mixed watermedia, realistic to abstract painting. All inclusive (course, hotel, all 3 meals per day, transportation in Santorini during the workshop).  Up to 12 artists, all levels accepted. anliv28@yahoo.gr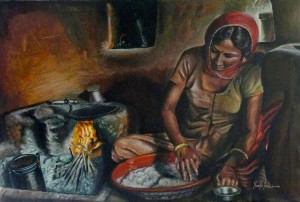 Woman preparing chappaathi
oil painting
Featured Artist
I, Ramya Sadasivam, have been practicing art since 2006. I so love to portray Indian culture, customs, day to day chores of the hard-working laborers, happy village life and life of women. I love to capture the difference in values between the shadows and bright light and also I like to capture genuine emotion.