Dear Artist,
There's a challenging creative method which produces surprising, often mind-boggling results. Some artists do it instinctively; it's the way they habitually work. This is such a good system that I would appreciate if you didn't let it go any further than between you and I. It seems dangerous, but I almost guarantee it won't kill you:
Block off a big chunk of private time. Prepare a batch of supports — panels, canvasses, paper, whatever. Get everything ready as if a big event is going to take place. It is. Squeeze massive amounts of color, vehicle, medium. Know that you're going to be fast, like a Ferrari, so you're going to need to lubricate. If possible work wet into wet. You've done a bit of planning. Turn up the radio volume. Go like a wild woman. Put your back into it — feel the sweat — the ache in your arms. Do what you always do, and then some, and calculatedly do it faster, harder, and, if possible, fresher. Let intuition and pure animal energy guide your hands.
Multitrack. Stay thinking, thinking ahead, but keep up the concert pitch. Do one, then another, then go back. Keep telling yourself that you're about as highly evolved as creators get. Be surprised. Make noises. Throw the stuff around your studio. Lubricate again. Stand on your own shoulders. Seize the day. Put down and pick up. Try new angles, different strokes. Exhaust yourself.
"Keep going until you are face down in the broadloom."
In the morning go at it again but with more circumspection, care and tenderness — a bit here, a correction there, not too much. Throw out the unredeemable ones. Sign the rest. Don't tell anyone how you did it. Savour the glory.
Best regards,
Robert
PS: "Artists are the people among us who realize creation didn't stop on the sixth day." (Joel Peter Witkin)
"Don't talk about this. Never talk about your secret methods. If you talk about them, they stop working." (Jean Cocteau)
This letter was originally published as "The Wild One" on April 7, 2000.

Download the new audio book, The Letters: Vol. 1 and 2, narrated by Dave Genn, here. Proceeds of sales contribute to the production of The Painter's Keys.
"Extreme things are like miracles. Nothing is as boring as a person who is just okay." (Joel Peter Witkin)
Featured Workshop
April 10, 2019 to April 17, 2019
Location: between Puerto Vallarta & Mazatlan, Mexico
Week-long workshop in gorgeous paradise retreat for beginning and intermediate students in oils (or acrylics with experience). You will learn how to create a painting with beautiful light that captures viewers' attention and keeps them fascinated. Small group size guarantees personal attention.
While you're busy creating art and exploring, your friendly hosts at Casa Buena will ensure that your stay is memorable. Outstanding accommodations, food, and field trips will satisfy your desire for both comfort and adventure. Spouses are welcome!
For more info, visit: http://www.casabuenaartretreat.com/Retreat_Carol.htm or contact Carole at: cpeirson@earthlink.net or call: 001-757-678-3340 (EST).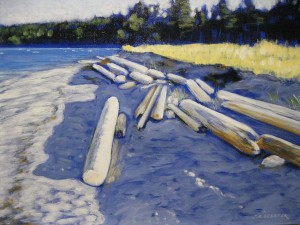 The late afternoon sun on the tip of Savary Island's Indian Point highlights the design elements of the logs and the summer surroundings of the island.
Featured Artist
My enjoyment in representing the beauty of our world with strong design and bold colours is what drives my passion for my landscape painting of Savary Island and other parts of our amazing planet.