Dear Artist,
While visiting with a curator of Canadian art yesterday, he told me about his most recent project, involving the search and discovery of overlooked artists from smaller municipalities. He observed that some artists who haven't worked in urban centers have historically found it more challenging to find attention. This, said the curator, could result in a delightfully uninterrupted focus – a thread running through the work, unmarred by outside influence, fads, or commercial demands. To him, this re-evaluation of the shadows could flesh out the story of Canadian art and amplify voices.
I thought of Carmen Herrera, undiscovered in her apartment on East 19th Street in Manhattan, whose practice of composing poetically minimalist, hard-edge abstractions remained untouched by outside influences until she sold her first work at age 89. By then of course, she was fully formed. If Carmen struggled for an audience from East 19th Street, I wondered what lay in wait in the studios of everywhere else? And even if New York is only a symbol, or a syndrome, or a myopic – an all-but-opaque view – of a wide and wonderful world of artistic possibility, up until recently (before the internet) that bigger world was perhaps, as the curator supposed, simply not always on the radar of the conventional art world. We mused about the "scene" – the '50s, the art schools, the movements and even the tunnel vision of modern curatorial practice, and what that can overlook.
"There is value in long years of obscurity," wrote Jules Olitski. "If one doesn't go insane or suicidal, in that, simply because nobody is looking, the habit of fooling around and trying things out gets ingrained." This is okay, plus cold or at least lukewarm comfort to the struggling; even if irresistibly romantic, after-the-fact, to imagine the silent plodding in obscurity of a single-minded visionary, unrequiring of feedback, let alone sustenance or shelter, which must manifest not by way of art. We do still seem to gobble up a Cinderella story. It continues, perhaps, to be longed for as part of a certain kind of archaically outdated mythmaking. As hunter-gatherers, perhaps we require the thrill of discovery to feel alive. And art is one of our aliveness-barometers. The discovery of our makers after they've suffered in the dark is a manufactured seduction as part of the armature of a power structure in need of adjustment.
Then again, for the artist, to make anything for the purpose of external reward is, in itself, a misguided errand. "It's very interesting being legendary when you can't even make a living and the public's never heard of you," wrote early 20th-century modernist painter, feminist and salonnière Florine Stettheimer, who sparkled in her own Bohemian New York circles, to then be eclipsed by history's shinier objects. "The very ink with which history is written," wrote Mark Twain, "is merely fluid prejudice."
Sincerely,
Sara
PS: "I'm afraid of losing my obscurity. Genuineness only thrives in the dark. Like celery." (Aldous Huxley)
Esoterica: Artists, like celery, need both obscurity and light. The secret is to cultivate a kind of light you can control: conditions for working, environment, attitude, desire, and what's going to bring you authentic joy. I remember walking down Park Avenue after learning that my dealer had sold a painting that would hang in a private apartment in the Plaza Hotel. I'd been scrapping away in New York for enough time to know that these types of achievements were not easy, but possible. I slalomed the sidewalk thick with white and blue collars. I called my Dad and shouted my news over the horns and sirens. He was, as he did every day, sitting at his easel, at the edge of the forest in South Surrey, wearing a telephone headset, so as not to be disrupted when the phone rang. Airedale Dorothy snored on her back in the chaise-lounge nearby. "You are paying for the privilege of being in the proximity of those who share the vocabulary of what you are trying to create," he said measuredly, mid-stroke. What he really meant was, "Your dreams are worth the sacrifice of living in that place full of all the wrong sounds."
"I don't mind going without food or sleep as long as I am doing something worthwhile to me, such as this." (Nina Simone)
Have you considered a Premium Artist Listing?  With each letter, an artist is featured at the bottom of this page. The Premium Artist Listings are a means of connecting artist subscribers through their work. Proceeds from each listing contribute to the production of The Painter's Keys. 
Featured Workshop
June 27, 2022 to June 30, 2022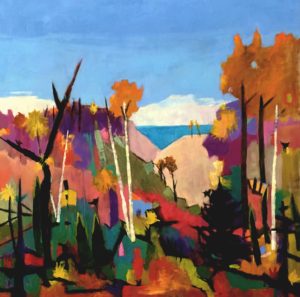 Permission to Paint Expressively Series   Session 1     
June 27-30, 2022
Join Ellie Harold for "Expressive Painting: Color from the Inside Out."  Do you struggle with color? For chromophobics or anyone who would like greater freedom in their use of color, this workshop focuses on activating and applying your innate color sense. Content, process and lightly structured exercises allow you access to a wider range of color expression in the safe space of Ellie's studio, located only 3 blocks from Lake Michigan near Sleeping Bear Dunes. "Expressive Painting: Color from the Inside Out" has the potential to transform not only your art but your life! Details and registration at www.EllieHarold.com.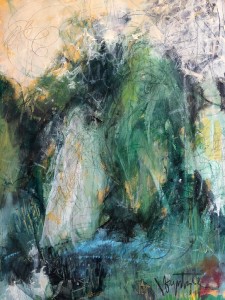 The 23rd Psalm, 2019
30 x 24 inches
Featured Artist
I grew up on a farm in Ohio, and that experience gave me a love of nature and the seasons and a deep belief in personal independence, as well as a love of experimentation. These have been the foundations of my work as a painter. I believe that learning in art or any subject is lifelong, and that the most important lessons we learn are through our personal interests and experimentation. After my husband's death in 2018, I visited Israel the next year, and was inspired by the amazing landscape colors, and especially the old city of Jerusalem, with its crumbling walls, and its deep religious importance. I found my way out of grief by painting the Eight Gates of the old city.