Dear Artist,
One of the benefits of travel, particularly if you are staying as someone's guest, is that you get to look over their libraries. Further, you find out what they are reading right now. Here, The Creative Habit by Twyla Tharp has caught some eyes. Funny to be reading a New York choreographer while hanging out in Tuscany. I have a hard time putting down books by achievers. They are often clear and practical, and speak with first-hand authority.
"Being creative," says Twyla, "is an everyday thing, a job with its own routines. That's why writers, for example, like to establish a routine. The most productive ones get started early in the morning when phones aren't ringing and their minds are rested and not polluted by other people's words. They might set a goal–1500 words or stay at their desk until noon–but the real secret is that they do this every day. After a while it becomes a habit."
"This is no different for a painter finding his way to the easel or a medical researcher returning to the laboratory. The routine is as much a part of the creative process as the lightning bolt of inspiration (perhaps more). And it is available to everyone. If creativity is a habit, then the best creativity is the result of good work habits. They are the nuts and bolts of dreaming."
In my part-time job as coach and mentor, I frequently find myself wishing for small boxes of habits, like boxes of dominoes or tarot cards, to present as gifts to those requesting. Twyla's habit-based creative progress is right on. There are, of course, a few rare folks who have lots of good habits, whose output still remains inadequate. To these, the only possible direction is the continued refinement and application of habits. For those with potential talent, unrealized progress and a dose of desire, habits still remain the key. It's up to the individual to define those habits and put them into action.
Habits lead the way to personal processes. The idea is to fall in love with your processes. When you do fall in love, you'll know it. Other doors closing can speed the joy. Twyla's other lesson: "Concentrate: you can't have it all."
Best regards,
Robert
PS: "Discipline morphs into habit." (Twyla Tharp)
Esoterica: They say that learning is finding out what you already know. We pack up our baggage, get onto aircraft, drift to another zone. Like snails we carry our shell. We look out at the new with limited feelers and sullied eyesight. In our haste to squeeze out and begin again we discover a thought: "Art," says Twyla, "is the only way to run away without leaving home."
This letter was originally published as "Twyla's habits" on July 22, 2008.
The Letters: Vol. 1 and 2, narrated by Dave Genn, are available for download on Amazon, here. Proceeds of sales contribute to the production of The Painter's Keys.
"Paint something every day." (David Hockney)
"Watch your habits, they determine your character." (Winston Churchill)
Featured Workshop
November 20, 2019 to November 27, 2019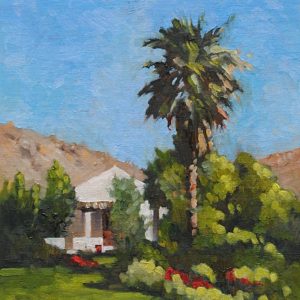 Join Canadian artist Sheree Jones as she shares her passion for painting "from life" at this idyllic coastal retreat.
This workshop is designed for experienced beginner & intermediate oil (and acrylic) painters.
The small group size guarantees plenty of one on one instruction.
While you're busy creating art, your friendly hosts at Casa Buena will be working hard, ensuring that your stay is a memorable one.
Outstanding food, accommodations, and field trips will satisfy your desire for both comfort and adventure. Non painting partners welcome.
For more information visit:
http://www.casabuenaartretreat.com/retreatSheree.htm
or contact Sheree:
sheree@shereejones.com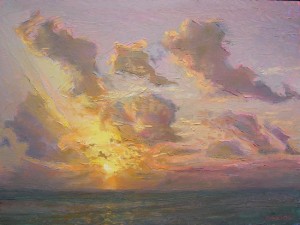 Shining Through
oil 12 x 16 inches
Featured Artist
Capturing the beauty of nature and expressing those impressions in oil paint is a joy. Every hour of the day presents new possibilities and keeps even the same landscape location, same composition, an ongoing and beckoning challenge. For this reason, I love painting series: it is exploration made visual.