Dear Artist,
Professor of Educational Psychology at University of Connecticut, James C. Kaufman, recently offered some advice on raising creative kids. His biggest tip to parents is to resist the urge to offer rewards. "Rewards and praise may actually dissuade your child's intrinsic interest in being creative…because the activity may become associated with the reward and not the fun the child naturally has doing it," he writes. When you're a child, creativity is simply playing your way through a natural process of discovery and learning. For a child, creativity is what mountain climbers call, "Type 1 fun:" it comes naturally, requires little effort, is extremely pleasurable and offers its own reward. For this reason, parents need not shower those engaged in it with effusive, generalized praise or an assessment or labelling of personality. "You are so creative," and "I love every bit of it," are not only unnecessary, says Kaufman, but problematic, because they actually disengage kids from their own reward centers.
As grown-up artists, we arrive at the understanding that creativity really does offer no reward other than the joy — now often delayed — of discovery and the satisfaction of creation. In adult life, creativity, now, at times harder to summon, suddenly slides into another type of fun: "Type 2 fun." Type 2 begins with the best intentions, is at times challenging or even miserable while it's happening, and is extremely gratifying in retrospect. Those mountain climbers — the inventors of Type 2 fun — embark on forced marches because they understand a secret about human striving and fresh air, the benefits of novelty and rigor and that you can get high from the edges of elective suffering. It's a lot like painting. Creativity, if continued into adulthood, is practised by way of compulsion and curiosity. By the time you grow up, only you can compel yourself to go to the trouble of doing it, of getting your hands dirty and enjoying it.
Here's an idea: Amongst your intersectional, intergenerational, multi-hobbied friends, take turns describing a Type 2 fun: Climbing a mountain to catch the sunrise. Learning to surf. Building a business. Painting a show. I found myself at a friend's family meal recently where the Type 2's were flying around the table with illuminating intensity. I realized that most of what we're up to is Type 2. Except for when we're not: Type 1 fun for adults is what you can imagine it is. Including bed day. And Kit Kats. There's nothing wrong with Type 1 fun, except that those engaged solely in it grow depleted in things like the authentic self-esteem that comes from learning new skills, and doing things for yourself and others, and overcoming. Plus coping and life skills for daily, guaranteed bumps in the road, and intellectual and physical robustness. One more thing: About Type 3 fun. It is, well, a little like Type 2 fun except remove the word, "fun."
Sincerely,
Sara
PS: "Writing stopped being fun when I discovered the difference between good writing and bad and, even more terrifying, the difference between it and true art. And after that, the whip came down." (Truman Capote)
Esoterica: Dr. Kaufman isn't saying don't applaud your kids. Encouragement, when specific, peppered with idea-prompting questions and laced with art supplies, is an effective adjunct to a mostly hands-off approach to an already self-motivated and creative kid. How to get others there, and/or keep them there? Normalize novelty. Apparently, seeking new games, foods, activities, genres of storytelling and art, experiences and playmates can nudge the closed off towards a habit of openness. Vary evening routines, introduce a family craft project, explore another culture, encourage intellectual engagement, take smart risks. All of this, of course, is not just for kids.
Have you considered a Premium Artist Listing?  With each letter, an artist is featured at the bottom of this page. The Premium Artist Listings are a means of connecting artist subscribers through their work. Proceeds from each listing contribute to the production of The Painter's Keys. 
The exhibition Sara Genn: Looking for Colour is on view at Gallery Jones, 1-258 East 1st Avenue, Vancouver, BC, Canada until November 13, 2021. 
"Fun I love, but too much fun is of all things the most loathsome. Mirth is better than fun, and happiness is better than mirth." (William Blake)
Featured Workshop
January 23, 2022 to January 30, 2022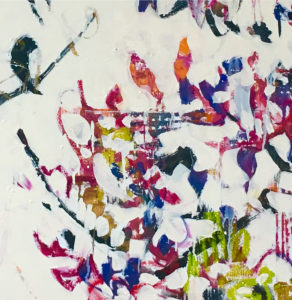 Join Ellie Harold for "Intuitive Painting: Permission to Paint Expressively," designed especially for mature women artists of all skill levels who wish to explore this medium for soulful exploration. The retreat provides attractive accommodations (your own room!) along with lightly structured activities for centering, relaxation and low stress art-making. You'll have plenty of free time to muse, paint, write and reflect while enjoying the colors, textures and flavors of San Miguel. This Retreat has the potential to transform not only your art but your life! You'll return home with a specific art "care plan" to assure support for further creating. Details at www.EllieHarold.com.
Featured Artist
Gardens are my enduring inspiration, and getting to the heart of the flower, my passion.