Dear Artist,
An elite art instructor has grown disillusioned with teaching. When asked if she could identify gifted students, she replied that talent was often lacking but audacity was in great supply. "Audacity" she said, "will only get you so far without talent or work. The greatest predictor of success in an aspiring artist, therefore, is work."
The problem, she said, is that her students were constantly looking for shortcuts — the intensity of which seemed correlated to their level of audacity. Micro attention spans, the instant gratification of social media and lots of stuff to copy, she said, made newbies impatient with the actual process of making art. Instead, "process" felt like a kind of tedious chore on the road to adulation. "Good art just doesn't work that way," she lamented. "How do I inspire students to fall in love with the process? Perhaps that system is too old-fashioned to be of any value anymore."
And what about talent? It is, perhaps too contentious or at least in its purest form, too rare to rely upon when fingering greatness. "Don't bother about whether or not you have it," wrote Richard Schmid. "Just assume that you do, and then forget about it. Talent is a word we use after someone has become accomplished. There is no way to detect it before the fact… or to predict when or if mastery will click into place." While anyone who has ever listened to Mozart may disagree, modern savvies Pollock, Rauschenberg, Munch — even George Lucas — didn't think much of it or even believe they had it in any great or special supply. It is perhaps easier for us mortals to diminish its role, lest we die in a pile of our own non-Mozarty mediocrity.
While we can all then agree that work is the dreammaker, what does that look like? To a futurist, the slogging sacrifices of La Belle Époque and its requisite garrets are nothing more than pathetic and non-applicable throwbacks. What is the future of work? It may be something entirely unrecognizable to an old-school, steadfast plodder. "Work is love made visible," wrote Kahlil Gibran in 1923. And so the question could be better understood as, "what is the future of love?"
Sincerely,
Sara
PS: "The artist is nothing without the gift, but the gift is nothing without work." (Émile Zola)
Esoterica: While watching the Olympics with my Mum this week, I blurted, awestruck, "Imagine devoting your life to trying to swim faster?" She replied, "Like devoting your life to trying to make better paintings." In that moment, I felt both entirely seen by her and connected to every individual still subscribing to the slog system. "The work of a man is the explanation of the man," wrote Paul Gauguin. I wrote to my teacher friend to offer some words of condolence: "You cannot teach writing," I remembered a man in a movie saying, once. "You can only expose your students to good work and hope it inspires them." Once inspired, there will be those special desperados who are driven to attempt to climb to the level of their heroes in quality of ideas, execution and communication — in impact. In their compulsion to reach that place, they may, just, take the long route, and fall in love with the process.
"Talent renders the whole idea of rehearsal meaningless. When you find something at which you are talented, you do it – whatever it is – until your fingers bleed or your eyes are ready to fall out of your head." (Stephen King)
Have you considered a Premium Artist Listing?  With each letter, an artist is featured at the bottom of this page. The Premium Artist Listings are a means of connecting artist subscribers through their work. Proceeds from each listing contribute to the production of The Painter's Keys. 
"It's none of their business that you have to learn how to write. Let them think you were born that way." (Ernest Hemingway)
Featured Workshop
January 23, 2022 to January 30, 2022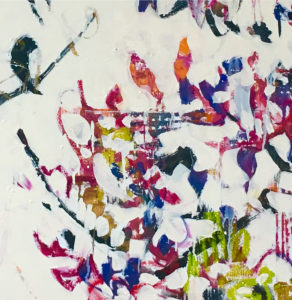 Join Ellie Harold for "Intuitive Painting: Permission to Paint Expressively," designed especially for mature women artists of all skill levels who wish to explore this medium for soulful exploration. The retreat provides attractive accommodations (your own room!) along with lightly structured activities for centering, relaxation and low stress art-making. You'll have plenty of free time to muse, paint, write and reflect while enjoying the colors, textures and flavors of San Miguel. This Retreat has the potential to transform not only your art but your life! You'll return home with a specific art "care plan" to assure support for further creating. Details at www.EllieHarold.com.
Featured Artist
Christine Hanlon, whose work has been compared to that of Edward Hopper, creates 'urban landscapes which quietly exude atmosphere.'