Dear Artist,
A traditional art form has been greatly facilitated by the advent of the digital camera. The art of Miksang was begun as a meditational tool by Shambhala Buddhists, but it has implications for painters and other creative people. The idea is to find joy and awareness by attending to the minor and seemingly insignificant — the colours, patterns and textures that exist in the close-up world. Miksang is a Tibetan word that means "good eye." Shambhalas think widespread use might lead to more compassionate and enlightened societies.
Artists have been going in this direction for centuries. Leonardo recommended seeing beauty and finding motifs in the texture of walls. You might remember several years ago I demonstrated the use of a special camera set-up, and encouraged the practice of close-up looking and capturing.
These days Buddhist instructors in several countries are handing digital cameras to kids. Children seem to take to it faster than adults and, according to some, get better results. Instructors need to be certified by the Toronto-based " Miksang Society for Contemplative Photography." Part of the Miksang philosophy is that subjects must be found and collected "as is" and not moved or adjusted to improve composition. Subjects can be man-made or from the natural world.
What value does Miksang have for creative folks? Obviously, Miksang makes for pause, reflection and quiet centering. By increasing awareness, one builds a feeling of wonder and kinship with the overlooked. But its real value is in seeing design and the subtlety of colour. To the discriminating eye the macro world is a minor symphony. Looking through a viewfinder and making decisions hone the ability to find the larger compositions. It's all about the acquired skills of looking and seeing. Buddhist or not, this art can be performed at any time and any place.
Digital photography has been a bit of a shock for the formerly film-based who thought of cost every time they pressed the shutter. Digitals are essentially "free" until you do something with them. The act of capture becomes like a prayer — free for the asking. Miksang praises the world of small.
Best regards,
Robert
PS: "To see a world in a grain of sand
And a heaven in a wild flower,
Hold infinity in the palm of your hand
And eternity in an hour." (William Blake)
Esoterica: A valuable exercise is to select a small area such as the corner of a garden, a children's playground or even a traffic island. Any inconsequential area will do. Most digital cameras have an icon (usually a flower) that sets the camera for fast close-up focus. Take CU's of everything you can find — from dew drops to bottle tops. Assess the design of each shot and frame accordingly. You can put hundreds into the camera in half an hour. Before you edit out your "failures," load them into your computer and give yourself a slide show. Don't be judgmental. Let it all dissolve by at one or two second intervals. You will be taken away, Zen-like, to a world of amazing detail, colour and design.
There are currently 30,459 miksang images on Flickr. That's up from the 3,112 my Dad mentioned when this letter was originally published as Working with Miksang on June 12, 2007.
Have you considered a Premium Artist Listing?  With each letter, an artist is featured at the bottom of this page. The Premium Artist Listings are a means of connecting artist subscribers through their work. Proceeds from each listing contribute to the production of The Painter's Keys. 
"There's nothing worth photographing more than 100 yards from the car." (Brett Weston)
Featured Workshop
July 31, 2020 to August 5, 2020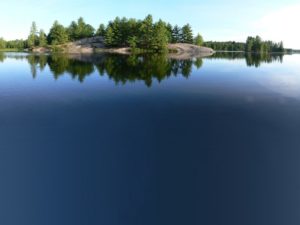 This retreat is an homage to early pioneers of plein air painting. We canoe-in and camp, paddling every day to our painting locations. This is a self-catered trip. We provide the canoes, life jackets and instruction. You bring your own provisions, tents, etc. The scenery in Kawartha Highlands is fantastic. Bald rock faces, sparkling lakes, majestic trees. Every direction you turn is another painting. Your instructor, Keith Thirgood, has been camping and canoeing all his life, and teaching artists his own unique approach to painting for over 12 years. Learn how to find order in the chaos, control your colours and create paintings that work. Learn modern colour theory, values, shapes and lines, what makes for a good painting.
If you need advice on the camping portion of the retreat, we have you supported. Even brand new canoeists have no trouble with this gentle adventure. This retreat is suitable for beginners wanting to learn to paint in a fun, outdoor location, as well as more experienced studio artists who want to try plein air, plus artists who are looking to loosen up and paint in a more post-impressionist style. To find out more and register, please visit 
www.wilsonstreetstudios.com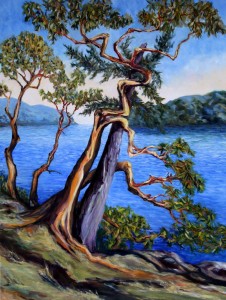 Southern Gulf Islands Afternoon 48 x 36 inch oil on canvas by Terrill Welch
Featured Artist
I am a landscape painter exposing the mystery in an ordinary day.