Dear Artist,
Rajat Shanbhag of Ohio wrote, "I have been sneaking every chance at work and most of time between paintings to read much from The Painter's Keys. Next year, I am planning to take a hard right and move from  the US to Canada to begin my painting career. I began painting nearly 3 years ago while I was getting my Masters Degree in Mechanical Engineering and have been working really hard at it every moment since then, and now I really do feel confident I can make a living out of it. I am looking for any light you can shed on steps to take the very first year. Since my mental decision to go for it, I have been looking for art residencies and thinking about connecting to some galleries and sharing my work. Anything would help. I absolutely know no one in Canada, so trying to prepare myself well before the move. I hope all is well with you. I love your take on the New Alphabet series. Seeing Bashō's name reminded me of his butterfly haiku."
Thank you, Rajat. "Come, butterfly, it's late — we've miles to go together," wrote Matsuo Bashō in 17th Century Edo period Japan. Bashō, gently urging, captured in nine words the universal, imploring longing of all transformers. Here are a few ideas:
In your first year, with the goal of working on a professional plan, begin afresh, realizing your new home, with its new vibe, will bestow upon you gifts of subject, tone and theme. Think of yourself as an explorer, making a record of your new life by pulling from and internalizing the environment. Avoid the trap of adopting the ubiquitous style of the region. Your job is to summon the uniqueness of your interpretation and communicate it in a new, special language. In your first year, aim for 100 new works.
In your first year, go to local galleries and museums to explore the artists who came before you and who are working today in your midst. You may want to join a plein air club to meet friends and painting buddies and to get to know the scene. You can apply to residencies and workshops to paint in a location-specific, totally immersive environment.
In your first year, you can comb through local calls for entry, submit to galleries and try to show. You can show, non-stop, by sharing the progress of your new endeavour on your own online feed. Resist the temptation to fall back on previous creative incarnations, or make a pitch with work that no longer reflects your time and place. Your greatest achievements in art are ahead of you, post-metamorphosis. "The journey," wrote Bashō, "itself is my home."
Sincerely,
Sara
PS: "Do not seek to follow in the footsteps of the wise; seek what they sought." (Matsuo Bashō)
Esoterica: I've noticed, when taking a leap, that the first year is often the most creatively transformative, if not the most feedback-rich or lucrative. The secret for agents of change is to instigate a first year as often as possible. The first in a new place, a new studio, a new subject or medium, a new solitude, a new gallery or new configuration of any kind that shuffles the deck of possibility. "Nothing in the cry of cicadas suggests they are about to die," wrote Bashō.
"I have spread my dreams under your feet; Tread softly because you tread on my dreams." (William Butler Yeats)
The Letters: Vol. 1 and 2, narrated by Dave Genn, are available for download on Amazon, here. Proceeds of sales contribute to the production of The Painter's Keys.
"No matter where your interest lies, you will not be able to accomplish anything unless you bring your deepest devotion to it." (Matsuo Bashō)
Featured Workshop
September 9, 2019 to September 13, 2019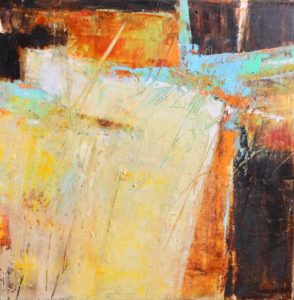 The use of cold wax merging with collage material reveals a rich surface filled with depth.  Learning when and how to add your personal marks enhances the painting while telling a story.
Held at Gwen Fox's private Art Sanctuary in Taos, New Mexico. Her 100-year-old adobe home is the perfect environment to inspire and renew your creativity.
There will be private critiques that empower, glorious breakthroughs while basking in a safe environment in which to grow as an artist.
This workshop will fill fast. Limited to 10 artists. Each artist will have their own table.
Featured Artist
Candace studied at the Ecole des Beaux Arts in Angers, France but it is her travels in the deserts of Africa and Oman, Antarctica and the Arctic, and sacred sights of Machu Picchu and Petra that serve as her true place of learning. A desire to combine these experiences with a deeper understanding of her own spirituality has provided the underlying focus and inspiration for her paintings.