Dear Artist,
Ten years ago, I was scrapping along in New York City, showing my paintings and writing and recording in two bands, one of which was in France. While on a trip home to visit my parents, my Dad casually dropped into one of our one-on-ones that I "lacked focus." It wasn't a dig. I was in the throes of what I can only describe as a "highly creative year." With professional demands not booming but steady, there was the chance to explore freely and with risk. With few personal encumbrances, adequate housing, healthy parents and friends busy with their own, stimulating projects, my days blurred into one another in the sole service of ideas. Life felt luxurious: excluded from consumerism, monastic meals, feet for transportation, and hours upon hours of improvisation. Perhaps in this way, what appeared as a lack of focus was really a kind of hyper-focus.
Ten years later, many of you are writing to tell me that there's so much going on in your life that there's no time to paint. This would be fine except that you're also expressing feelings of frustration, guilt, and even loneliness. Some of you are probably reading this between cuddles with your loved ones, or Thanksgiving dishes, community service, holiday shopping, or what my friend who is a mother, aptly described as, "putting on Christmas." For some of us, this time of year can trigger pangs of creative self-neglect, when the summoning of the quiet, solo and long-game hardscrabble of art is easily edged out by more critical human urges. In our family, I remember my Mum, Carol, sewing, shopping, writing and baking for weeks; preparing for the moment on Christmas eve, when my Dad could drop his brush into his water bucket, appear in our living room and announce that he was ready to "Claus;" my Mum having laid every detail of the groundwork for this glorious touchdown. In that moment they, in their inspired partnership, were each jolly with fatigue and creative satiation, all within the pressures they surely faced supporting our family of five. Realizing that a Christmas Carol is an increasingly endangered species, or that you, yourself, may be her, here's an idea:
Let this coming year be your highly creative one. All that is required is your desire and your conditions, which need to be somewhere within the spectrum of perfect and totally impossible. Get out your calendar and write your name on its cover page. This way, you'll know whose life you're living. If these are fighting words, channel Grace Metalious, the 50s housewife and mother, who, while living in squalor, wrote Peyton Place under the kitchen stairs while her children slept. She was 30 years old. She then hand-wrote thank-you notes to every person who bought her book, which became one of the best-selling works in publishing history.
Sincerely,
Sara
PS: "There is a time for work, and a time for love. That leaves no other time." (Coco Chanel)
Esoterica: "The difference between successful people and really successful people," said Warren Buffett, "is that really successful people say no to almost everything." By this time next year, your highly creative one will be winding down, and you may be ready to drop your instrument in its bucket for a moment. You also may have developed with practice, a personal system for a long succession of future HCYs. You may never look back. "I lost some time once." wrote Neil Gaiman. "It's always in the last place you look for it."
Have you considered a Premium Artist Listing?  With each letter, an artist is featured at the bottom of this page. The Premium Artist Listings are a means of connecting artist subscribers through their work. Proceeds from each listing contribute to the production of The Painter's Keys. 
"Nothing great is created suddenly, any more than a bunch of grapes or a fig. If you tell me that you desire a fig, I answer you that there must be time. Let it first blossom, then bear fruit, then ripen." (Epictetus)
Featured Workshop
January 23, 2022 to January 30, 2022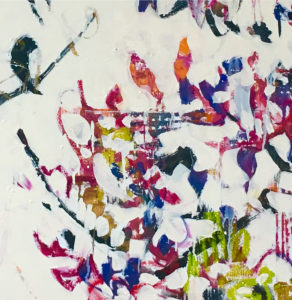 Join Ellie Harold for "Intuitive Painting: Permission to Paint Expressively," designed especially for mature women artists of all skill levels who wish to explore this medium for soulful exploration. The retreat provides attractive accommodations (your own room!) along with lightly structured activities for centering, relaxation and low stress art-making. You'll have plenty of free time to muse, paint, write and reflect while enjoying the colors, textures and flavors of San Miguel. This Retreat has the potential to transform not only your art but your life! You'll return home with a specific art "care plan" to assure support for further creating. Details at www.EllieHarold.com.
Featured Artist
We all need beauty, especially at a time when it appears to many that the world is in chaos.
Painting is the way I view my life, and it helps me keep my mind straight and my eyes on the positive. I look for beauty wherever I go. For that reason, I know that my life will not be long enough to paint all the ideas that I have.
I am painting because the Lord put the passion and desire in my heart to glorify Him in this way.
I have dedicated my life since 1983 to creating a body of work that testifies of His Creation, majesty, power, beauty, life and love.
Light and how we see it on the earth is the subject of all of my paintings.
I paint the landscape because I believe that we can see the Creator in His Creation, if we just look for Him there.
Since all who are sighted may see our surroundings, I believe this is one of the most evident ways we may see Him.
If I were to give a name to my entire portfolio of paintings, I would call it "The Sight of Heaven Touching Earth."This Scripture, Romans 1:19-20, is foundational to all of my work: For what can be known about God is plain to them, because God has shown it to them. For his invisible attributes, namely, his eternal power and divine nature, have been clearly perceived, ever since the creation of the world, in the things that have been made, so they are without excuse."
 Beauty, order, and the possibility to love is all around us—all we have to do is want to see it.