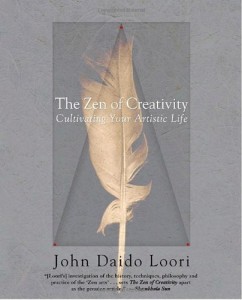 Loori, John Daido

For many of us, the return of Zen conjures up images of rock gardens and gently flowing waterfalls. We think of mindfulness and meditation, immersion in a state of being where meaning is found through simplicity. Zen lore has been absorbed by Western practitioners and pop culture alike, yet there is a specific area of this ancient tradition that hasn't been fully explored in the West. Now, in The Zen of Creativity, American Zen master John Daido Loori presents a book that taps the principles of the Zen arts and aesthetic as a means to unlock creativity and find freedom in the various dimensions of our existence. Loori dissolves the barriers between art and spirituality, opening up the possibility of meeting life with spontaneity, grace, and peace.
"Book about a Zen Mountain Monastery in the Catskill Mountains and a photographer who studied under Minor White." — reviewed by Nancy.
View more books by John Daido Loori.
Buy Here