Dear Artist,
In 2004, Carmen Herrera was a painter living in obscurity on East 19th Street, near Union Square in New York City. Widowed four years earlier by her schoolteacher husband of 61 years, she was now on her own in their loft apartment but looked-in on by her friend and neighbour, Tony Bechara. Tony was also a painter. After a dealer of Latin American Art mentioned that one of his artists had dropped out of an upcoming show, Tony recommended Carmen. When the paintings arrived at the Tribeca gallery, the dealer, Frederico Sève said, "There's something here."
A short review appeared. "This crisp handsome show picks up a thread of geometric abstraction in 20th-century Latin American art, and follows it in the work of three women who have made significant contributions to the history of that art," wrote Holland Cotter for the New York Times. "The senior artist, who is also the least well known, is Carmen Herrera, who was born in Cuba in 1915 and has lived in New York City since 1954. Her declarative, witty, hard-edge style has points of contact with Mondrian, Ellsworth Kelly and Op Art, but is most immediately connected to the vanguard Neo-concrete work of artists like Lygia Clark and Hélio Oiticica who flourished in Brazil after World War II." Quickly, a trio of prominent collectors gobbled up the show. At 89, Carmen had finally sold her first painting, and then some.
Soon, Carmen's work was travelling across Europe in solo exhibitions, then a retrospective. She found herself in the great museums, now nestled between her long-famous contemporaries; Stella, Kelly, Martin, Johns. A critic for the Observer of London asked, "How can we have missed these brilliant compositions?",  calling her "the discovery of the decade."
Sincerely,
Sara
PS: "I do it because I have to do it; it's a compulsion that also gives me pleasure. I never in my life had any idea of money, and I thought fame was a very vulgar thing. So I just worked and waited. And at the end of my life, I'm getting a lot of recognition, to my amazement and my pleasure, actually." (Carmen Herrera)
"Ms. Herrera is an example of an artist persisting in her work, unaffected by lack of recognition, a lack of sales, pursuing her vision with great rigor and self-confidence and happily receiving recognition late in life." (Jamer Meyer, curator of modern art at the National Gallery of Art in Washington)
Esoterica: By 94, Carmen was arthritic and wheelchair bound, but still making art with the help of an assistant, who made trips to the paint store and followed her drawings and instructions. Her lifetime of paintings, once piled and leaning around the loft – some on the radiator – were now archived off-site in a climate-controlled art storage facility. Carmen was also now able to afford the full-time help required to safely remain at home. By her 100th birthday, Carmen was the subject of a documentary in preparation for her retrospective at the Whitney, which opened in 2016.
In the 1960s, after studying at the Art Students League, then relocating to Paris, then returning to New York, Carmen showed with her contemporaries, but her work didn't sell. Nonetheless, some critics took notice. "Within the limits of the geometrical and hard-edge modes, a painter's success often depends on a correct gauging of what personal innovations are possible within the impersonal conventions of these styles," wrote Hilton Kramer for the New York Times. "Miss Herrera shows a canny understanding of this problem and is thus able to confer something distinctly her own." Carmen Herrera passed away at home on East 19th Street on February 12, 2022, just shy of her 107th birthday, which is on May 30.
"There's a saying that you wait for the bus and it will come. I waited almost a hundred years." (Carmen Herrera)
You can rent Alison Klayman's 2016 documentary The 100 Years Show, here.  
"You cannot talk about art. You have to art about art. Then you know something." (Carmen Herrera)
Have you considered a Premium Artist Listing?  With each letter, an artist is featured at the bottom of this page. The Premium Artist Listings are a means of connecting artist subscribers through their work. Proceeds from each listing contribute to the production of The Painter's Keys. 
No Featured Workshop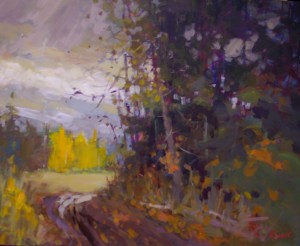 Turn In The Road
24x30 acrylic
Featured Artist
My art represents an artistic journey that has been on-going for more than thirty-five years with help and guidance from many wonderful artists. Now, with years of plein-air painting experience, study and solo exhibitions, I believe that my current work has reached its highest level, reflecting the depth of my absorption in the wonder and beauty of the world around me.  I have learned that, as an artist, I will never stop looking for better ways to express my feelings in art and that struggling to more fully understand myself is integral to my painting; a philosophy that was part of every workshop I taught. Still is.