Dear Artist,
A subscriber wrote to say that many artists proclaim themselves to be "self-taught." She cannot imagine that anyone is truly self-taught. She says, "I have learned from books, art exhibits, life, relationships, observations, and conversations with all sorts of people. I hear all comments and criticisms around me. I chew on them. I'm nourished by the ones that I decide work for me and spit out the others."
The ten-dollar word is "autodidact." It's a person who directs and controls her own course of study, often with specific goals in mind. Think of Winston Churchill's remark: "I have a naturally curious mind. I like to learn things but I do not like to be taught." While one might be taught that blue and yellow make green, the formula can also be discovered by a curious mind. It also takes a curious mind to devise the vast varieties and subtleties possible in green-making. More sophisticated art considerations such as "likeness" and "truth" may not be teachable at all — but must be individually found through exercise and dedication. Furthermore, a unique and personal style can only be won by the person who desires it — it's not the call of a teacher. The essential autodidact is hands-on, pursuing avenues of interest and gain in his or her own sweet time.
With regard to art schools, one might conclude that some of the best artists don't even go there. Sign shops, advertising agencies, commercial art departments are the schools from which many fine artists arise. These people are self-taught through observation and imitation. The aptly named "workshop" demo serves this purpose as well. Self-driven desire and aspiration propels the self-taught artist, and the world itself is her classroom. Furthermore, self-taught artists often have another advantage — the worker's edge.
Best regards,
Robert
PS: "Artistically I am still a child with a whole life ahead of me to discover and create. I want something, but I won't know what it is until I succeed in doing it." (Alberto Giacometti)
Esoterica: The autodidact is often suspicious of outside authority. He or she values creative invention and takes confidence in the idea that the personal path is the best one. "All education should be self-education." (Robert Henri) "A discovery is an accident meeting a prepared mind." (Albert Szent-Gyorgyi)
This letter was originally published as "Autodidact" on September 7, 2001.
Robert Genn and Sara Genn: Like Father, Like Daughter— 20 Years Later opens April 22nd, 2017 at Canada House Gallery in Banff, Alberta and is on view until April 30th.
"When the artist is alive in any person… he becomes an inventive, searching, daring, self-expressing creature. He becomes interesting to other people. He disturbs, upsets, enlightens, and he opens ways for better understanding." (Robert Henri)
Featured Workshop
August 2, 2017 to August 12, 2017
Join artist and teacher Paula Riley for the trip of a life time! Paint on the beautiful grounds of Le Vieux Couvent in the Dordogne region of France.  Enjoy many excursions to the most enchanting villages in France. And savor delcious homemade French country cuisine. Open to all painting levels using the mediums of oil, acrylic, or watercolor.Paula will provide demos and lots of one-on-one time at the easel. Cost includes accommodations, most meals, transportation to excursions and to/from Toulouse airport. This is the last chance to experience the fine hospitality at this lovely property, as the owners are retiring in 2018!
Questions — contact Paula at priley921@sbcglobal.net or call her at (925) 330-3060.  For more information click here. Visit Paula's website https://paulariley.com/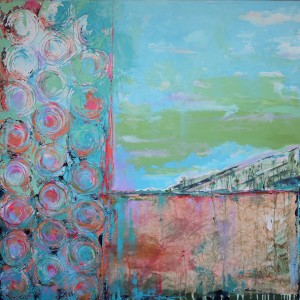 Mountain High
Featured Artist
I'm a contemporary painter who loves to travel the world over finding pictures to paint, and capture on photo…check out my website and travel with me on my blog "The Traveling Artist Blog."  http://www.meljosieart.com