Dear Artist,
A question appeared in the comments on a recent letter about studio space. "I have always painted at my kitchen table; because of the holidays and guests coming I have had to clean. Sorry to say I have not picked up a brush since then. If my table is cleared then there are no paintings. It makes me feel sad; it is hard to find a balance between keeping the house clean and producing art. Any suggestions?"
"A woman," wrote Virginia Woolf in 1928, "must have money and a room of her own if she is to write fiction." While the dining table is a tempting workspace, by its first purpose it earns the honour of a regular clean up. And while homework can be returned to the backpack, art needs room to breathe, to dry and to nudge warmly from your peripheral vision. Paintings, mid-stream, evolve best in a shop-like flow. As-yet unrealized ideas emerge from existing works-in-progress strewn around a space that's clear in its commitment to creation. Like ideas bubbling and refining in the workshop of the mind, a bit of semi-permanent disarray is the name of the game.
To reduce disruption and sadness caused by stops and starts, carve out a site with a single purpose. Consider re-prioritizing a space. Many a great masterpiece was created under the basement stairs or some other nook away from critics and the buzz of the vacuum cleaner. Last week I found in an old sketchbook a mock-up for an imaginary, dishwasher-sized box with a door in it. Presumably, the diarist was working on a subsistent painting module that could be plopped on the side of the road or in the middle of an immaculate dining room. I remember my parents' visit to my first Vancouver apartment — the derelict portion of an old, converted Craftsman. "The largest, most light-filled room in this apartment is your studio," mused my mom, while investigating a small, adjoining sitting room. I recalled my parents' own examples of work rooms: designated studio building, boatshed, sewing room, a study and always a place to snooze and contemplate with a notebook. "The studio is an extension of the sandbox and the kindergarten playroom," wrote Dad. "It's a room at the service of a dreamer on her way to becoming a master. With something to get on with — something to finish, something to start — even the tiniest of workrooms has within it the building blocks of talent."
Sincerely,
Sara
PS: "Here in a little lonely room I am master of earth and sea, / And the planets come to me." (British poet and critic, Arthur Symons)
Esoterica: Adeline Virginia Woolf was born in January, 1882 in Kensington, London and grew up with her blended family in a literary household. She received critical acclaim for her best-selling novels, Mrs. Dalloway and To The Lighthouse and Orlando, publishing her long-form essay, A Room of One's Own, in 1929 at the age of 37 — a book based on lectures she gave at two women's colleges at Cambridge. It addresses the space needed to create — both the literal and figurative — and the unique challenges women face in achieving this. In a recurring bout of depression in March of 1941, Woolf wrote a love note to her husband, filled her coat pockets with rocks and walked into the River Ouse, near her home in Sussex, England. In less than four decades she'd published 9 novels, 6 short-story collections and dozens of works of non-fiction including essays, translations, biographies and diaries. "I was in a queer mood, thinking myself very old: but now I am a woman again — as I always am when I write." (Virginia Woolf, from An Inner Life)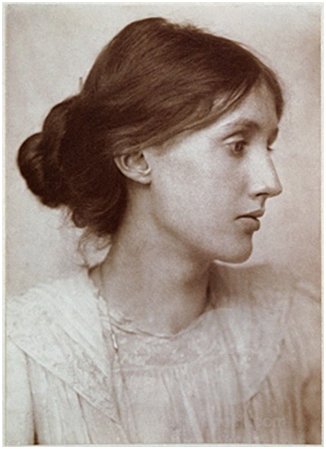 Download the new audio book, The Letters: Vol. 1 and 2, narrated by Dave Genn, here. Proceeds of sales contribute to the production of The Painter's Keys.
"The mind of an artist, in order to achieve the prodigious effort of freeing whole and entire the work that is in him, must be incandescent… there must be no obstacle in it, no foreign matter unconsumed." (Virginia Woolf)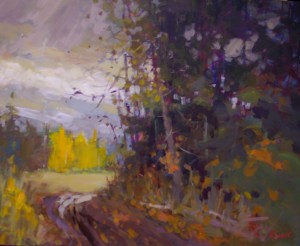 Turn In The Road
24x30 acrylic
Featured Artist
My art represents an artistic journey that has been on-going for more than thirty-five years with help and guidance from many wonderful artists. Now, with years of plein-air painting experience, study and solo exhibitions, I believe that my current work has reached its highest level, reflecting the depth of my absorption in the wonder and beauty of the world around me.  I have learned that, as an artist, I will never stop looking for better ways to express my feelings in art and that struggling to more fully understand myself is integral to my painting; a philosophy that was part of every workshop I taught. Still is.