Dear Artist, Not long ago a family friend sent me a photograph of my 30-year-old father in paint-splattered work pants standing at a limestone wall hung salon-style with paintings.
Wassily Kandinsky
, "abstract painting is the most difficult. It demands that you know how to draw well, that you have a heightened sensitivity for composition and for color, and that you be a true poet. This last is essential." In other words, the painting must have the fundamental components of good design. "All painting, no matter what you are painting, is abstract in that it's got to be organized," said
David Hockney
. Balance, vibration, weighting, form and eye control, mastery of colour, areas of visual excitement and areas of paucity, grey to rest the eye and gradations: design elements, when intuitively understood, can create a stand-alone magic. In abstraction, this intuition gets your work into the "best" pile. Feel it, and your judges will, too. And just as we're required to get right the horse's proportions, abstraction demands that we describe its truth. By the time my parents arrived to stay with friends at the 18th century parsonage at Bradbourne, Derbyshire, Dad's  little abstracts were being exhibited in a London gallery. But by then, what had initially been an interesting digression from his usual style had become a kind of creative cul-de-sac. Itching to return to the subjects and locations calling out for him, he abandoned pure abstraction and dipped his brush into the hills of Derbyshire. "When surveyed with half-closed eyes, good paintings of all genres have the feeling of abstract design to them," said Dad. "Overworking or over-detailing subjects can destroy this when the intention is to reproduce reality. It's best to formulate even your most complex ideas in the simplest, most straightforward design pattern possible." Sincerely, Sara PS: "What goes on in abstract art is the proclaiming of aesthetic principles. It is in our own time that we have become aware of pure aesthetic considerations. Art never can be imitation." (
Hans Hofmann
) "If I choose abstraction over reality, it is because I consider it the lesser chaos." (
Robert Brault
) Esoterica: Artists who work in a representational style can benefit from a set-of-abstracts experiment. Whether you're hostile to the idea of abandoning reality or have long craved the idea of flying without a net, building a series using only aesthetic intuition will test your design chops and could have a positive influence on your more conventional compositions. "When you see a fish you don't think of its scales, do you? You think of its speed, its floating, flashing body seen through the water. If I made fins and eyes and scales, I would arrest its movement, give a pattern or shape of reality. I want just the flash of its spirit." (
Constantin Brancusi
) "The longer you look at an object, the more abstract it becomes and, ironically, the more real." (
Lucian Freud
) [fbcomments url="http://clicks.robertgenn.com/abstract-principles.php"]
Featured Workshop: Eric Law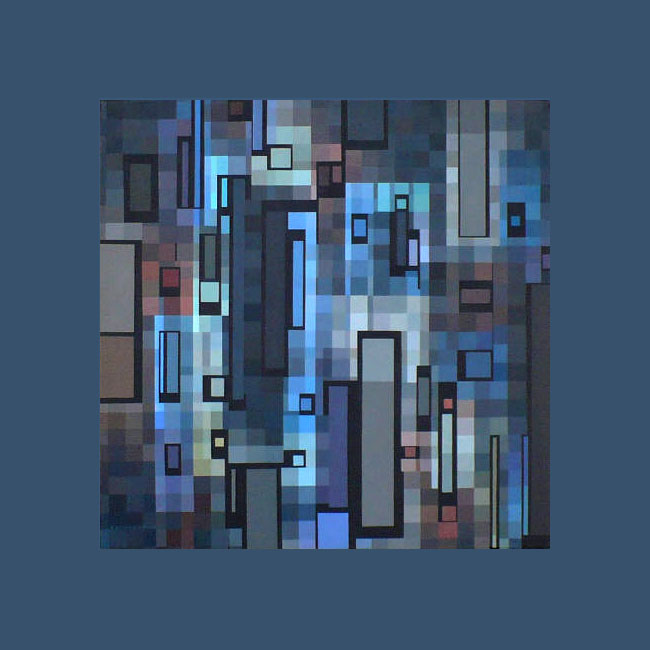 Dynamic Series – Falling Light
acrylic on canvas, 36 x 36 inches by Nicoletta Baumeister, Surrey, British Columbia, Canada
You may be interested to know that artists from every state in the USA, every province in Canada, and at least 115 countries worldwide have visited these pages since January 1, 2013.
My parents were honeymooning in Europe. They'd already spent a year in Southern Spain where Dad had begun a series of abstract paintings — a capricious exercise intended to hone design instincts. He had set some parameters — the paintings were mostly 8 x 10 inch panels and thematically similar. Dozens of these were then propped up around the rented house with each one numbered. When visitors came — and there were plenty — they were asked to identify which ones they felt were the five best and the five worst. A score was kept on the back of each panel. After awhile it became apparent that most people, no matter how divergent, will choose the same best and worst paintings. What are they picking up on? "Of all the arts," said