Dear Artist,
Jane Appleby of Burnaby, B.C. wrote, "I'm thinking I may like to put more "calm" in my work — a pause, an element of pure simple colour, and then the canvas seems to think otherwise. I try adding neat brushstrokes, limiting my palette and larger areas of one colour and the painting just doesn't seem to work for me. 37-stroke and 37-minute paintings have helped me refine my technique and I keep exploring new ways to express the landscape; however it seems that all my "brushstroke experiences" end up on the canvas. Any suggestions on how to simplify a good thing? I do recall you mentioning your dad advising you to have one neat area in your painting. Any suggestions on how to restrain one's own exuberance or do I keep delving into this emotional experience and see what happens? Should a painting hold one particular experience? Your thoughts? My process seems to involve painting en plein air, then a landscape from photo/memory and then an abstract expression. I welcome your thoughts on this process and advice moving into abstraction."
Thanks, Jane. Your paintings are a riot of colour and brushwork, providing surface interest, vibrating lay-bys, juicy satisfaction and overall painting joy. In this regard, they are the embodiment of action-painting and are successful in abstracting the landscape into a painterly, human-felt object. What you're longing to achieve now is a stronger, calming sense of design and perhaps, a feeling of "paucity." If you think of painting as a place to "go," you may be yearning for more moments of rest within all that exuberance. Here's an idea:
Your three-step process of 1. A plein-air study then 2. A landscape from photo reference or memory and then 3. Your studio abstraction is an excellent way for any artist to pull an interpretation in abstraction from the landscape. For the moment, however, suspend these steps and instead, focus solely on design from the get-go. This will anchor joyous, brushy expositions and can lead the experience of looking for the viewer. It may help at first, to choose a subject with a lot of form; a lake or blocky building like a barn, a sparsely furnished room or a grouping of household objects on a table. A wide, encompassing landscape, busy garden or dramatic sky are too tempting here for the brush-happy. Select a small handful of key forms — like three or five — and make a total design that zeros in on their shapes and how each connects. Pay attention to the negative space — it's one of your key shapes. Block everything in, relatively flat, in a limited palette of no more than three complementary colours. Do you see where I'm going here? Can you connect a few of these forms to make one of the shapes considerably larger than the others while still communicating the essence of the subject? How, in this minimalist poem, can you give us a lakey lake, or the barniest barn? Do it only with form. "The best way to be a bore," wrote Voltaire, "is to leave nothing out." Now rise from your easel and squint at your design from the other side of the room.
Have you held and led the eye around your picture? Is it still exciting, even in the absence of all your delicious brushwork? Are there pleasurable spots to stop along the way? Where are you relaxing?
How do the three colours you've chosen relate to one another? Can you improve upon this ménage à trois?
Is the negative space performing with equal and important magic?
Can you beef up the contrast in one of the colours? Try a super-dark.
Can you soften some edges and sharpen (or neaten) others? Vary the size and detail of the edges of the shapes, their corners and how they meet their neighbours. Cut in, lay-by and lay over for "neatness." Step up the size of your flat brush. Step back with regularity to check the strength of your composition, understanding that the eye needs to rest and delights in spaces of emptiness. "Design," wrote William Merritt Chase, "is everything."
Sincerely,
Sara
PS: "Things alter for the worse spontaneously, if they be not altered for the better designedly." (Sir Francis Bacon)
Esoterica: Good design invites the eye to travel, linger, travel and linger. You are at zero risk of losing, in the long run, your fabulous and agile, action-packed brushiness. A 37-stroke or 37-minute painting are both terrific exercises for getting designs established early and runaway brushwork stopped, but they are not a perfect formula for avoiding overworked or under-composed paintings. If not careful, a painter risks laying strokes here and there until the target number has been reached. This leaves out planning; with strokes fat and thin, forms large and small, contrasts strong and subtle, in as many or few as required. What we are after is a composition worth crossing the room for. Once there, the eye can close in — to relish the swooshes, slubs, scumbles and zips of the most exuberant painter.
Have you considered a Premium Artist Listing?  With each letter, an artist is featured at the bottom of this page. The Premium Artist Listings are a means of connecting artist subscribers through their work. Proceeds from each listing contribute to the production of The Painter's Keys. 
"Color does not add a pleasant quality to design – it reinforces it." (Pierre Bonnard)
No Featured Workshop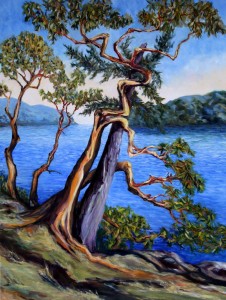 Southern Gulf Islands Afternoon 48 x 36 inch oil on canvas by Terrill Welch
Featured Artist
I am a landscape painter exposing the mystery in an ordinary day.