Dear Artist,
"If you want to be an artist — try being artistic." This deceptively minor slip of info was given to me by a fellow painter, Maurice Golleau, somewhere in Provence many years ago. I've come to realize that it's the life breath of our business. In other words, don't just paint the boat, paint the most expressive boaty-boat you can drag out of your reference or your imagination.
How to do that? Here are a few ideas to think about and perhaps apply to your own subject or style:
Elegance
Obfuscation
Gradation
Mystique
Activation
Form
Function
Abstraction
Flourish
Shine
Softness
Paucity
Bravura
Pattern Integrity
Most of these are self-explanatory. Some may seem to overlap, but in my mind they all have independent value. Of them all, pattern integrity is perhaps the most important. It means composition. Without careful planning, the artist often has to go back in and rework a composition in such a way that it becomes more artistic. In other words, you don't want to leave your patterns to the vagaries of nature or the limitations of your initial conception — but rather to your own higher nature and finer sensibilities.
Many people don't understand paucity either. This means smallness of number or quantity. In other words, "the absence of." Very often it means simple disappearance — the old lost lines and edges business.
Then there's abstraction. Unless things modify or become other things, or in some way interact through colour, shape or line, they're merely the straight goods, which tend to be boring to both artist and observer. Don't be boring.
Best regards,
Robert
PS: "My great longing is to make those very incorrectnesses, those deviations, remodellings, changes in reality, so that they may become, yes, lies if you like — but truer than the literal truth." (Vincent Van Gogh)
Esoterica: I drove south from Arles and headed for Saintes-Maries de la Mer. I wanted to go where Vincent, in 1888, had painted some fishing boats. I guess I was looking to see if they were still there, lined up with the same pattern integrity as he had painted them. I was disappointed. The boats were now replaced by plastic ones with Evinrudes on the stern. If I was any kind of an artist I would have brought artistry to the ones I found, but I was, at the time, too much into the past. And besides, that artistry I admired came from Vincent's mind, and was his solution. It was a lesson.
Working with inferior materials
by Don Campbell, Renton, WA, USA

In regards to Emily Carr and the fact that she used inferior supplies because she thought she was not that good: People these days have so much — classic automobiles, trips around the world. During the depression and in earlier times, people just did not have money. It was tough enough for many to just eat and keep a roof over their head. I suspect that when experimenting or trying something new, she used cheaper materials not knowing what the outcome would be and did not want to waste precious expensive good materials. Not every one is blessed with extra income for good materials. You work with what you can afford or do not work at all. I wish a lot of art instructors would recognize that.

Nostalgia happens later
by Raynald Murphy, Montreal, Canada

What you mentioned about Vincent and past boats rang true to me also, as I have been painting a series of Montreal scenes lately and sometimes seek out a site or a view that is in my mind having been painted years ago by an artist. I am always disappointed upon arriving at that corner or spot looking for a "by-gone era view" for the same reasons you cited. The boats Van Gogh painted were the Evinrudes of that day, and yes we cannot paint like another artist. Paint the present with feeling, I tell myself, and it will be the past and nostalgic some day for someone.

Finding the 'artistic' in the 'modern'
by Jerry Fuller, NH, USA

I had been thinking about this same concept recently. (Lord, save me from being 'boring'!) You mentioned Vincent's boats vs. the modern ones you found, and how you should have brought 'artistry' to those. As I've been attempting to observe my present-day world 'artistically,' I'm often disappointed by the 'modernity' of things rather than the 'classic.' Then I realized that, to Vincent, as well as Degas, Whistler, etc., the world around them was also 'modern.' Yet they found the artistic! I must set myself to the same assignment!

Combining the real and the unreal
by Anne Jarvis, Duncan, BC, Canada

I am a figurative and abstract artist, swinging between the two depending on the series I'm working on. Recently, though, I have found a way to marry them by placing the figure within an abstracted setting, almost within one of my abstract pieces. It is very freeing to realize that as artists we are completely in charge and can manipulate reality at will! What an exciting thought — who else can do that?

Talk to your art
by Ann Heckel, Lambertville, NJ, USA

The thing that drives me in my painting/sculpture is whether I've caught the "atmosphere" which you have named as components in giving life to a piece. I ask myself if I have captured the magic of the thing. How can I give elegance, mystique, nobleness and add a flourish in the details and in the personality of the creation? I start talking to the piece as I am ready to give it life through the eyes. If everything else is done well, then the eyes talk back and say, "Yes. Thank you for giving me a spirit."

Brainstorming the subject matter
by Norman Ridenour, Prague, Czech Republic

One of my favorite teaching techniques is the brain storm, which is basically what you describe. Take something, rearrange, disassemble/ reassemble, remove/ add, replace/reorient. Ninety-five percent of the human race cannot do it because they are too busy trying to shove their ideas, if any, into the box marked SHOULD/MUST. Those of us who do this are really weird!
Most of my best ideas have come while running, on long walks, doing an all-nighter on caffeine and/or red wine or some other destroyer of LOGIC. Several years ago I was walking through a factory (turbines) and there on the machine shop floor were these long strands of steel shavings, blue, deep red, amber, in convoluted twists and snarls. They were beautiful – a point I commented upon to receive totally blank stares of incomprehension. I could have put together a whole exhibit from a week's waste material.

Sing your song
by Jean Burman, Australia

You left the word "emotion" off your list! Boring art is art made without the artist "feeling." This is art that the artist has failed to become emotionally involved in. No amount of artistic license can save it. It's like writing a story in the third person. Stories written in the first person (piped directly from the heart) almost always strike a chord with the reader — more so than a distant recount. Visual art is no different. Art that is made from an intimacy with the subject — from the heart and not just the head — has that certain undeniable je ne sais quoi. Vincent had it — that's why his fishing boats "sing."
Coincidentally… in the most recent topic on my webblog a similar theme was examined. In Finding Your Voice, Robert Henri (1865-1929), in a letter, urged his students to, "Find out what you really like if you can. Find out what is really important to you. Then sing your song. You will have something to sing about and your whole heart will be in the singing."

Sign and symbol
by Darney Willis, Siloam Springs, AR, USA

I like to think of the difference between "representational" and "presentational." The difference between "sign" and "symbol." I understand a meaning of "sign" as something that points "to" something. In visual art a painting that has "sign" quality represents something, it gives the viewer enough visual data so they can add up the information, a + b + c = the whatever. A symbol quality directly presents or expresses the essence of the subject to the viewer. For example, if the artist uses enough visual facts when painting a rose in a representational approach, the viewer of the painting will probably respond: "That looks 'like' a rose." When an artist paints a rose using the presentational approach, the essence approach, if they are successful the viewer will respond: "That 'is' a rose" whether or not there are many or few visual "rose" facts to support this response. The artist has painted in a way that "triggers roseness" in the viewer.

The uses of observation
by Tiit Raid, Fall Creek, Wisconsin, USA

You quote: "If you want to be an artist — try being artistic." Easier said than done, isn't it? Your quote brings to mind another, Eugene Delacroix who said, "Seeing artistically does not happen automatically, we must cultivate our powers of observation." And Vincent van Gogh, "Art demands constant observation."
My experience has shown that regardless of how well I think I've seen something, whether a work of art I've looked at a dozen times or the appearance of my everyday surroundings, there is always room for improvement. Raising one's observational skills to a more conscious level is an on-going affair. There never comes a time when you can say, "I now see well enough." Every time I've been foolish enough to think that "I've arrived," the same thing has taken place. I've fallen asleep and become blind again to the visual world.

Vincent stood by
by Carl Jacobsen, Buellton, CA, USA

When it comes to confronting the "Boat" subject you present, my experience was quite brief, and desperate. Like a person drowning, I found myself clawing for the shortest way out. I traveled out that day determined to bring something back alive, and as the fair weather as well as the daylight began to slip away into a cold, gray night I was about to give up when I found her. My time was now very short. The fog was rolling in on a sharp wind that would make short work of a man's fingers and face. A cup of coffee beside me in the warm car gave me the quick nudge and I dashed out to set up. Now I could see the real live subject. No longer a simple little "Monterey Clipper" at rest, it became a hard working fishing boat in from a hard struggle with rough seas as her owner clawed the lobster traps up from the icy depths. I was feeling the cold, wet wind.
I rushed through 45 desperate minutes, brushes in frozen hands and mouth, squeezing out paint in reckless abandon, grabbing at my coffee lifeline every few minutes until I knew it was done! I could only afford a few seconds to wrap up the considerations you stressed. All checked out. What I caught was due to just a few items one must bring — those I always stress in my classes — drawing, perspective, and the willingness to turn it all over to the subject! I like to call my "ELMA G" my tribute to Vincent, for I feel strongly he stood by me on this one.

The iris and schizophrenia
by Lin Wryghte, Campbell River, BC, Canada

I love your quote from Vincent Van Gogh… and the Irises. I wondered if you know that Schizophrenia societies refer to this particular painting of Van Gogh's, and adopted the iris as a symbol — here's the standard wording around that choice:
"Long a symbol of faith, hope and valor, schizophrenia societies in Canada, Great Britain and the US use the iris as their floral emblem. The iris, traditionally known as the "flag" plant, has become our "flag of hope." It became a modern symbol for those suffering from mental illness when the National Alliance for the Mentally Ill (NAMI) and the National Alliance for Research on Schizophrenia and Depression (NARSAD) chose the flower following the historic sale in 1987, of Les Irises, a painting by Vincent Van Gogh; painted in the garden of the asylum at St. Remy, in the south of France, in May 1889, when My husband and I joined the local Schizophrenia Society, Campbell River Branch, when our son was diagnosed with the brain disorder of schizophrenia in 1998. This organization is a great resource and support for family members of persons who live with a serious mental illness (including bipolar disorder, depression, anxiety disorders, etc.)
(RG note) Thanks, Lin. Readers may be interested in the Schizophrenia Digest, a magazine started in 1994 by a person diagnosed with schizophrenia.

Flying with paint
by Diane Chialant

Last week I saw an article in the Ottawa Citizen regarding air travel in Canada called "Fly Dry." It was stating what you can fly with in your carry on and packed baggage within Canada. I called up to inquire about the paints I would be bringing which are acrylic and water colors. I was told the water colors were fine but the acrylics were not permitted in baggage or carry on in Canada and that I would have to mail them ahead. I am planning to paint this summer on Vancouver Island and find it is another additional expense I was not prepared for. I know you travel and paint extensively and wonder how you manage?
(RG note) Thanks, Diane. So far I've not had any trouble on any plane in any country. I pack my (acrylic) art materials in my checked baggage, clearly marked "water-based art materials only." I know the bags have been opened and inspected from time to time because the inspectors sometimes leave a little printed note to say so. I'll be taking several trips within Canada as well as to Los Angeles and Miami in the next few weeks so I'll inform you here if there are any new complications. I'm thinking you may have spoken to an uninformed inspector because acrylics, so far, have been squeaky clean.

Time to push the envelope
by Hap Hagood, Clover, VA, USA

I began carving in a strict, realistic style, but after a number of years became quite bored with my creations. I thus began to incorporate abstraction or contemporary lines into my sculptures, after carving the heads realistically. The end result being much more artistic and rewarding to me. I consider my work contemporary realism, combining abstract and the realistic. While this newer style of mine has gotten me into prestigious sculpture exhibitions, won awards, and been praised by many, there are those who really liked my earlier, realistic pieces and don't like what I'm doing now. But I don't dwell on this because I realize that one can never please everyone, and first and foremost, as all artists, I have to please myself and I truly find the work to be much more creative and satisfying. When the artist finds himself/herself bored with his own creations, it's time to "push the envelope" and employ creative license.
Archived Comments
Enjoy the past comments below for Artistic license…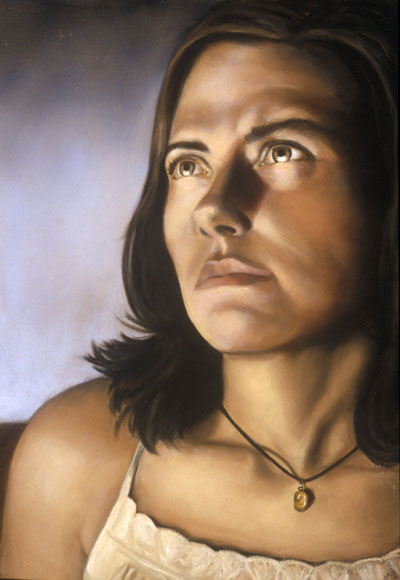 Jennifer
oil painting
by Joann Dufau, Santa Barbara, CA, USA
You may be interested to know that artists from every state in the USA, every province in Canada, and at least 115 countries worldwide have visited these pages since January 1, 2013.
That includes Joan Bain of Bella Vista, AR, USA who wrote, "During my last watercolor workshop in Puerto Vallarta, Mexico… the instructor critiqued my boats by saying, 'Don't bother doing anything with that boat, it's sinking anyway!' "
And also Natalie Fleming of St. Charles, MO, USA who sent this quote: "Art is the lie that best describes the truth" attributed to Pablo Picasso.
And also David Lussier of Woodstock, CT, USA who wrote, "The Rockport Artist, Antonio Cirino said, 'Look for the differences in the similarities and the similarities in the differences.' Often when teaching students I quote Cirino and everyone looks at me with their heads slightly bent and says… huh? But it's a great tool to making the ordinary extraordinary."
And also Eleanor Blair of Gainesville, FL, USA who wrote, "Paint what you see, and don't paint what you don't see. Integrity is found in the compromises we make between perceived reality and the limitations of paint and muscle. Georges Braque said, 'Progress in art does not consist in reducing limitations, but in knowing them better.' "
And also Natalie Fleming who wrote, "I am fascinated by Van Gogh's total immersion in his art, the clarity of his intellect and the depth of his study of art and nature."
And also Dustin Curtis who wrote, "Your letters arrive right on time even though they are free and are very helpful and inspirational. They are worth paying for, but I appreciate that you are helping others without charging any money for them."
No Featured Workshop
No Featured Workshop