Dear Artist, Yesterday, Jane Wilcoxson of Oswego, IL wrote, "I find it difficult to sit at an easel and work. My legs, back, neck and arms ache. Should I just stop complaining and take a few painkillers? I tend to work non-stop for hours on end. How do you manage to put so many hours into your work? What do you do?" Thanks, Jane. I owe all my pill-free success to my chair. That chair (it's my second one — I finally wore out a similar one about twenty years ago) beats out both talent and training. It's a somewhat unique chair — hard to find nowadays, even in antique shops where only a few insiders know their value.. Generally known as a "1920s office secretary chair," it's made of wood and has no cushion or armrests. You can flex it back, raise it up and down, and, like a geriatric scooter, propel it around on its casters. My early adoption of this chair goes back to when we studied chairs at Art Center School. Tests had shown that people could sit for the longest time on something like piano stools. With minor, subconscious movements you can vary the places where a hard, wobbly seat connects with you, thus refreshing the blood flow to that part of your anatomy. Cushions kill this feature. Furthermore, springing back regularly to reevaluate your work, you briefly and effortlessly massage your lumbar region. Most importantly, the focus area on your work needs to be just a bit higher than where your eyes might normally connect with the painting. In other words, your back is slightly stretched upward rather than compressed or bent over. With this position, particularly if you are hanging onto a mahlstick, you can work for hours. A cranking easel soothes a cranky painter. When it comes to our popular studio-sitting maladies; back and neck pain, position fatigue, chronic fatigue syndrome, fibromyalgia and others, a case by case approach is necessary, and I'm no doctor. Many solve their problem by simply standing, but this can result in too much blood pooling in the lower legs. In painting, it's easy to forget you've been in the same position for 27 hours. Further, and I may be way off base here, but I think it's a mistake for sedentary painters to eat too much. "The table," said
Georges Clemenceau
, "kills more than all the wars." Best regards, Robert PS: "To lengthen thy life, lessen thy meals." (
Benjamin Franklin
) Esoterica: Getting up and moving around is valuable as a creative ploy as well as being good for the bones. I believe in longish walks, nothing shorter than twenty minutes, and as brisk as your dog can handle. It's an inexplicable mystery, but paintings can often be significantly improved right after a walk. "It's easy to get used to not going for walks," said
Claude Monet
. "Mine is a dog's life. I never stop walking; I walk here, there and everywhere."
The right stuff
by Dave Paulley, Osage, WY, USA One might think I only paint aviation images because of the painting seat I use at the easel, but I also paint western, wildlife and landscape. This seat is from a four engine B-24 "Liberator" Bomber used in WW2. It has all the right adjustments; up and down, backward and forward and I have attached casters to roll on. Works great and has for years!
There is 1 comment for
The right stuff
by Dave Paulley
The dangers of sitting
by Dr. Hal Martin, San Antonio, TX, USA There have been a multitude of studies in the medical literature comparing sitting to standing. Standing, as you point out, has the potential for more blood pooling in the legs based solely on the higher venous pressure in the standing position, but most acute cases of deep vein thrombosis occur after prolonged sitting where the leg muscles are inactive. Sitting, on the other hand, has been known for many years to result in the aches and pains, particularly in the low back, that your article addresses. In recent years, it has become increasingly recognized that sitting the majority of the day, as most people in the western world do, is a major factor in the current epidemic of obesity and diabetes. Several recent studies have clearly demonstrated that just the act of standing significantly increases the number of calories burned (compared to sitting) and at least one study even equates standing with moderate levels of exercise. A number of other studies have shown that even those who exercise 30-60 minutes per day maintain an increased risk for the aforementioned problems as well as heart disease if they spend the majority of the remaining waking hours sitting.
Standing then, purely from a medical standpoint, is preferable to sitting for prolonged periods. Just important to remember that when you do stand for prolonged periods, it is important to shift your weigh from side to side occasionally as well as intermittently tightening your calf muscles. Never "lock" your knees in the fully extended position for any period of time. And if you prefer to sit or have to sit for whatever reason, remember to take fairly frequent standing breaks.
There is 1 comment for
The dangers of sitting
by Dr. Hal Martin
Hanna Somatics
by Phyllis Victory, Vancouver, BC, Canada I read, with interest, your concerns about artists finding ways to stay pain free during the creative process. Contracted muscles are one of the most common causes of pain.
Hanna Somatics
 is a technique for releasing these muscles and 10-15 minutes of performing gentle, specific exercises each day, can change chronically contracted muscles into flexible, lengthened muscles. It is a form of neuro-muscular reprogramming, it's simple and it really works.
There are 3 comments for
Hanna Somatics
by Phyllis Victory
Popular modern version of 'the chair'
by Laurie Sain, Lander, WY, USA I've used this chair for decades. I'm on my second after my first one burned with the rest of my office in 2008. It was mostly used when I was a professional writer, and now as an occasional visitor. I bought it from a firm called Pottery Barn for $400.00. They are expensive but my first one lasted 15 years without maintenance.
The brain's magic switch
by Margot Hattingh, South Africa Walking does it for me — even pacing up and down in my studio as I think between spurts of actual painting. I think it does help me though that I don't sit in front of an object, photo or landscape to paint it — it's mainly all in my head, so I don't get hypnotized by it. As far as the actual walking is concerned, Kinesiology and Brain Gym teaches us that swinging the opposite leg and arm in unison gets both sides of the brain working together. Same side leg and arm swinging, switches one side of the brain constantly on and off. I found it fascinating when I was quite involved with this and even considered becoming a Brain Gym practitioner, that on going to a new class in a school, and getting the kids to 'march' as the first activity — it was almost invariably those that swung the same side arm and leg at the same time, who turned out to have learning difficulties and problems with rigidity.
Kneeling for fun and profit
by Malcolm Armstrong, Pender Island, BC, Canada This is my answer to discomfort when sitting at an easel; a knee chair. I sit on the high part and take some of my weight on my knees on the lower part. You can buy this type of chair but they are either too expensive or too fragile or the wrong size. I custom made this one for myself with heavy scantlings. I have worn out two sets of castors and have recovered the chair several times but it works fine and is comfortable and indestructible. My easel winds up and down to arrange the canvas at the right height.
Younger next year
by Peter Land, CPA, Lebanon, NH, USA When I read this article, my first thought about the person with a backache is that they need to strengthen their core muscles and improve their balance. That's exactly what I needed. I also suggest reading the books from this
website
 for more fitness and nutrition advice. Finally, join a gym and hire a trainer and/or attend regular classes in yoga, Pilates, spinning and the like. I am not saying you cannot do good work when you are in poor physical condition, but I really do not think it is a coincidence that the best artists and craftsmen I know are also fit.
There are 2 comments for
Younger next year
by Peter Land, CPA
Funnel pain into art
by Jennie Rosenbaum, Springvale, Australia I have a chronic pain disability which affects my work every day. It's a double edged sword, without the car accident and resulting disability I would never have rediscovered my art and forged a full time career from it, but I pay with constant unremitting pain day after day. I love Robert's advice, the right chair can work wonders, I have one that tilts back quite a ways and has high arms so that I can lever myself in and out. There are also office chairs that hold large exercise balls stable which might be handy. Here are a couple of things that have helped me with my art career. On really bad pain days I work lying down at my computer doing the marketing and business side of being an artist (a good way to make sure it gets done!) I have my chair, an easel that I can sit at or stand at with an easy adjustment and my desk. I've also modified my practice to fit around my impairment. My painting techniques rely on short bursts of work, manageable bite-sized chunks (this also works now that I have a baby!). Working smaller can also help too. I also find getting in the zone works wonders, I can actually almost forget about my pain for a while! Good luck, it's amazing what you can accomplish when you funnel that pain into your art!
Working to a timer
by Judith S Miller, New York, NY, USA One helpful tip my Physical Therapist gave me is to have a timer next to me while working. I set it for 30 minutes. When it goes off, the idea is to get up and move: wiggle, shake, stretch, get a drink of water, walk around for a couple of minutes; anything to un-freeze the position I have been locked into. Granted, it is hard to stop mid-stroke, but it helps with the stiffness and pain. In addition to this, I am working on my posture and doing strengthening and movement exercises. Ten minutes of free form dancing gets the blood moving into the sore muscles and it's fun.
There are 6 comments for
Working to a timer
by Judith S Miller
Having a ball
by Tom Andrich, Winnipeg, MB, Canada I had the same issues until I talked to a physiotherapist. They suggested sitting on a Pilates ball which keeps the body balanced or you fall over. You can also roll back to see your painting. It cured my neck and back aches when painting.
Fine tuning for better work
by Mike Fenton, Parsippany, NJ, USA I have endured lower back pain for many years mainly due to a couple of herniated disks. Short of surgery on the back, always an iffy proposition, I sought other remedies. Through a friend in the performing arts, and an article about the comedian Robin Williams, I learned about the Alexander Technique. Chairs, like yours, will fit some physiques and not others. I found a teacher of the Alexander technique and learned about my body and its skeletal/muscular critical points. I learned how to be aware of my body, its position, and what bad habits I had learned that created pain. I have been able to reduce the discomfort by about 90%, including when I am painting. Through this I also learned what chairs need to be in order for them to work on my physique. For me it is a plain wooden stool, cut to exactly the right height. I learned how to massage my back while changing positions and I learned how to reduce pressure put on the neck by holding my body differently. I learned that we tend to overwork parts of our body that have nothing to do with activity in which we are engaged. I highly recommend this approach as it has made a significant difference in my painting life. My main problem now is to remain focused for more than three hours. After three hours my mental concentration changes and I get impatient and sloppy… so I put away the brushes for another day.
There is 1 comment for
Fine tuning for better work
by Mike Fenton
Jumped on her bike
by Mary Franklin, Marblehead, MA, USA My husband and I moved into our current home about 25 years ago. The heating system was antiquated and my work room was 'cool' (50-55F) through most of the winter months. My old bicycle was in this room as well and we had purchased a training stand for it to try to 'keep in shape' when outdoor riding was impossible. One day after working a few hours in the morning, my fingers were quite nearly numb. It occurred to me that I could warm up quickly by doing a 10 minute 'ride.' Critiquing my work from a distance as I peddled away my creativity was 'tweaked.' It was as if my hyper active body silenced my intellectual mind and some far more primitive place enhanced my artistic vision. I did some of my best work that winter, lost almost 10 pounds and my chronic back pain was vastly improved. The following spring we had the heating system replaced but I still keep the bike in the studio during the winter.
Archived Comments
Enjoy the past comments below for Backache and other problems…
 Featured Workshop: Dee Beard Dean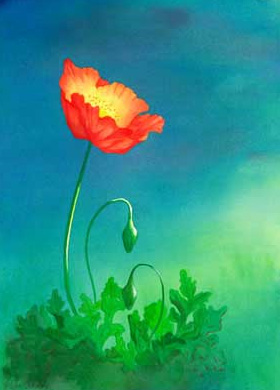 Astral Poppy
watercolour painting by Mantradevi LoCicero, CA, USA
You may be interested to know that artists from every state in the USA, every province in Canada, and at least 115 countries worldwide have visited these pages since January 1, 2013. That includes Kelly Walker of White Rock, BC, Canada who wrote, "I have two 5lb hand bar weights that I use to help me stretch my shoulder and back muscles. They work well and I feel refreshed in my muscles from a good stretch." And also Judi Birnberg of Sherman Oaks, CA, USA who wrote, "In Bobworld, cat owners do not exist."