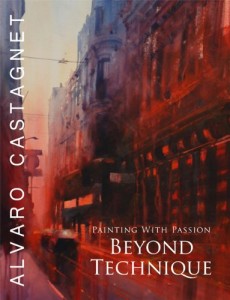 Castagnet, Alvaro

Alvaro Castagnet believes that 'your work is your best teacher', therefore, the philosophy of this book will enable you to learn a great deal from observing and evaluating your own paintings, and building on your discoveries so that you can improve and develop your own personal style of watercolor painting.
The structure of the book is based on six chapters, each with introductory text discussing the key topic concerned. The chapters include a generous selection of stunning watercolor paintings which cover a wide variety of subjects and include detailed, informative captions, so as to expand on the points discussed in the paragraphs.
Furthermore, this book includes four advantageous, step-by-step lessons, using different reference sources such as photographs, computer, sketches and real life. Álvaro shares his demonstrations for appealing landscapes in Australia; boats in Cadaques, where his first DVD, Inspired Watercolor was filmed; "Circulo Militar" Plaza San Martin, a beautiful building in Buenos Aires; and an interior painting in his own studio.
Buy Here