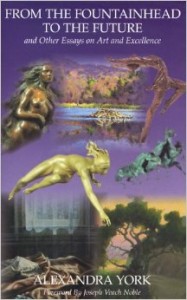 York, Alexandra

Art is a shortcut to philosophy declares Alexandra York in this challenging collection of essays offered for the specific purpose of suggesting which art and ideas should be championed and advanced if we are to generate an American Renaissance at the dawn of this new millennium. The result of her efforts is no less than a blueprint for a revolution in the arts.
"If you are looking for a rational defense of what art can and should be and what kind of culture would make such art possible, From the Fountainhead to the Future is an excellent companion to Ayn Rand's seminal work on the philosophy of art." — reviewed by Jason Lockwood.
View more books by Alexandra York.
Buy Here