Dear Artist,
Today it's raining in Chadds Ford, PA. Big drops fall from the ancient sycamores. Off in foggy Brandywine Valley, the witch hazel and pignut hickory still hold their muted colours. Great black trunks narrow down to sharp and random spikes. Cattle wait on the hillsides and solemn crows grumble along an old stone wall. This is Wyeth country.
I'm standing for the first time before the N.C. Wyeth oils in the Brandywine River Museum. I can still inhale the Scribner's classics of my youth: "Treasure Island," "Kidnapped," "The Boy's King Arthur." These early paintings are huge. They exude vitality and robustness.
Newell Convers Wyeth (1882-1945), the father of Andrew and grandfather of Jamie, built his home and studio here in 1911 with the proceeds of work done for Scribner's. He was a pupil of the great illustrator Howard Pyle, who kept a studio and school in nearby Wilmington, Delaware. Wyeth joined him at age 20 and within a year was selling his work to publishers. Pyle's school was free — he picked and chose his students. Many were to become the godfathers of American illustration.
In 1989, Andrew taped a most remarkable conversation about his father. A transcript is available in Three Generations of Wyeth Art published by the museum. It's a candid and loving portrait about growing up with a sensitive and dynamic dad. It's also about choosing a creative path of one's own.
"Some artists get things right with almost no knowledge at all," says Andrew, "much better than if they go out and search for it. Pa's best paintings were spontaneous ideas. A concept needs the juice, the essence of the thing, more than all the theory or more knowledge."
A great reader, N.C. was for the most part self-educated. In consequence, he respected those with a formal education. As his fame grew, critics, publishers, and other artists befriended him. He listened to them and "became agitated." He was frequently advised to stop painting illustrations and make "real" art. "Pa made many dramatic changes in his life; reacting to specific artists," says Andrew. "Even my influence was not good for him. My father lost his excitement for painting. He lost the vitality."
Best regards,
Robert
PS: "'Treasure Island' is completed! The entire set of seventeen canvases without one break in my enthusiasm and spirit. Better in every quality than anything I ever did." (N.C. Wyeth, age 29, in a letter to his mother, July 26, 1911)
Esoterica: N.C. was an energetic, driven painter who learned fast with the help of Pyle. He drew basic elements in charcoal with little recourse to models, with the exception of hands. A believer in big brushes and big gobs on his palette, N.C. Wyeth came to understand early on that speed itself enhanced freshness. Andrew reports that the painting "Train Robbery," was painted from scratch in a single morning.
This letter was originally published as "What happens?" on October 27, 2009.
Have you considered a Premium Artist Listing?  With each letter, an artist is featured at the bottom of this page. The Premium Artist Listings are a means of connecting artist subscribers through their work. Proceeds from each listing contribute to the production of The Painter's Keys. 
"If you paint a man leaning over, your own back must ache." (N. C. Wyeth)
Featured Workshop
January 23, 2022 to January 30, 2022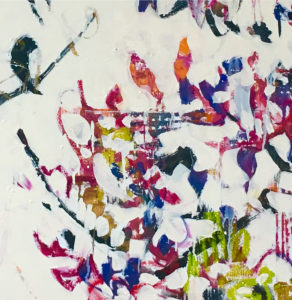 Join Ellie Harold for "Intuitive Painting: Permission to Paint Expressively," designed especially for mature women artists of all skill levels who wish to explore this medium for soulful exploration. The retreat provides attractive accommodations (your own room!) along with lightly structured activities for centering, relaxation and low stress art-making. You'll have plenty of free time to muse, paint, write and reflect while enjoying the colors, textures and flavors of San Miguel. This Retreat has the potential to transform not only your art but your life! You'll return home with a specific art "care plan" to assure support for further creating. Details at www.EllieHarold.com.
Featured Artist
Whether it's with paintings of musical instruments and their owners or a series about trees or through the many commissions I've painted over the years,
it is magic to watch paintings evolve as the lines, shapes and colors influence each other, even changing the mood of entire compositions while touching the edge of a canvas or crossing over and under or bumping into each other subtly or with a bang.
Above all, I want  each of my paintings to take me on a trip and give me something new to discover with each visit.