Dear Artist,
Perhaps it's the same for you: when preparing for a show, the cohesion of it – the idea – often begins with a title. Over some weeks, I let a vibe of what I want to create as an aesthetic experience bubble up from my subconscious. If this feeling can remain unfettered by outside influences, the title will attempt to grasp a moment in time – that moment being a point on a path. To put it better, I want it to place a cairn on the path on the journey of my heart. Recently, a truck came to my house to pick up new paintings for an exhibition that will open in New York on September 8. By the time you read this, I will be tucked into a remote mountain col in British Columbia. There, under the dome of late summer, I will try to understand the meaning of my title, "How to Build a Sky."
When my Dad was writing these letters, he would often mention that I should join him in his joyful, altruistic and ultra-stimulating endeavour. "I am not a senior artist," I protested. "I'm still trying to figure this all out. I do not feel that I have much to offer." "Oh, yes you do," he said. I can hear him as clearly as if he were perched next to me on some lichen-speckled plateau, our brushes wet. It wasn't until he was diagnosed with a fatal disease that I found the courage to soften to his push. He had been so often right about so many things. What I already understood was that there would be much to learn from a broader inquiry into creativity, and to apply that inquiry to a writing practice in its service. It would make me a better artist and human. What I had yet to learn was how much I would be humbled and enriched by committing myself to this creative community and learning from the collective experiences and concerns of others.
After nine years of republishing my Dad's letters and writing to you every week, this summer, something inside has begun to percolate: a feeling of wanting to make a kind of creative space for an as-yet-unknown contemplation. In painting, we know it as "paucity," – that space or break in visual information that is as essential to the picture as any stroke. "It is only by selection, by elimination, by emphasis, that we get at the real meaning of things," wrote Georgia O'Keeffe. I remember long ago, reading in a back issue of Writer's Digest that in every great story arc, something must die in order for something else to be born.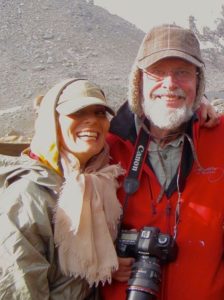 My intuition tells me that it is time to reappraise my own horizon. To leap towards it, even. I feel a tug, a call to make space for a mystery. I feel a change coming in my personal weather. In the infinite promise of art, it is time to evolve – to discover new ways to connect and deepen – with others, and with myself. I hope that my leap into this new space, without you each week, may also make space for you, and for your creative discoveries. "Making your unknown known is the important thing," said Georgia, "and keeping the unknown always beyond you — catching — crystalizing your simpler clearer vision of life… that you must always keep working to grasp."
Sincerely,
Sara
PS: "What the caterpillar calls the end of the world, the master calls a butterfly." (Richard Bach)
"It's my wish that I can help creative people think of new ways to be creative – to get more joy and understanding from their own unique processes." (Robert Genn)
Esoterica: It is with my deepest gratitude to each and every one of you that I have decided to say goodbye, for now, to you and to writing these letters. This will be my last one. I will also no longer republish my Dad's letters on Tuesdays. The comfort and encouragement, witnessing and personal sharing that you have so generously offered us and this community are permanently etched into my soul and creative existence. On behalf of both of us, I will borrow from my Dad and say, "thank- you for your friendship."
I will keep The Painter's Keys website live as an archive. I will retire the mailing list. If you have a Premium Artist Listing, I will leave it here as legacy. If you would like me to remove it at any time, just email me.
"And the day came when the risk to remain tight in a bud was more painful than the risk it took to blossom." (Anaïs Nin)
"With every gust of wind, the butterfly changes its place on the willow." (Matsuo Basho)
"Art is a course in personal development that has no reliable diploma and no known end. The pursuit of art instructs in beauty as well as ugliness, fantasy as well as common sense. Art levels souls and baffles brains. Art softens pain because it is pain. Art gives joy because it is joy." (Robert Genn)
Featured Workshop
October 17, 2022 to October 23, 2022
October 17 – 23, 2022
San Miguel de Allende
Painting Mentor – Amit Janco: Artist, Author, Labyrinth Designer, Founder of Heartshops and Retreat on Your Feet (Creativity and Walking Retreats)
Join this 7-day journey through self-expression to unleash your bottled-up creativity, with a brush in hand – and openness in your heart. Calling non-artists too! Each day, you'll stand up to paint; yes, you'll be painting on your feet, and moving about – thereby activating the brain, the body and ALL senses. No need to come with a plan; watch the colors and brushstrokes come alive; and see the magic and mysteries unfold, as you greet your square of paper anew, every day. Our accommodations and studio are in an enchanting former bordello, just a stone's throw away from San Miguel's historic center, with its gardens, cobblestoned alleys and marvelous colonial architecture. Inspiration abounds!
Details at https://amitjanco.com/uncorking-your-creative-core-paint-walk-write-in-mexico/
Featured Artist
My Life "HAS BEEN FULL OF JOY !   …..   I believe the ability handed down to me through my family's genes have blessed me with the gift of happiness as well as a talent that I have used continuously…. since my first memories ….. that of being able to draw almost anything I have set my mind to;  whether it was out of my inner conscience (includes lots of sketching & erasing) …..I call it practice !  Or from photos.   I have drawn anything and everything.
Drawing every day is what it takes!  Being a Portrait Painter,  I rely on using my camera….. it has given me a good sense of Composition….. Balance, proportion and Perspective.  I love painting Portraits of Fishing Boats …. And being a careful photographer,  insures I retain all the important details.  The wood grain of the dock;  the moving water reflecting on the white hulls in sunlight….. Beautiful detail!
"The Details tell the Story"!