Dear Artist,
An artist friend wrote, "Are you very reclusive like your Dad in the art scene? Or do you network more?"
In 2003, just as I was about to move to New York, I read an essay in The New York Times Magazine about schmoozing, which struck me as so useful that I clipped it out and tucked it into my diary. According to the writer, the smartest thing you could do as an artist in New York was to casually drop into conversation, "I never go out. I am always in my studio."
Networking is a kind of, at times, self-promotional activity where you meet and mingle with people for professional benefit, ideally mutual, and has ascended as a vital tool of commerce and advancement. It is not enough to be good. It's who you know. Or people need to know you. Or know your work. Like other skills or traits of personality, networking comes naturally to some but is a struggle for others. It's my guess that most of us enjoy or tolerate a bit of it and accept it as a part of professional life. In fact, whole industries are devoted to learning how to do it effectively, or to look like you're not doing it when you're doing it. For example, if you are out, you are not in your studio. Still, you might casually drop into conversation, "I never go out. I am always in my studio."
On a scale of 1 to 10, if 10 were the throne of the Professional Scenester, I am, perhaps, a 2. What is the scene these days, anyway? An art world denizen recently asked me – I was drinking with some denizens – if I ever hung out at a Cedar Tavern-like bar with other artists, and did we get drunk and discuss how to break painting, and did we go to the bigger art cities to see the shows? I may have replied, "I never go out. I am always in my studio." Honestly, it was some kind of knee-jerk – because I was, obviously, out. The idea of being in my studio was just so etched into my psyche that it had not occurred to me to do such a thing as to go out, even though I was, in fact, doing just that. I felt touched by the line he had drawn from 1950s Greenwich Village to here, a mini-mall in Riverside County. I paused for a moment, to imagine leaving my studio to be an artist.
What else could the scene be? If you read the trades, it's the Big Fairs – but you have to be invited to those, lest you attend as a nobody. More democratically, the scene could be one's local community arts council chapter, or First Thursdays in your town, or your family museum membership, or the comments sections of other artists' instagrams. Or here. This is totally a scene, isn't it? If you're wondering if you should be doing more, or that you're doing too much, consider that it is an entirely worthless exercise to wonder about this. What's worth wondering about instead, is what, in your individual universe, is worth protecting? What is worth learning? And what of yourself do you wish to share? There will always be someone who is outstandingly more gifted with charm and amiability, and who may or may not be building what you yourself would like to build, not only with their talent and hard work, but through the effortlessness of their sociability. And while it is life-enhancing to extend yourself, you can't eat prestige. There are plenty of wallflowers, misanthropic curmudgeons, sociopaths and run-of-the mill introverts quietly cashing cheques on their purely excellent ideas. When it comes to going out, you do you. First though, go to your studio.
Sincerely,
Sara
PS: "You've never heard of me because I make it a point for you to have never heard of me." (The Lincoln Lawyer)
"The guy may be totally motivated, connected and inspired, but if he doesn't know how to do it, he's not the guy to take out your appendix." (Robert Genn)
Esoterica: It has occurred to me that I never felt much need for a scene because, growing up, there was already a very interesting one going on in my house. I have always understood this to be a great privilege. It may have even bred in me some poor habits like not searching out a more diverse range of mentors or a wider community of other creative people. These days, I stride and flail in my stubborn independence, I am trying to cultivate a creative life without too many meaningless words or algorithm-bot servitude, I am missing the daily, supernova-sized influence of my hero, I am drawing from the wealth of what he left me, and I am coaxing into existence an artist that perhaps neither he, nor I could have imagined. And while my Dad thrived as a recluse, and mostly eschewed the company of critics and curators, he welcomed artists of all stripes into his sanctuary, served on community, art school, and museum boards and juries, and donated countless hours of his time to educational, charitable arts and other life-enriching programs. He spoke, he wrote, and shared himself in demos and workshops as part of his creative practice. He even wore a headset while painting, so he could answer your calls, because while engrossed in his own process, he also relished in learning about the creative concerns of others. "Know that to begin," he wrote, "is often better than to think."
"I put my talent in my work, I save my Genius for my life." (Oscar Wilde)
Featured Workshop
September 19, 2022 to September 23, 2022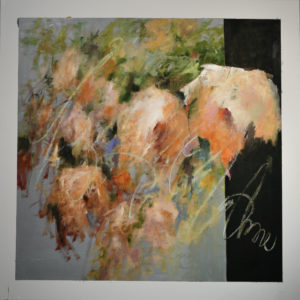 Ever wish you had the courage to create beautiful abstract florals with striking design and beautiful color? Now is your chance to open that wish box and let it become a reality.
In this five-day workshop/retreat you will immerse yourself in learning how to create loose, beautiful, contemporary floral paintings.
Flowers that show their strength while exhibiting their exquisite color that is both delicate and vulnerable. All this done in an abstract way.
You will leave this workshop/retreat with a new found confidence in your art and yourself as an artist.
Featured Artist
Sometimes we see what no one looks for–images that have waited for us to find them. If we are lucky, these images will wait while we try to capture them with paint on canvas. They will probably change as we reach for them. I believe that if we clearly and honestly record what we see, we will be surprised, enriched, and sometimes stunned by what we've found.
There is almost always a narrative in my paintings as I believe that a story may be introduced in a scene. The viewer must fill in the before and after with unique eyes and experience, but enough can be presented to set a challenging stage if the work is successful. 
Along with being a visual story teller, I've been called a colorist, surrealist, patternist, and sometimes a texturist. I'm an Atlanta artist–an oil painter for over twenty-five years–with a studio in Brookhaven. I love working with oils because each painting session results in a new revelation of what they might do. There is a mystical quality to each painting and each day for me.
Finally, and always, there is a spiritual quest in my paintings. Driving that are the essential questions of why we are here, what we can or should or might do here, how we got here, and where we might be going. Just as I believe that there is a spirit in all things, I try to instill a bit of that spirit into each brushstroke.