Dear Artist,
Yesterday, my friend Chuck Putnins, whose other life is anesthesiology, wrote, "Next year I'll be taking 6 months off work from May 1 to November 1. During that time I want to get better at painting and develop my own style. How do I best do this? I realize that the simple answer is 'just paint Chuck,' but I'm afraid of wasting a lot of time without some kind of structure. A plan is what is needed. Any ideas? I want to get the most out of my time off."
I like this question. You know that I've got a system for anyone with a week, a month, or even for the big sabbatical at the end.
Think of putting a stew on a stove. You are going to live on this stew for the duration of your sabbatical. Every day you will take from it — and every day you will add to it. Sometimes your stew will be a "watched pot." At other times it will be best left to bubble on its own. It will last from the minute of your beginning, to the minute of your finishing — always in a state of transformation and change.
You ought to structure your sabbatical by keeping notes of what's going in and out of your pot. There will be surprises. Boiling over and boiling dry will be hazards. Sometimes you will have to refer to cookbooks. You'll have to stack your cupboards. Clinging to the linear nature of your exercise, you'll never loose sight of your cookery, and like a genie, your own true muse will arise from it. She will not bore you. The aroma of your concoction and the sense of discovery will have you up every morning, eager for the continued joy of the process, and it will keep you from the shallow temptations of the bars and dance halls.
Chuck, this is between you and me: There are those who will think I'm beginning to lose it. Pay no attention to them. I know you, and I know you can do it. You have imagination and ready ideas. Those that can't stand the heat have to get out of the kitchen. Not you. You are going to love every minute. Also, for you it will be a nice change from needling people.
Best regards,
Robert
PS: "Paintings come out of themselves." (Lawren Harris) "Every artist who evolves a style does so from illusive elements that inhabit his or her visual storehouse." (Mary Carroll Nelson)
Esoterica: Commitment to projects can be reinforced by keeping a journal. "Weblogs," or "Blogs" are online journals that proclaim a commitment to everyone out there. The intimate minutiae of progress can make surprisingly good reading, as well as satisfying narcissistic and exhibitionistic tendencies. "Blogging" is also used for building support groups, both spiritual and green.
This letter was originally published as "Sabbatical" on August 15, 2003.
"Although my art work was heavily informed by my design work on a formal and visual level, as regards meaning and content the two practices parted ways." (Barbara Kruger)
Featured Workshop
August 8, 2022 to August 12, 2022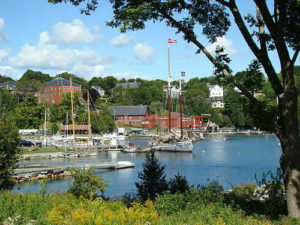 Painting Plein Air on the Coast of Maine
August 8th to August 12th 2022
Adventure-Artists will be painting on the Coast of the United States this summer! This exciting painting and writing opportunity includes instruction and demos of Plein air painting techniques with award winning Artist Sharon Rusch Shaver in inspiring nautical surroundings. Comfortable, en-suite accommodations with balcony views of the harbor, all ground transfers, airport pickup and return, and to painting sites. Join us for a lobster roll or pizza night, and an optional Schooner boat adventure. Walk from your accommodation to the coastal village of Rockport to experience east coast hospitality on your own. $2,950 all Inclusive*, book now for early bird discount! $450 holds your spot. Join us on this next exciting adventure for artists!
Featured Artist
I was trained to become an Illustrator and did Illustration work for over 25 years. That experience gave me the discipline and skills  to do a wide variety of subjects and in different mediums. Because of that I have been honored to be a "Designated Master" with both the American impressionist Society and the Oil Painters of America. I consider myself a "Traditional/Impressionist" and  have worked hard to strive to keep my standards up and make a good work of art. As I tell my students.."an accomplished painting has an interesting and beautiful  arrangement of shapes and colors". That is what I strive to do, regardless of subject matter; to make a decent "work of Art". I also have always loved to travel and am fascinated by different peoples and their cultures along with all of the beautiful and interesting landscapes that are part of this wonderful world that we live in. I feel very fortunate that I get to do what I really love to do.