Dear Artist,
In May, a police detective called to let me know that one of my Dad's paintings had been recovered from a stash of over 1,000 works of art found in three storage lockers around the Saanich Peninsula on Vancouver Island. I had just written to you about those very storage lockers in a letter called Ethics and art galleries.
The detective's call was part of an investigation into the new owner of Winchester Galleries, opened in 1974 and up until 2019, a flagship of Canadian art. In April, a local collector had consigned to the gallery three Emily Carrs and a watercolour by David Blackwood. When the collector tried to follow up, the new owner, it seemed, had shut the gallery and vanished. The consignor notified the police, who quickly discovered a myriad of complaints, and soon seized, under warrant, a stash of works by over 140 artists, worth what the police estimate to be in the tens of millions of dollars. They also arrested the guy, who faces charges of fraud and false pretenses.
Even though my Dad was not officially represented by Winchester, over lifetimes, galleries and artists may float in and out of each others' orbits – this is the kind of professional family we belong to. And so, the detective's call was not a surprise. After an animated chat, he emailed me an image of an 8 x 10-inch mahogany oil panel of Snug Basin in Barkley Sound on the West Coast of Vancouver Island – a place my Dad would have tucked into numerous times on his vintage 1912 tug, the Swell, setting up in the sunshine, on the fantail. This is where this little painting would have begun its life, before it was carted home in a wet box. Its particular and special qualities spoke to me of my Dad's respect for the event of the fantail, of his ardent love of the sleepy cove, and his regard for the gallery when he finally sent it to them. I verified the painting's authenticity. This week, after a spell in the arms of good dealers, then as an imposter's hostage, Snug Basin was returned to our family.
Sincerely,
Sara
PS: "We know they have a sentimental value that is hard for us to comprehend. We will do our very best to reunite the owners with their work." (Markus Anastasiades, public information and communications officer at the Saanich Police Department)
"I suppose what you're doing as a painter is making a record of your trip through life. I can't think of any job that is quite as satisfactory as doing a painting." (Robert Genn (1936- 2014))
Esoterica: The detective and his colleagues are in the midst of a heartened effort to return every piece of seized artwork to its rightful owner. But there are those consignors who will not be reunited, because their paintings were sold, and recovering funds, say the lawyers, can be tricky. Those people, I imagine, are heartbroken. As for the fraudster, according to the newspapers, his mortgage is in default, and he still owes for part of the selling price of the gallery, plus back-rent on the gallery space. "My clients have put their whole life and energy into making that gallery what it was," said lawyer for the previous owners, Nicholas M. Vaartnou. "Unfortunately it seems like the new owner did not treat it the same way."
Artists and consignors wishing to inquire about missing art consigned to Winchester Galleries can email the Saanich police at art@saanichpolice.ca.
"Do not let yourself be tainted with a barren skepticism." (Louis Pasteur)
"Had I the heavens' embroidered cloths,
Enwrought with golden and silver light,
The blue and the dim and the dark cloths
Of night and light and the half light,
I would spread the cloths under your feet:
But I, being poor, have only my dreams;
I have spread my dreams under your feet;
Tread softly because you tread on my dreams."
(W. B. Yeats (1865-1939) Aedh Wishes for the Cloths of Heaven)
"Others have told me you can feel it in your brush, and I do now. A family of mergansers swims close by – the young are almost ready to fly south. Perhaps you have felt it too – it has something to do with purity." (Robert Genn
Featured Workshop
September 5, 2022 to September 9, 2022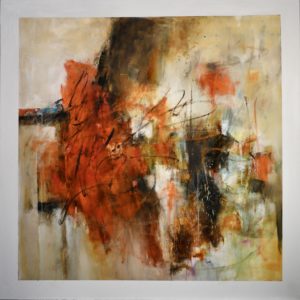 Want to create great abstracts but not sure where to start and how do you know when the abstract painting is done?
Your knowledge of color and design plays a big part in creating an abstract that will stand out from all the others.   It is also important to understand how shapes provide strength to your painting and how your edges add sensuality.  So, how do you put it all together and come out with a painting that is selected for major shows, and sells?
Design: What is considered a strong design? How to create a design that is exciting.
Color: When it comes to color what colors are best and which colors speak to the viewer?
Are there specialized ways to apply your paint to get the "look" you are searching for?
How do you get an inner glow in your abstracts?
What importance do "Quiet Colors" play in an abstract?
Shape: Are all shapes equal?
What are support shapes?
How do you connect shapes to make them interesting?
Edges: How do you do to make edges sensual?

This workshop/retreat will cover the above subjects giving you the ability and power to take your art to a higher level.
Date for this workshop/retreat is September 5 – 9, 2022 in Taos, New Mexico.
Website: www.gwenfox.com
Featured Artist
I am inspired by the drama of light as it moves along forms, the rhythms and nuances of shapes, and the colours that change from subtle to vivid at any give moment. My expressive compositions, in oils, acrylics or watercolours, are a contemplative and heartfelt response to my experiences, representing the "visual music" I feel. Each brush-stroke is like a colour note or chord playing out the scene offering a connection with the viewer through dynamic movements and vibrant colour.