Dear Artist,
Yesterday Alexis Ramos wrote, "I'm impressed that you've worked as an artist full time for all of your life. What would you recommend to a young person like me who wants to make a decent living as an artist?"
Thanks, Alexis. Your letter reminded me of something said recently by one of my dealers. I was actually trying to get him to take on a couple of promising young painters. He turned them down. "These artists have not yet ripened, Robert," he said. "They're not yet marked for destiny."
The "destiny" remark was unusual, so I asked him about it. "The artists I believe in are those who eat and sleep their art," he said. "They compulsively chip away at their statues, and this gives value in both the short and long term. They need to be lifers, like you, Robert."
I protested that I wasn't always a lifer. When I was in art school I had the distinct idea that fine art was a sham. Somewhere along the way I somehow fell in love with my art-making process. After that, sham or not, I just had to do it. Sometimes I think I did it because I was incompetent at everything else.
To answer your question Alexis, here are a few ideas:
Know that others have gone where you wish to go.
Put "getting good" ahead of "making a living."
Learn to be alone and to be your own best critic.
Cut back on impedimenta and outside distractions.
Work more hours than the average factory worker.
Notice interesting directions and go there again.
Become a perpetual student of your own progress.
Don't expect too much help from anyone or anything.
Stick to your vision, but don't fear change.
Do not be adverse to developing skills.
Know that raising standards has to be chronic.
Know that marketing is easier when you have quality.
Be curious about everything, including how you turn out.
If you fall in love, accept the gift, surrender.
Thriving is all about self-education. "Go to your room," is my advice that has had the most significant effect. Funnily, all kinds of would-be lifers somehow neglect to do just that.
Best regards,
Robert
PS: "When love and skill work together expect a masterpiece." (John Ruskin)
Esoterica: "Starving artist" is one of our popular myths. Dentists would starve too if they didn't know a molar from a bicuspid. Getting into the mode of perpetual self-generated studenthood may not immediately make all of us thrive. The human psyche has too many other frailties for that. But it's a direction that gives maximum satisfaction — a feeling of personal accomplishment and the possibility of worthwhile public enthusiasm. You can try other directions like spin, shock, extreme narcissism, smoke, mirrors, etc. While some of these may very well work for you, they might also represent the sort of sham that I noticed when I was your age.
This letter was originally published as "Artist for life" on July 23, 2007
"I believe art is a powerful language, a way of communicating that can be used to its highest potential if it is practised selflessly." (Alexis Ramos-Mejia) 
Featured Workshop
October 17, 2022 to October 23, 2022
October 17 – 23, 2022
San Miguel de Allende
Painting Mentor – Amit Janco: Artist, Author, Labyrinth Designer, Founder of Heartshops and Retreat on Your Feet (Creativity and Walking Retreats)
Join this 7-day journey through self-expression to unleash your bottled-up creativity, with a brush in hand – and openness in your heart. Calling non-artists too! Each day, you'll stand up to paint; yes, you'll be painting on your feet, and moving about – thereby activating the brain, the body and ALL senses. No need to come with a plan; watch the colors and brushstrokes come alive; and see the magic and mysteries unfold, as you greet your square of paper anew, every day. Our accommodations and studio are in an enchanting former bordello, just a stone's throw away from San Miguel's historic center, with its gardens, cobblestoned alleys and marvelous colonial architecture. Inspiration abounds!
Details at https://amitjanco.com/uncorking-your-creative-core-paint-walk-write-in-mexico/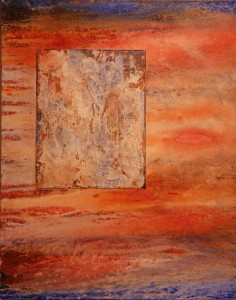 Transition
Featured Artist
Painting is my passion and joy.  My process is intuitive, though informed by good composition and design principles.  I paint what I remember, or think about, or feel, or just what comes off my hands to the brush to the canvas.  Texture and color are of primary importance to me.  I typically choose my support, texture it, select my palette, and go.  There is nothing more satisfying to me than watching paint run and move.  I love the surprises. I experiment and learn constantly.  It is a remarkable journey.  One I am pleased to share with you.