Dear Artist,
Yesterday, John Dinan of Cross, Mayo, Ireland wrote, "I earn my living from my paintings so, like any skilled worker, I'm entitled to some reward for my labour. But I have a problem. Every so often I ask someone to sit for a portrait and I feel uncomfortable about asking to be paid for it. These are not commissioned portraits, of which I do quite a few, but rather people with faces I need to paint. How do I handle the situation diplomatically? Do I offer them at half price? Many of these sitters cannot afford the work at any price. In this small community, how do I charge one and not another?"
Thanks, John. I may be a bit soft in the head on this one, but they need to either pay the full price, or receive it from you as a gift. You need to make it clear right up front. The sticky stuff comes when you keep the work and later sell it through your regular channels. Your sitter may feel a sense of participation and may also appreciate some payola. It's your call — consider sharing.
A few years ago, in a small park somewhere west of Gallup, New Mexico I met an elderly Navaho by the name of Nastas, which he told me meant "curve like the grass." After offering him $20 and a glass of lemonade, I had the soft-spoken, well-lined fellow sitting at ease under my motorhome awning. I told him if the painting was any good I'd give it to him. As it turned out okay, I did. I can still see him carefully laying the still-wet 16″ x 20″ oil onto the hay-littered bed of his blue Ford pickup and taking off in a cloud of dust. I never saw Nastas again, but a decade later a woman wrote to me from Phoenix, Arizona to say she had purchased the painting in one of those native-run pawn stores you see along Southwest highways. The photo she enclosed showed it in an opulent home, magnificently framed and looking like a regular Nicolai Fechin, Sergei Bongart or Bettina Steinke. Paintings have stories. Paintings carry karma. Paintings can brighten the spaces between brothers. Paintings given away and perhaps just starting their rounds already have more going for them than a lot of those that have merely been sold.
Best regards,
Robert
PS: "I've learned that you shouldn't go through life with catcher's mitts on both hands. You need to be able to throw something back." (Maya Angelou)
Esoterica: Another way to handle the problem is to give the sitter a giclee or a decent photocopy — even if it's not of your particular effort together. Most will understand that you are a professional and art is your livelihood. With regard to the "small town syndrome" many artists deal with, most collectors, in my experience, understand the situation of the self-employed artist. Collectors also have goodwill to offer.
"Joy is but the sign that creative emotion is fulfilling its purpose." (Charles du Bois)
This letter was originally published as "The karma of art" on December 17, 2010.
Have you considered a Premium Artist Listing?  With each letter, an artist is featured at the bottom of this page. The Premium Artist Listings are a means of connecting artist subscribers through their work. Proceeds from each listing contribute to the production of The Painter's Keys. 
Featured Workshop
January 23, 2022 to January 30, 2022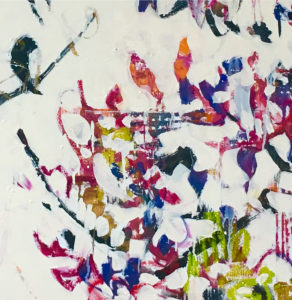 Join Ellie Harold for "Intuitive Painting: Permission to Paint Expressively," designed especially for mature women artists of all skill levels who wish to explore this medium for soulful exploration. The retreat provides attractive accommodations (your own room!) along with lightly structured activities for centering, relaxation and low stress art-making. You'll have plenty of free time to muse, paint, write and reflect while enjoying the colors, textures and flavors of San Miguel. This Retreat has the potential to transform not only your art but your life! You'll return home with a specific art "care plan" to assure support for further creating. Details at www.EllieHarold.com.
Featured Artist
I am inspired by the language, theory, history and psychology of colour and the interaction of colour , line and form to create individual colour stories within contemporary landscapes. I term these stories "Colour Hieroglyphics."