Dear Artist,
Growing up, my Dad would tell us about the importance of the secondary easel. This is an easel in the corner of your studio, or a wall in your home, where you can catch nearly finished work out of the corner of your eye and let it tell you what it needs. The secondary easel is a place for creative vision, contemplation, advancement of concepts and your own cut-throat critique.
Recently, Delphine Oudiette, a sleep researcher at the Paris Brain Institute, thought to study another technique long-used by artists to boost creative insight. In an effort to capture a very short-lasting stage of sleep called hypnagogia, or N1 – that period between being awake and being fully asleep – Salvador Dalí would hold a spoon in his hand as he drifted off. As he fell asleep, his hand would release the spoon, which would land on the floor and wake him. At this point, he'd jump back to work.
According to Dalí, these few minutes between being awake and being fully asleep were a place of blended fantasy and reality and problem solving. To test this theory, Oudiette and her team set up an experiment where non-artist participants were presented with math problems that included a numerical sequence with a missing last digit. If participants could figure out this digit, it would reduce the amount of time it took to solve the problems. After solving a handful of problems, the participants were invited to take a nap in a chair, while holding a cup, while being monitored by an electroencephalogram to make sure they didn't drift from N1 into the deeper sleep of N2. After their rest, they were presented with more math, only this time, 83% of them discovered a hidden rule for finding the last digit in the numeric sequence. For those who stayed awake during naptime, 30% discovered the new rule. For those who fell thoroughly asleep, the effect completely disappeared.
Sincerely,
Sara
PS: "The only difference between the two groups is one minute. That's kind of a spectacular result." (Delphine Oudiette)
"To gaze is to think." (Salvador Dalí)
Esoterica: Here's an idea: Consider a catnap in the middle of the most creative portion of your studio time. Sit in a comfortable chair and hold a light object that will make a noise when you drop it. Stare at what's on your secondary easel until your eyes grow heavy. Pay attention to the sounds in your room – apparently it's important to be conscious of being awake until you're not. When I tried it yesterday, I saw my current paintings grouped vertically as a chess board. When my spoon dropped, I woke up and wondered if the pleasure we take in preferential arranging and rearranging is superceded by another human impulse to strategize. Or perhaps paintings are pawns. I'm still thinking. "I am the first to be surprised and often terrified by the images that I see appear on my canvas," wrote Dalí. I welcome your own results in the comments below.
Have you considered a Premium Artist Listing?  With each letter, an artist is featured at the bottom of this page. The Premium Artist Listings are a means of connecting artist subscribers through their work. Proceeds from each listing contribute to the production of The Painter's Keys. 
"I seated ugliness on my knee, and almost immediately grew tired of it." (Salvador Dali)
Featured Workshop
January 23, 2022 to January 30, 2022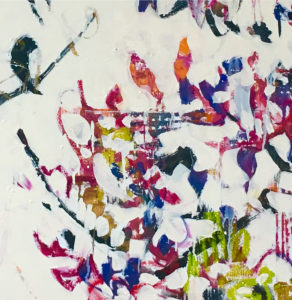 Join Ellie Harold for "Intuitive Painting: Permission to Paint Expressively," designed especially for mature women artists of all skill levels who wish to explore this medium for soulful exploration. The retreat provides attractive accommodations (your own room!) along with lightly structured activities for centering, relaxation and low stress art-making. You'll have plenty of free time to muse, paint, write and reflect while enjoying the colors, textures and flavors of San Miguel. This Retreat has the potential to transform not only your art but your life! You'll return home with a specific art "care plan" to assure support for further creating. Details at www.EllieHarold.com.
Featured Artist
Sometimes we see what no one looks for–images that have waited for us to find them. If we are lucky, these images will wait while we try to capture them with paint on canvas. They will probably change as we reach for them. I believe that if we clearly and honestly record what we see, we will be surprised, enriched, and sometimes stunned by what we've found.
There is almost always a narrative in my paintings as I believe that a story may be introduced in a scene. The viewer must fill in the before and after with unique eyes and experience, but enough can be presented to set a challenging stage if the work is successful. 
Along with being a visual story teller, I've been called a colorist, surrealist, patternist, and sometimes a texturist. I'm an Atlanta artist–an oil painter for over twenty-five years–with a studio in Brookhaven. I love working with oils because each painting session results in a new revelation of what they might do. There is a mystical quality to each painting and each day for me.
Finally, and always, there is a spiritual quest in my paintings. Driving that are the essential questions of why we are here, what we can or should or might do here, how we got here, and where we might be going. Just as I believe that there is a spirit in all things, I try to instill a bit of that spirit into each brushstroke.