Dear Artist,
"Never underestimate the power of a little pressure," my Dad would say. Professionally, it's the antithesis of the trope of infinite hours to luxuriate in slow creative germination. Rather than asking if your output is better with or without pressure, consider it instead an integral part of the creative process. You can even manufacture it for yourself.
In January, 1969, Paul McCartney presented an ambitious idea to the other Beatles; to write 14 new songs in two weeks and perform them live on TV. They brainstormed venues, George briefly quit, they invited in some brilliant guest players, assembled in the basement of Apple Records and ground out some of the most inspired and innovative work of their 213-song collaboration. If you need reminding, the Beatles were together for only 8 years.
The pressure, which included the time constraint, the heartbreak of collapsing friendships, imposing drug use, the imminent break up of the band and its accompanying difficult-at-times, summoning of desire was just, for them, par for the musical-genius-in-process course. Already accustomed to a metabolism of prolificacy and improvisation, two weeks was all they needed. It was, perhaps even, like the grasping of a dusk, all that was possible.
In music rehearsal, players often intuitively come to a point in practice where they stop, in anticipation of avoiding the condition of being "over-rehearsed." Magic must be saved for the stage. In painting, I've become aware of a technical and energetic hill that's climbed and then summited. In show prep, for example, the back can be broken of the lion's share of the show, then a short period at the end allotted for deeper experimentation, the freshest work, and applying new knowledge, skills and confidence gained during all the previous paintings. "I'm really quite simple," wrote George Harrison. "I plant flowers and watch them grow. I stay at home and watch the river flow."
Sincerely,
Sara
PS: "You've got to carry on until you get there." (George Harrison)
"All we've got is us." (John Lennon)
Esoterica: In my minds' eye, my Dad is glued to his depression-era secretary's chair, nose to easel, his water bucket muddy with paint. I'm there now, too — and on a first-name basis with my own racing metabolism and built-up tolerance for an intensity of pressures; pressure to develop, pressure to grow, to perform magic, to refine, to create and deliver what I want to be exceptional. On January 30, 1969, the Beatles performed for 42 minutes on the rooftop of Apple Records, before the police broke up the show. The performance was so inspired, several cuts from its recording would end up on their final album, Let it Be, released a month after they broke up the following year. "The best bit of us — always has been and always will be –," said Paul McCartney, "is when we're backs-against-the-wall and we've been rehearsing, rehearsing, rehearsing." It was, simply, from where they summoned their genius. "Genius," wrote Henry Willard Austin, "that power which dazzles mortal eyes, is oft but perseverance in disguise."
Director Peter Jackson's three-part, nearly-eight-hour tribute to creativity, "The Beatles: Get Back," is available to stream on Disney +.
Have you considered a Premium Artist Listing?  With each letter, an artist is featured at the bottom of this page. The Premium Artist Listings are a means of connecting artist subscribers through their work. Proceeds from each listing contribute to the production of The Painter's Keys. 
"The man who never in his mind and thoughts travel'd to heaven is no artist." (William Blake)
Featured Workshop
January 23, 2022 to January 30, 2022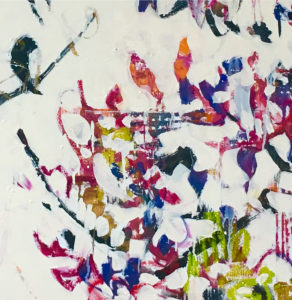 Join Ellie Harold for "Intuitive Painting: Permission to Paint Expressively," designed especially for mature women artists of all skill levels who wish to explore this medium for soulful exploration. The retreat provides attractive accommodations (your own room!) along with lightly structured activities for centering, relaxation and low stress art-making. You'll have plenty of free time to muse, paint, write and reflect while enjoying the colors, textures and flavors of San Miguel. This Retreat has the potential to transform not only your art but your life! You'll return home with a specific art "care plan" to assure support for further creating. Details at www.EllieHarold.com.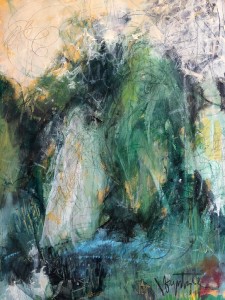 The 23rd Psalm, 2019
30 x 24 inches
Featured Artist
I grew up on a farm in Ohio, and that experience gave me a love of nature and the seasons and a deep belief in personal independence, as well as a love of experimentation. These have been the foundations of my work as a painter. I believe that learning in art or any subject is lifelong, and that the most important lessons we learn are through our personal interests and experimentation. After my husband's death in 2018, I visited Israel the next year, and was inspired by the amazing landscape colors, and especially the old city of Jerusalem, with its crumbling walls, and its deep religious importance. I found my way out of grief by painting the Eight Gates of the old city.