Dear Artist,
Imagine creating a perfect work of art at age 23, and then presenting it to humanity in new interpretations over your lifetime, alongside an assured and evolving artistic voice. Imagine presenting this perfect work again at 78, with an ever-deepening message, with a renewed thumping of human truth that comes with the reappraisal of age, to a gob-smacked and tear-wet audience. Imagine doing it after surviving a near-fatal brain aneurysm, so that you had to learn all over again, how to do everything you have done. Last Sunday, as the special guest of singer-songwriter Brandi Carlile, Joni Mitchell took the stage at the Newport Folk Festival for the first time since 1967. For the first time since her aneurysm. As part of a full set of her career-spanning material, Mitchell sang her dirge to life, "Both Sides Now." By Monday morning, a kind of emotional earthquake had shuddered across the hearts of the internet.
"Back then [in 1966, when 'Both Sides Now' was first released], some critics scoffed at the lyrics' presumptive wisdom," wrote critic Lindsay Zoladz for The New York Times. "What could a girl in her 20s possibly know about both sides of life? But over the years, the song has revealed itself to contain fathomless depths that have only been audible in later interpretations." At 56, Mitchell re-recorded it with a 70-piece orchestra. Zoladz describes her voice on that recording as "deeper, elegiac and elegantly weary." Now, with the artist at 78, the profundity of this work has squashed, in six minutes, any remaining dispute about its omniscient power. Critics are calling it the "definitive version" of the song; and "crushing." The ephemeral and collective human recognition spurred by the live performance, then the dissemination of that performance online, has achieved a miraculous un-numbing of every soul it has touched.
"Your truth should be so pure that it lifts a person's soul to the heights," said guru Yogi Bhajan. Artists who are able to capture it effectively begin with their own. "There are things to confess that enrich the world," said Joni Mitchell. This honesty is translated with an aesthetic finesse appropriate for the chosen medium. Since she was a little girl, Joni had wanted to be a painter, but found herself "derailed by circumstance." She became instead, first, a voice of her generation. Now, she is a seminal jewel in the canon of song. And a painter. "I sing my sorrow," she said. "And I paint my joy."
Sincerely,
Sara
PS: "We didn't live in the time of Shakespeare, Rembrandt or Beethoven. But we live in the time of Joni Mitchell." (Brandi Carlile)
Esoterica: When Joni Mitchell was nine, she contracted polio. After recovery, she taught herself how to walk again. In 2015, after her brain aneurysm, Mitchell again taught herself to walk. As a tween, she had taught herself to play the guitar from a Pete Seeger songbook. With her left hand weakened, she devised daring alternate tunings, which led to innovative voicings, and intuitive approaches to harmony and song structure. Among her awards and recognitions, Mitchell is ranked #72 on Rolling Stone's list of the greatest guitarists of all time. As part of her set on Sunday, she performed an instrumental of her song "Just Like This Train," from her 1974 album 'Court and Spark.' Perhaps it is simply impossible for this artist to not be honest – to not tell the truth – and this is what is felt when one experiences her art. "Truth has no finality to it. It is not something to be held on to. Truth is discovered minute to minute or not at all." (Adyashanti)
"I've looked at life from both sides now
From win and lose and still somehow
It's life's illusions I recall
I really don't know life at all." (Joni Mitchell, from "Both Sides Now")
Featured Workshop
August 22, 2022 to August 25, 2022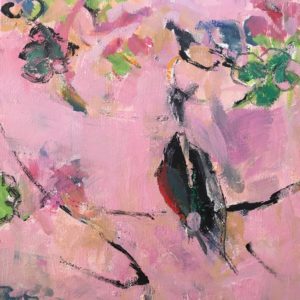 Permission to Paint Expressively Series   Session 2 
August 22-25, 2022 
Join Ellie Harold for "Expressive Painting: Making Your  Marks."  With a focus on intuitive mark-making, this workshop is designed to facilitate a fuller expression of your deepest and most essential artist Self. Content, process and lightly structured exercises give you permission to create the art that wants to be made by you in the safe space of Ellie's studio and the fresh air and cool light of northern Michigan near Sleeping Bear Dunes. You'll return home with a specific art "care plan" to assure support for "Making Your  Marks" in the world. Details and registration at www.EllieHarold.com.
Featured Artist
As I examine my subject, I pull the colors out and reduce the lines. I take from the most interesting areas, placing sections into a cohesive composition of lines and areas of visual interest. I am currently working on a tree bark series examining the details of diseased areas, breaks, patterns, and scars. My goal is to create an interpretation of the way I respond emotionally to my subjects through the use of color and line. The tree bark series is an autobiographical metaphor to express the experience of childhood abuse, recovery, and victory.