Dear Artist,
Yesterday, my studio computer jingled with a question that concerns a lot of us. Antonia Mitchell wrote, "While I'm an established artist, I still have a problem. I'm continually compelled to experiment with different forms of art. When looking at your work and that of others, I'm impressed by the distinct styles, and wonder if I need to settle on some one thing. The last teacher I had at The Art Students League in New York City, said to me, 'You need to choose.' I chose, in a fashion, but I hip-hop. Do you have any thoughts on this?"
I sure do. With my near-fatal combination of ADD and the persistent delusion that I'm Leonardo da Vinci, my chronic scatterings have become a way of life. But I know I've got company — a lot of us find that hip-hopping comes with the territory. Of course, a few iron-willed souls specialize intuitively — others are what I call "specialists by default," — their natural range just happens to be fairly narrow. But scatterbrain rabbits also thrive, and may just happen to lead interesting lives.
In the long run they may contribute more, as well. By trying more, they may end up doing more. Also, when an artist lives in her chosen processes — however many — and gives them the blessing of time — focus tends to come automatically. When you feel yourself doing well, you find yourself doing more of what you do well. I'll swear on a stack of Leonardo's notebooks that it doesn't have anything to do with cash flow. For many of us, there's nothing sunnier than a land of challenging variety and a flirtation with uniqueness. I agree with the old hippie who said: "If it feels good, do it." Style will find itself in its own sweet time. And, for sure, style discovered gives more joy than style appropriated.
My advice? When you are going in a certain direction, go hard. Give it everything you've got. Also, look at your focus work as exploration, not product. When your flame burns down, smile, start again on another. Leonardo knew that finding yourself is not one of the main things you have to do — it's the only thing you have to do. It may take longer than you think. So what?
Best regards,
Robert
PS: "My work became intuitive and interpretive. Work demands an absorbing concentration and takes you away from a self-conscious, arbitrary style into work that is really your own." (Beth van Hoesen)
Esoterica: A problem I've found with hip-hopping: When no satisfaction is immediately gained, "between-inertia" can set in. A curious lethargy and inaction prevails. Going guilt-free is best — I've found it important to press on and quickly prime the next pump. "Iron rusts from disuse, stagnant water loses its purity, and in cold weather becomes frozen; even so does inaction sap the vigors of the mind." (Leonardo da Vinci)
This letter was originally published as "Time to choose?" on July 25, 2003.
"The effect was an erotic charge. After that it was as if all the windows and doors opened and there were images everywhere that just ground themselves into me. I just had to paint them." (Mary Pratt, CC, RCA, who had been painting in an impressionistic style and struggling to find a theme, upon being taken by the sight of the sunlight on an unmade bed and its red blanket.) 
Featured Workshop
September 19, 2022 to September 23, 2022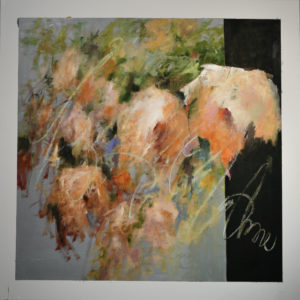 Ever wish you had the courage to create beautiful abstract florals with striking design and beautiful color? Now is your chance to open that wish box and let it become a reality.
In this five-day workshop/retreat you will immerse yourself in learning how to create loose, beautiful, contemporary floral paintings.
Flowers that show their strength while exhibiting their exquisite color that is both delicate and vulnerable. All this done in an abstract way.
You will leave this workshop/retreat with a new found confidence in your art and yourself as an artist.
Featured Artist
Shawn's paintings evoke the feelings of the West Coast, its shores and islands, ponds and lakes.