Dear Artist,
An excellent Quebec painter, Lorne Bouchard, once gave me some advice. He told me that a painter needs to work from three sources — from self-generated photo reference, from life, and from the imagination. "All painters," he said, "favour one or the other, but all three are needed to gain maximum feeling — and this goes even for abstractionists and those others who glean their motifs from their minds."
This advice came at a time when I was chronically "P.D." (Photo Dependent). It took me another decade to realize the value of Lorne's advice. I'd always thought that photos, used properly, had the coded information needed to make patterns and design decisions. Furthermore, photos side-stepped what I saw as the rigmarole of live observation. This all came at a time when I was struggling with perceived limitations of my pictorial imagination.
Then I saw the light. Flirting with plein air, I was returning from outdoor sorties and encountering photo-based as well as imaginary work in my studio. I saw barrenness and lack of elan. I realized that works conceived theoretically and outside the real world were somehow lacking in the truth I was after.
The outdoor connection has something to do with walking on the loose flints themselves, the feelings of change, atmosphere, and the effects of timing. Last week in the Queen Charlotte Islands, left alone to my own devices on a remote beach, I was set upon by some fancy weather. After a blast of rain had me under an umbrella, I moved into the nearby forest for shelter. I was soon overtaken by a pervasive "Scotch mist" that turned out to be a remarkable moisturizer of the acrylic palette and canvas. "An inconvenience is an unrecognized opportunity," I remembered from Confucius. The paint on the canvas moved around on its own. The effects were like nothing I'd done before. Point is, I'd never have figured this out from a photograph or from the wiles of imagination.
Looking and seeing on location, or working from life, adds a living presence to work. Gathering becomes an event. Life reboots visual memory. If you add life to self-generated reference and the muscle of imagination, better work is more likely to appear.
Best regards,
Robert
PS: "You can be bashed around in the bush. If your hands freeze, your face burns, or the mozzies suck your blood, so much the better." (Lorne Bouchard, 1913-1978)
Esoterica: Without the third muscle of imagination, whether as pure play or an adjunct to reality, art is bound to fall flat. Asking the question "What could be?" at every stage of your process is the magic moxie that makes art. Imagination is the mother of style. Artists, particularly younger ones, often find the three approaches generate three different styles. This tendency becomes less apparent as an artist matures. The later work of Lorne Bouchard, for example, was consistently loose, casual and cursory. Looking at individual paintings it's difficult to say from which of the big three his inspiration came.
This letter was originally published as "The big three" on July 17, 2007.
"No design is possible until the materials with which you design are completely understood." (Ludwig Mies van der Rohe)
Featured Workshop
August 22, 2022 to August 25, 2022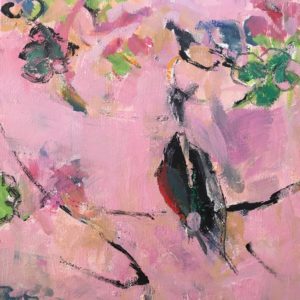 Permission to Paint Expressively Series   Session 2 
August 22-25, 2022 
Join Ellie Harold for "Expressive Painting: Making Your  Marks."  With a focus on intuitive mark-making, this workshop is designed to facilitate a fuller expression of your deepest and most essential artist Self. Content, process and lightly structured exercises give you permission to create the art that wants to be made by you in the safe space of Ellie's studio and the fresh air and cool light of northern Michigan near Sleeping Bear Dunes. You'll return home with a specific art "care plan" to assure support for "Making Your  Marks" in the world. Details and registration at www.EllieHarold.com.
Featured Artist
All of my paintings are an exploration – either representational of people and nature or non-representational  work that explores bits of poetry and always, nature. 
I work in acrylic for non-representational work and oil for the representational paintings. 
I find that the more connected I am to the content, the more successful the painting seems to be.  Content comes from family, from my love of nature from travel and reading.