Dear Artist,
Yesterday, Richard Woods of Sparks, Nevada wrote, "I'm just heading out painting at a location where snow is a good possibility. The forecast calls for a high of 36 degrees Fahrenheit. Painting in cold weather is a pain for me. I see pictures of you working while sitting in snow banks and at high elevations with snow coming down. How do you do it?"
Thanks, Richard. With forethought. The main problems are wind, precipitation, and the temperature of things.
Wind: You may need to sacrifice a really good view to put your back to the wind. I often paint in a folding chair, so an extra chunk of foam on the chair-back is useful. Also, one of those fur-lined helmets with the flaps helps prevent an early loss of ears. Parkas or hoodies tend to interfere with head movements and the business of looking over your shoulder for bears. Fur-lined hiking boots are a must. "There is no bad weather for painting en plein air," says Barbara Jablonski, "only bad painting clothes." Teach yourself to paint using leather or wool gloves. I used to cut the fingertips off, but it's only necessary if you're doing finicky work. Regular gloves or even mitts can help make your stroke broader and fresher.
Precipitation: Whether straight down or sideways, snow, sleet or rain are fun-spoilers. Wet snow falling and puddling on acrylic or watercolour has only limited creative value. Oil and water, of course, don't mix. Best Brellas are simply brilliant on calm, sunny days — but in a gale they can move you and your work a mile down the valley.
Warmth: "Scottish antifreeze" from a small flask is best. Cocoa from a thermos works but is less fun. Some ladies of my acquaintance put chemical warmers called Heatmax Hot Hands and Heatmax Toasti Toes into needy areas. I like to point out that Scotch taken orally in moderation warms all over. Some painters report the main benefit of sub-zero painting is the achievement of speed. But there's also a wonderful feeling of smugness that slips over you like a soft woollen blanket. Whether an island unto yourself or together with a gaggle of good companions, you're adrift and apart from a madding world and in soft communion with wonder.
Best regards,
Robert
PS: "Working outdoors puts you in direct contact with the life force, not just the light and the landscape, but also the vitality of the world." (George Carlson)
Esoterica: Acrylics and watercolours freeze easily and take on an unpleasant granular texture which stays on after they thaw. Keep all your paints, including oils, in a warm part of the car and don't leave them in a car overnight. Liquids like acrylic medium and linseed oil should be near to room temperature for best viscosity. The Russians have pioneered thinning watercolours with vodka. When ice begins to form on the palette it may seem like the time to reconsider chartered accountancy, but really it's just time for the lodge. Tomorrow will be another day.
"All pictures painted inside in the studio will never be as good as the things done outside." (Paul Cezanne)
This letter was originally published as "Out in the cold" on December 16, 2011.
Have you considered a Premium Artist Listing?  With each letter, an artist is featured at the bottom of this page. The Premium Artist Listings are a means of connecting artist subscribers through their work. Proceeds from each listing contribute to the production of The Painter's Keys. 
"Art must take to the road and risk all for the glory of adventure." (Lawren Harris)
Featured Workshop
January 23, 2022 to January 30, 2022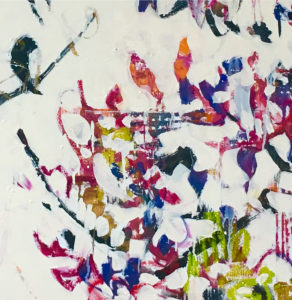 Join Ellie Harold for "Intuitive Painting: Permission to Paint Expressively," designed especially for mature women artists of all skill levels who wish to explore this medium for soulful exploration. The retreat provides attractive accommodations (your own room!) along with lightly structured activities for centering, relaxation and low stress art-making. You'll have plenty of free time to muse, paint, write and reflect while enjoying the colors, textures and flavors of San Miguel. This Retreat has the potential to transform not only your art but your life! You'll return home with a specific art "care plan" to assure support for further creating. Details at www.EllieHarold.com.
Featured Artist
Creativity has always been my calling however I didn't realize that it would be primarily art related, until later in my life. Passing on knowledge is also a natural aspect of who I am. For me teaching skills to others is both a continuous joy and a personal education.
I love to draw and to paint with watercolor, pastel and mixed media, but I am also intrigued by the process and challenges of printmaking.
To me, figures and busts in clay just seem to come alive by themselves, in their own three dimensional world.
My subject matter is quite varied overall, but my personal favorites are always faces and figures of all types.