Dear Artist,
Walking the South Beach Boardwalk, it's easy to spot the art fair people. They stick out with their starched collars and linen blazers, chunky accessories and phones. Everyone else on the beach is sunbaked and partially nude, save for the hobos, who can be distinguished from the senior male artists because the hobos are wearing shoes. I join the informal parade, congealing toward the tent.
Untitled Art is one of a handful of fairs taking place in Miami this week. Nestled between what everyone here calls, "The Big Fair" — Art Basel — where the Greatest Hits of Blue Chip will break records and headlines and signal the health of the market for those at the top — and the smaller, scrappier places of discovery: the non-profit New Art Dealers Alliance Fair, Scope, Red Dot, Spectrum, Jada, Ink, and one devoted solely to NFTs, Untitled takes place in a gleaming skylit tent on the white strand at the foot of Ocean Drive in South Beach — its backdrop a blasting cerulean sky and the sparkling joining of Biscayne Bay and the Atlantic.
Inside, the dealers ready themselves for the press reception. There's a bar with bowls of champagne and gin, and no food. The artists have gone to the trouble of identifying themselves as the talent with their hair and tattoos and entourages. Everyone is cautiously optimistic about being out of artworld lockdown.
I cruise the booths: textiles, fluorescents, slap-dash, figuration, identity, witty text, low relief wall stuff, allegory, de-skilling, impasto, fabrication, installation, illustration, thread, painted plaster, fur, collage, colour, zip ties, clay, ab ex, primitivism, felt tips, magic realism, quickies, outsider, metallics, kitchen sink, bottoms and tops, a rendering of a penis, an oil of a tree. "A culmination of what's been happening in studios for the past two years," I overhear someone expound, "and with no fairs to reveal the gradual emergence of these frequencies and trends, a revelation, all at once."
Sincerely,
Sara
PS: "The works of art, by being publicly exhibited and offered for sale, are becoming articles of trade, following as such the unreasoning laws of markets and fashion; and public and even private patronage is swayed by their tyrannical influence." (Prince Albert, in 1851, upon the opening of the first World's Fair)
Esoterica: In David Brooks' recent essay on emo-diversity for the Atlantic, he espouses the virtue of becoming attuned to more obscure and nuanced feelings as a route to emotional maturity. Of all the sensations Brooks describes in his essay, the one that feels closest in this moment is the Spaniards' beloved duende — that "chilling and thrilling feeling of sorrow and joy that flows out of hardship and is expressed as a heightened awareness of death while dancing the flamenco." This is surely an adequate description of what it feels like to show. Brooks insists that those of us capable of what he calls, "granualizing" — micro-describing emotions so specific they turn into their own poems — can better regulate, drink less, avoid exhaustion, and even the doctor. I am both tired and thirsty. I am deeply grateful. I miss my Mum. And my Dad. My dealer, Sally, pours us two small glasses of champagne. "If it makes you cry," said Annie Leibovitz, "it goes in the show."
Have you considered a Premium Artist Listing?  With each letter, an artist is featured at the bottom of this page. The Premium Artist Listings are a means of connecting artist subscribers through their work. Proceeds from each listing contribute to the production of The Painter's Keys. 
"The happiness of your life depends upon the quality of your thoughts." (Marcus Aurelius)
Featured Workshop
January 23, 2022 to January 30, 2022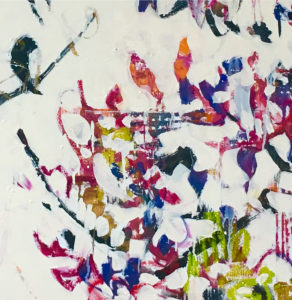 Join Ellie Harold for "Intuitive Painting: Permission to Paint Expressively," designed especially for mature women artists of all skill levels who wish to explore this medium for soulful exploration. The retreat provides attractive accommodations (your own room!) along with lightly structured activities for centering, relaxation and low stress art-making. You'll have plenty of free time to muse, paint, write and reflect while enjoying the colors, textures and flavors of San Miguel. This Retreat has the potential to transform not only your art but your life! You'll return home with a specific art "care plan" to assure support for further creating. Details at www.EllieHarold.com.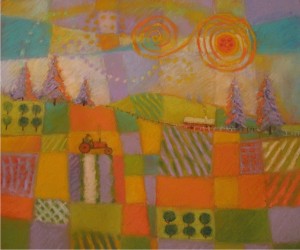 Sunrise Over the Farm #2
original pastel 15 x 15 inches
Featured Artist
Mary's interest in pastel painting began during her years at Whitworth College in Spokane, WA where she majored in art and elementary education. Though she has worked in watercolor and oil as well as calligraphy, her interest has consistently turned primarily to pastel because of the medium's potential for glowing, vibrant color and the harmony achieved in bringing together lights and shadows.