Dear Artist,
We each have unique social styles and levels of tolerance for visitors to our creative sanctuaries, but after watching my dad do it for forty years, I've picked up a few techniques that I continue to use. Whether it's a gallery, curator, collector, a sprawling group or a single soul, you can manage their impact on your creative happiness. A sensitive, well-planned visit can carry the potential for creative enrichment and could advance your practice, even your dreams. Here are a few ideas:
Studio visits should be warm, intimate, professional affairs with a beginning, middle and end, focusing on connectivity and deeper understanding. In my mind, they should also be a bit special in their exclusivity. Begin welcoming your guests by being prepared and ensuring that everyone is comfortable.
The middle of the visit is showing your visitors around and sharing some of your inner and outer creative world — plus answering questions. You can allow your visitors to steer things a bit at this point. You're also getting to know people in the context of your shared area of interest, which can lead to lifelong connectivity and friendship.
The end of the visit is as simple as being grateful for the opportunity to share what you do. Other endings, like offers of representation, selling, show-planning or other actions are up to you and your visitor. Remember that a little time to think after a visit is perfectly reasonable for both parties. Like a first date, try to be in the moment and not attach yourself to lofty outcomes.
You can vet potential visitors and expect them to have done some research and have at least seen examples of your work online. This frees you to share, in person, a deeper dive into what's happening on the easel.
Consider scheduling visits close to the end of the workday to reduce disruption of workflow. Schedule for when the light is good, but also when it's most interesting.
Offer drinks but not food. In an effort to guard his time, my dad had a technique of putting books on the most comfortable chairs to keep his visitors from settling in for the evening. He would soon be keen to get on with his work.
Consider keeping your partner mysterious — your support system is totally vital but it's important to streamline the visitor experience. Peter keeps the mystery alive by opening his personal spaces and collections — the studio is our house — but he eschews waiting on visitors or joining in on the presentation, an early tip he got from my mum.
Clean up, but not too much.
Resist dwelling on your CV. An historical overview, too much work or too many disparate periods can be overwhelming. Instead, edit current work to its highest quality. Provide a mixture of up-to-date, gallery-ready work and current works in progress. Consider entirely omitting older work.
Be prepared to communicate what your work is about without explaining in too much detail your technical process. Leave room for silence, too.
If you're selling from your studio, a printed, universal price-list can soften the need for over-zealous salesmanship. If you're in the gallery system, respect the work your galleries do by redirecting collectors back to them.
This is a ritual that helps me prepare for visitors in a sanctuary that is 99 percent of the time, shared only with a handful of intimate beings. If it all sounds like it's not you, then be yourself, too.
Sincerely,
Sara
PS: "As far as outdoor work is concerned, a studio is only a garage; a place in which to store pictures and repair them, never a place in which to paint them." (Joaquin Sorolla)
Esoterica: Many thanks to everyone who wrote to Hadia Hassan in response to her study on online artist communities. "The response has been absolutely great!" wrote Hadia. "From the day the letter went out, I have been receiving plenty of wonderful and detailed emails from The Painter's Keys. Thank you all for contributing to the project — it has been great to read through the stories and experiences of how everyone has come to communicate with the site. Thank you for allowing me to work with you and your community." If you wish to write to Hadia regarding her study, her questions are here. She can be reached at hadia97@my.yorku.ca
Have you considered a Premium Artist Listing?  With each letter, an artist is featured at the bottom of this page. The Premium Artist Listings are a means of connecting artist subscribers through their work.  Proceeds from each listing contribute to the production of The Painter's Keys. 
"Space for the Spirit to breathe." (Rainer Maria Rilke)
Featured Workshop
August 14, 2020 to August 16, 2020
A 3 day Non-Objective Painting Workshop with Cat Tesla and Julie Schumer
in Santa Fe, New Mexico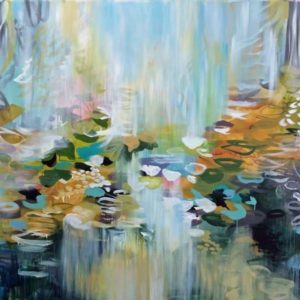 Explore and develop your personal voice in the inspirational environment of Santa Fe.   We will explore composition, color, value and how to work on multiples at the same time.  Find your own signature with different mark making tools and learn how your marks enliven your paintings.   Learn how to harmonize any palette, move from analysis paralysis to painting success and to trust your artistic choices. This intensive 3 day workshop is perfect for the beginning artist who has some experience using acrylic paint.
August 14, 15, and 16
9 am to 4:30 pm
$950  Bring a friend and save $50 each
https://artbycat.com/page/1-Workshops-Prints.html
Featured Artist
Gardens are my enduring inspiration, and getting to the heart of the flower, my passion.