Dear Artist,
On Sunday Elaine Caulton wrote, "I have tried to find out what the ramifications would be if I chose to paint under a 'nom de brush.' I could sign paintings with whatever name I chose, but where does that leave me regarding payments for paintings sold, tax returns, etc.? Actors use stage names — why can't I? (No, I'm not wanted by the Mob, but maybe I'm a little paranoid at putting my real name 'out there.') Any information you could provide would be a help!"
Thanks, Elaine. Elaine also goes by Mary Martin van Pablo Degas Gogh Hepworth Kitaj Hamilton Finlay-Frink. Perhaps it is because she has too many names that I was not able to find her on the Internet. I have to admit I once considered having several names myself, and then reconsidered. Actually, many creators want to hide behind a pseudonym — even a variety of them to match the artists' various styles. The idea of filing taxes under other names is appealing too, with multiple personas below the radar significantly lessening the overall bite. I don't recommend it, unless you think you might enjoy the quiet solitude of a Federal slammer.
The idea of many names arises from a personal identity crisis and needs to be dealt with. On our short walk on this planet we are all given a precious and unique "me." We need to realize that there is not enough time to be more than one me. We need singularity to shine our individual light. For most of us, a single moniker is enough. Archie Leach's transformation to Cary Grant was not self-inflicted — it was the whim of Paramount Studios. He would have been just as funny and effective as a Leach.
Elaine, you need to realize that as a creative person you have the capacity to do many things. This is nothing to be ashamed of, nor is it unusual. Forget yourself and concentrate on whatever is attracting you at the time. By diluting your name, you also dilute your ego. You need your ego and your ego needs you. Settle on a single label, your personal brand. For Internet purposes you might make it a bit unique — needed to distinguish yourself from all the others. Sign proudly and uniformly. People will not be confused by you; they will begin to appreciate your diversity, you will feel better about who you are, and all the cheques will arrive in your name.
Best regards,
Robert
PS: "Creativity does not depend on inherited talent or on environment or upbringing; it is a function of the ego." (Silvano Arieti)
Esoterica: In The Rise of the Creative Class, Richard Florida describes the vast number of frustrated artists making the transition from the dullness of drudge jobs to the elixir of creativity. The democratization of the arts, which includes cooking, teaching, barbering, gardening, child rearing and Web development, is one of the sociological phenomena of our times. Individualists from the shop floor are recognized by name as they step forward with ideas and systems. Next time someone is handing out name tags, you need to take the one that says, "Hi, I'm Elaine."
This letter was originally published as "Nom de brush" on November 27, 2007.
Have you considered a Premium Artist Listing?  With each letter, an artist is featured at the bottom of this page. The Premium Artist Listings are a means of connecting artist subscribers through their work. Proceeds from each listing contribute to the production of The Painter's Keys. 
"I don't express myself in my paintings. I express my not-self." (Mark Rothko)
Featured Workshop
January 23, 2022 to January 30, 2022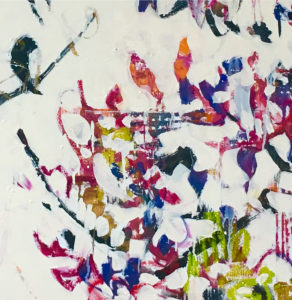 Join Ellie Harold for "Intuitive Painting: Permission to Paint Expressively," designed especially for mature women artists of all skill levels who wish to explore this medium for soulful exploration. The retreat provides attractive accommodations (your own room!) along with lightly structured activities for centering, relaxation and low stress art-making. You'll have plenty of free time to muse, paint, write and reflect while enjoying the colors, textures and flavors of San Miguel. This Retreat has the potential to transform not only your art but your life! You'll return home with a specific art "care plan" to assure support for further creating. Details at www.EllieHarold.com.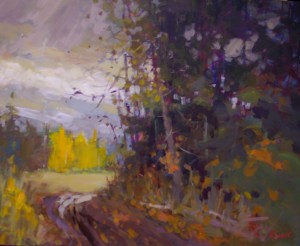 Turn In The Road
24x30 acrylic
Featured Artist
My art represents an artistic journey that has been on-going for more than thirty-five years with help and guidance from many wonderful artists. Now, with years of plein-air painting experience, study and solo exhibitions, I believe that my current work has reached its highest level, reflecting the depth of my absorption in the wonder and beauty of the world around me.  I have learned that, as an artist, I will never stop looking for better ways to express my feelings in art and that struggling to more fully understand myself is integral to my painting; a philosophy that was part of every workshop I taught. Still is.