Dear Artist,
Last Sunday I gave an artist's talk. There was standing room only in the small museum where my retrospective exhibition is being held. Some people had to stand out in the hall where they couldn't hear, so I'm giving it a repeat this coming Sunday.
I've tried to figure out the usefulness of the talk convention, and what others might be getting out of it. Most who attended were artists, but there were quite a few collectors as well. I kept my talk to one hour — including spirited audience interaction. To me, the main value of these events is to put a human face on creative comings and goings.
There were note-takers who asked about brands of paint, and how early in the morning I got started. (Golden and early.) And then there were those who needed anecdotes about specific paintings. (I keep 'em short.) As usual, when I offered to help and mentor people, the keener ones left their cards and said they would send me their jpegs. As I give my advice for free, no one complains about the price.
By Monday night there were a dozen packets of jpegs in my inbox. Some people included platinum prose with high-aiming personal ideals and visions; others were merely looking for practical advice. Here, in part, is one of my responses:
"It's only an opinion but I find your work a bit stiff and pasty. It might be improved by loosening up and softening some edges. Perhaps estrange yourself from the camera for a few dozen paintings. I consider them to be competent and professional — good commercial-type illustrations — but perhaps more magic and intrigue are needed. A background in commercial art can be a detriment if you are on a search for feeling and creative impact. Go for a while with instructors who don't paint as you do. Regarding your questions on marketing, keep painting and try to perfect your personal direction and creative processes. Good luck, and please feel free to send more at any time."
A bit tough, possibly, but it is, after all, only an opinion. The weird thing is that I sent very similar responses to four different painters. In light of the big picture and the long history of art, how valid are these opinions? Am I guilty of mouthing some current fashion or — worse — my personal prejudices? What's going on?
Best regards,
Robert
PS: "Dream lofty dreams, and as you dream, so shall you become. Your vision is the promise of what you shall one day be; your ideal is the prophecy of what you shall unveil." (James Allen)
Esoterica: The convention of the artist talk employs two-directional curiosity. In this age of individual empowerment, the art-talker looks out at a sea of fellow sailors. The interaction business is a ship unto itself. We trade each other's moxie and lean on the supposed wisdom of perceived authorities. The brotherhood and sisterhood is alive and well. Knowledge is power, and the desire for the joy of private creation is viral. Getting out of the rat race is now a religion.
This letter was originally published as "Cheap Advice" on February 16, 2007.
Have you considered a Premium Artist Listing?  With each letter, an artist is featured at the bottom of this page. The Premium Artist Listings are a means of connecting artist subscribers through their work.  Proceeds from each listing contribute to the production of The Painter's Keys. 
"Beware of geeks bearing formulas." (Warren Buffett)
Featured Workshop
June 7, 2020 to June 16, 2020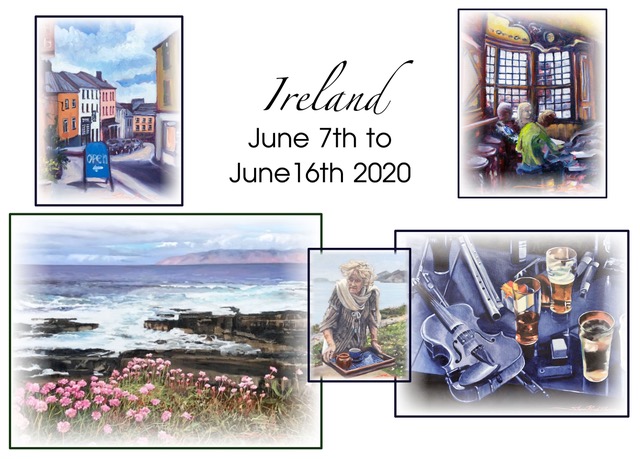 Join award-winning Plein air painter Sharon Rusch Shaver as she conducts her next exciting workshop to the Dingle Peninsula of Ireland. Painting daily in your chosen medium: oil; watercolor; pastel; pen and ink artists as well as photographers will find plenty of inspiration where the sea defines the life and creates excitement on this amazing Island. Daily demonstrations and one-on-one help will be provided for those wanting to learn how to work quickly capturing that changing light and color in their paintings.
Delicious chef prepared gourmet meals and a well-appointed ensuite rooms, as well as all ground transfers are included. All-inclusive* 9 nights accommodation, transfers, meals, and instruction. Go to: Adventure-Artists.com
Artist Sharon Rusch Shaver has postponed the Ireland Adventure until 2021. If you would like updated information about this an other upcoming adventures, you can get on her mailing list by visiting: Adventure-Artists
Join us!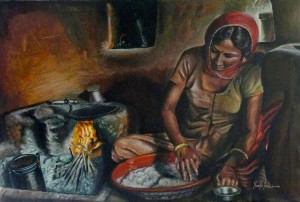 Woman preparing chappaathi
oil painting
Featured Artist
I, Ramya Sadasivam, have been practicing art since 2006. I so love to portray Indian culture, customs, day to day chores of the hard-working laborers, happy village life and life of women. I love to capture the difference in values between the shadows and bright light and also I like to capture genuine emotion.