Dear Artist,
Last night I was giving a short talk and signing books at one of our local art clubs. I happened to notice no men were in the hall. The club has many male members, they assured me, but apparently they don't come out on rainy nights. Not to listen to me, anyway. I wasn't crestfallen — I was being sociologically informed. I've always noticed the 80/20 split in these organizations, but I knew the full-female thing was just around the corner. Anyway, it was a combined lecture and holiday-season windup, the shortbread was good, and no one asked me to dance.
If you don't mind, I'm going to lay some statistics on you. Of the 82 new people who signed up for the Twice-Weekly Letter yesterday, 56 were women. That's 68% — which pretty well mirrors our current ratio of 67% women subscribers. Maybe this means females might be more willing to listen to males than males are. If true, one wonders what percentage of males is willing to listen to females.
Fact is, women are more into growth, self-improvement, networking and learning than men. In a recent UNESCO study, more women than men got university degrees in 75 of 98 countries. This goes for most professions with the exception of engineering, computer science and math. Some fields are being overwhelmed with women. The vet school in Guelph, Ontario, for example, reports 80% of current grads are women.
The fact that boys lag behind girls in school is well known and not peculiar to our times. Studies show that as early as grade nine girls crave learning more than boys. Apparently the boys are now lagging later and later. The new statistics might be alarming to some. Roles may be reversing. Are men going to be stay-at-home-dads while the women go out into the world and slay dragons? Is breeding going to grind to a halt? Are women going to be all the doctors, lawyers and artists? And by the way, do men just not want to listen because they already know it all and need to get on with it?
Best regards,
Robert
PS: "And the day came when the risk to remain tight in the bud was more painful than the risk it took to blossom." (Anaïs Nin)
Esoterica: The "demographic bomb," as it's being called, may have its short term benefits, but the longer picture is not so rosy, particularly for Western cultures. If women are busy building empires, where will the new customers be coming from? One more statistic and I'll shut up and get back to my easel: In my four top galleries it looks like 27% of living artists represented are women. Ten years ago it was 24%.
This letter was originally published as "When all the artists are women" on December 11, 2009.
The Letters: Vol. 1 and 2, narrated by Dave Genn, are available for download on Amazon, here. Proceeds of sales contribute to the production of The Painter's Keys.
"Feet, what do I need you for when I have wings to fly?" (Frida Kahlo)
Featured Workshop
June 25, 2019 to June 28, 2019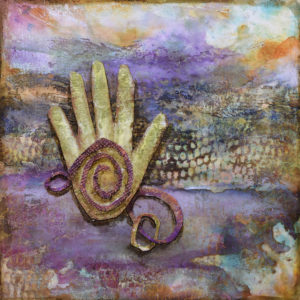 I love texture and ancient organic ones are the best. Think of metals with gorgeous patinas like copper, rusted metals, crackled surfaces with gloss and grit too. Now we will learn how to apply them to any surface. We'll put them on fabric, paper, plastic and panels. We will explore materials that are sourced from unusual places such as the home improvement store, the fabric store, the kitchen and the office supply store. I will share how to use acrylic gels, pastes and mediums to expand your texture vocabulary while saving tons of money on paints. Color is my thing and I will give you the three best tips for creating vibrant colors. Learn how to create mood using composition and values and find the narrative within the abstract forms. We begin with playful exercises that will free your creative soul to explore new directions into abstract reasoning.
https://ptschoolofthearts.org/
Featured Artist
Christine Hanlon, whose work has been compared to that of Edward Hopper, creates 'urban landscapes which quietly exude atmosphere.'