Dear Artist, Yesterday, John Dinan of Cross, Mayo, Ireland wrote, "I earn my living from my paintings so, like any skilled worker, I'm entitled to some reward for my labour. But I have a problem. Every so often I ask someone to sit for a portrait and I feel uncomfortable about asking to be paid for it. These are not commissioned portraits, of which I do quite a few, but rather people with faces I need to paint. How do I handle the situation diplomatically? Do I offer them at half price? Many of these sitters cannot afford the work at any price. In this small community, how do I charge one and not another?"
Maya Angelou
) Esoterica: Another way to handle the problem is to give the sitter a giclee or a decent photocopy — even if it's not of your particular effort together. Most will understand that you are a professional and art is your livelihood. With regard to the "small town syndrome" many artists deal with, most collectors, in my experience, understand the situation of the self-employed artist. Collectors also have goodwill to offer.
John Dinan
Cash and karma
by Skip Rohde, Asheville, NC, USA When John gets a commissioned portrait, then he's doing a portrait for a client and deserves fair reward. When he asks somebody to sit for him, though, he's doing the portrait for himself. That's an entirely different situation. Maybe just doing the portrait is its own reward, in which case he can probably give it away with a clear conscience. Maybe it's going to go in a gallery as commission-bait, in which a fair price can and should be tacked on. I run a weekly life drawing session in my studio, and in addition to paying the models in cash, I usually give them one or two of my drawings as well. Why? Very few models have drawings of themselves, and I've got stacks of the things. The stacks have no karma. The ones given away, they do. Most of them are going to be treasured long after the cash is spent.
Tough times
by T.J. Miles, La Torreta, Torrevieja, Spain I have admired John's work for many years. Each time I visit one of my representing galleries,John's work has usually beaten me to it, and is already hanging on the wall looking down on my paltry work as I unwrap it. The Irish art market is going through a tough time at the moment, as is the rest of the art world, of course. The secret is to keep plugging away and look ahead to a couple of years when things get better. I am already planning for exhibitions of something entirely different in 2012. Let's hope the world is ready.
Negative feelings
by Mariane Hostmark Tveter, Masai Mara, Kenya The first point is perhaps that John needs to work through these negative feelings in an open way for his own peace of mind. He could set aside a budget for it so he can feel free to ask who he wants to sit for him. Or he could make up his mind about giving some kind of present — wine, a sketch of the model, or something else he feels comfortable with. Next, he must then accept that there are some who will and some who will not pose for him. Not all are comfortable to be under the kind of scrutiny prolonged visual focus is needed in art. I have modeled quite a bit and it is hard work!
Finding herself richer
by Luann Udell, Keene, NH, USA When I first started making my artwork, I was too embarrassed to ask people to actually pay for it. I got over it. Then I went through a long phase where everybody paid — I rarely gave anything away. Now I'm in a different place. For some work, I am richly paid. But just as often, I find myself giving more away. I've found that somehow, without my conscious intention, my work has the ability to heal, emotionally and spiritually. Sometimes, someone else just needs it more than I need money. And I'm astonished to find myself richer.
There are 2 comments for
Finding herself richer
by Luann Udell
Fair pay with gratitude
by Dominique Gaillard, Montreal QC, Canada Whenever you ask someone to sit for you, this person you selected because of particular features, mood, elicited feelings, etc, becomes what is known as 'a model.' Whoever sits still for any length of time, clothed or nude, deserves to be paid for obliging you. You're very right to 'feel uncomfortable about asking to be paid for it' because it is the sitter who deserves to be paid for his/her efforts. You realize yourself that these sitters cannot afford the work at any price. But what such low income section of society would appreciate is a little financial boost here and there, and that's an excellent way of helping people in need to earn. I do it on occasion when I encounter someone in difficulty and get to know them, their history; I often end up proposing to pose in a portrait session for my group and spell out the conditions before hand.
There is 1 comment for
Fair pay with gratitude
by Dominique Gaillard
Perils of exposing half finished work
by Wes Chandler Early on, a friend asked me to do a charcoal portrait and she had a face I needed to portray. I think her motivation was to show her cheating husband how beautiful she could be. I had the feeling it would turn out to be a no-win proposition from the start, but I thought, "Why not try?" Our understanding was that if she liked it, she'd pay me what she thought it was worth. If not, it would remain mine. I tried to portray her in the most favorable way I could, but made the mistake of giving her a photo of the work in progress, which she showed around to her friends. She reported back to me that they'd said, "Oh you're much prettier than that." I fussed with it a little more, and the drawing became an overworked non-likeness.
The possibility of not signing
by Teresa Chow, Vancouver, BC, Canada I agree that some sort of payment either in dollars or in gratitude should be awarded to the sitter. After all, the sitter did the modeling. If the painting is not to the artist's satisfaction or not good enough, then don't sign the painting. Last week during a social gathering with some life drawing artists, I asked my friend why he didn't sign the painting. He said, "It's not really done yet. I still have some touches here and there. When it's done, I'll sign it." I think he has some logic in this matter. If John Dinan is not happy with his work and decides to give it away then he has the option not to sign it. If he's satisfied and wants to sale the painting at the gallery, then some sort of incentive has to be paid to the sitter.
Pay the going rate
by Mary Frances Batut I feel there is another solution for Mr. Dinan's dilemma. You touched on it by paying Nastas to sit for you and I certainly commend you for giving him the portrait. Mr Dinan feels that like any skilled worker he is entitled to some reward for his efforts but he doesn't mention paying the sitter for their efforts. He requests them to sit for him as he wants to paint their portrait thus from my point of view he is "commissioning" their time. He may not look upon them sitting for him as "skilled work" but they are certainly giving up their time for him — he should just simply pay them what he would pay if he hired a "professional" model. This would allow Mr. Dinan to then sell the painting to a buyer at his usual price.
Choosing models that inspire
by Lynn Digby, Ohio, USA A certain model I painted had multiple piercings and tattoos and someone said to me, "People 'like this' don't buy paintings. Why do you paint them? Don't you want to sell your work?" I think it's important to keep the eye focused on what fires you visually, and not worry solely about the sales potential when choosing a model. However, if you are trying to earn a living from sales of your work, it seems counter-productive to drastically cut your prices on the work so that models who might want them could afford them. I think your prices are your prices, and these need to stay consistent for the sake of your collectors. And I try to make archival prints for my models when time permits. But I find it works best for me, when requesting that someone sit for me, is to explain what I will do for them before hand so that their expectations are in line with what I can offer sensibly. I've always had good responses. However, a gift is something else. I have given art away. And in each case, I have felt that this was the right thing to do. I have never regretted the times when I have done this. I think karma has to do with knowing when this feels right.
There are 2 comments for
Choosing models that inspire
by Lynn Digby
Lost painting finds new home
by Allan O'Marra, Ajax, ON, Canada I was at a party in Toronto where a former gallery owner friend of mine, Liz, told me about a medium-size oil painting that had been found in the downtown area in an apartment building "recyled items area" (where people dump household furnishings, etc. they no longer want). The person who found it recognized my name and style — having seen shows of my work at Liz's gallery on several occasions in the past and wondered if it was truly an original of mine. Liz advised that the painting was titled David's World on the back and I knew instantly that it was painting I had created of another friend back in the 1980s, a depiction of him at his flamboyant best, lolling on the upper deck of a boat in Toronto Harbour. Liz had told the finder that, based on the size of the piece, it was probably worth $1,000 to $1,500 (she was close: it would be $1,200, sold originally, in 1987 to "David" for $500). Not sure now how I feel about my friendship with David anymore; but pleased that, in spite of stressful circumstances the painting has found a new home!
There are 4 comments for
Lost painting finds new home
by Allan O'Marra
A painting with a past
by Louise Francke, NC, USA This painting has a travel-log. In 1990, it was exhibited in Soho Gallery during Women's Caucus. Eleanor Heartney reviewed it in the "Visions of Life" exhibit catalog crit prologue. It went from Chuck Levitan's Gallery to Islip Museum and then to an artist friends studio where it was assaulted by his cat. By the time I got it back, it reeked. I tried everything to remove the stench and revitalize the work. Repainted the assaulted areas and gave it to a collector of my works. In 2009, Crossing Over resurfaces. A young couple had purchased it from another party in an estate sale. I befriended the couple and revisited Crossing Over at their home. The damage had reappeared through the paint but it no longer smelled. I took it back to my studio and once again repainted the affected areas and then some so the whole work would meld together. They have since moved to WI, taking Crossing Over with them. She is with the young who love her and who knows where her next crossing may be. I am grateful that I had a chance to revitalize her in her mid life crisis — so she hopefully will have a long life after mine has ended.
There is 1 comment for
A painting with a past
by Louise Francke
Archived Comments
Enjoy the past comments below for The karma of art…
Featured Workshop: William Scott Jennings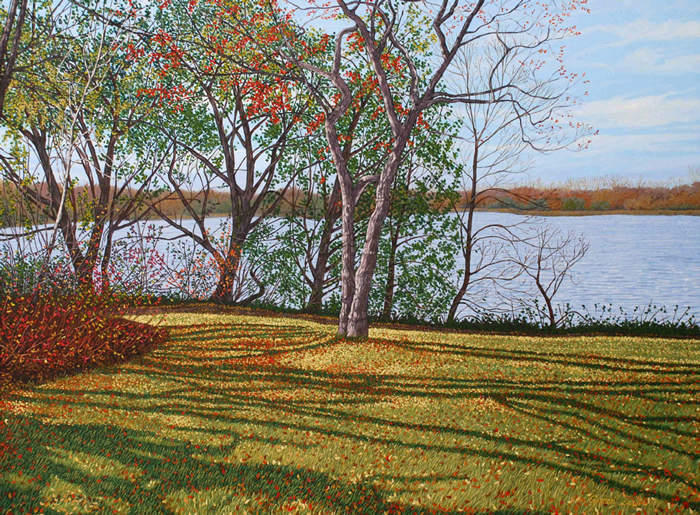 Long Autumn Shadows
oil painting, 36 x 48 inches by Gordon Lewis, Regina, SK, Canada
You may be interested to know that artists from every state in the USA, every province in Canada, and at least 115 countries worldwide have visited these pages since January 1, 2013. That includes Diane Ozkum Langeveld of California, USA, who wrote, "A few years ago my husband and I moved to California. I now work on my big easel or my dining room table and I am too old and tired to try to sell my work. I decided to give my work to those who were good friends. My thought is that it will give them (and me) joy long after I am gone." And also Gillian Easton of Great Britain, who wrote, "This twice-weekly letter is just what I need to start the thought process and to see what is relevant to me."
Thanks, John. I may be a bit soft in the head on this one, but they need to either pay the full price, or receive it from you as a gift. You need to make it clear right up front. The sticky stuff comes when you keep the work and later sell it through your regular channels. Your sitter may feel a sense of participation and may also appreciate some payola. It's your call — consider sharing. A few years ago, in a small park somewhere west of Gallup, New Mexico I met an elderly Navaho by the name of Nastas, which he told me meant "curve like the grass." After offering him $20 and a glass of lemonade, I had the soft-spoken, well-lined fellow sitting at ease under my motorhome awning. I told him if the painting was any good I'd give it to him. As it turned out okay, I did. I can still see him carefully laying the still-wet 16″ x 20″ oil onto the hay-littered bed of his blue Ford pickup and taking off in a cloud of dust. I never saw Nastas again, but a decade later a woman wrote to me from Phoenix, Arizona to say she had purchased the painting in one of those native-run pawn stores you see along Southwest highways. The photo she enclosed showed it in an opulent home, magnificently framed and looking like a regular Nicolai Fechin, Sergei Bongart or Bettina Steinke. Paintings have stories. Paintings carry karma. Paintings can brighten the spaces between brothers. Paintings given away and perhaps just starting their rounds already have more going for them than a lot of those that have merely been sold. Best regards, Robert PS: "I've learned that you shouldn't go through life with catcher's mitts on both hands. You need to be able to throw something back." (