Dear Artist, "You must have a pretty impressive inbox," said a friend. I admitted to a full one, often requiring helpers just to process the stuff. Mind you, there are a lot of items in there from kind Nigerian bankers who want to send me $45 million. And stuff like the recent request for my opinion on a proposed website called "Leakyleaks" — a site for people to report bad plumbers. Then there is, "I envy you. How do you do it?" This is tough stuff when you're just off to the tailor to get the seasonal tuxedo let out to its last notch. Speaking of envy, apparently there are two main kinds — benign and malicious. Researchers at Tilburg University in the Netherlands have determined that benign envy (where you don't need to kill the other person) is actually a more positive motivator than love or money. Researchers did their tests using one of the main sources of envy these days — iPhones. (Mine has more apps than yours. See how lovingly I stroke it.) People who were benignly envious of another's unit were willing to pay more for one than those who were merely malicious. Worst of all was when people didn't have to work for them and received them as gifts. Fact is, you're not as envious when people similar to you seem to work hard to get their stuff. Which brings me to two inbox favourites: Talent envy. There's a popular idea that some folks are blessed with talent and others not. The latter envy the former right up until they see all the hard work, sacrifice and focus. The best antidote is to really get to know the apparently talented ones, including their faults and weaknesses. Success envy. The good luck of others and their unwarranted success can make people crazy, induce voluntary isolation, or motivate in a positive way. On the crazy side, "It's not just necessary for me to succeed; it's also necessary for you to fail," is counterproductive and may result in self-sabotage and creative collapse. Regarding voluntary isolation, you have to work things out on your own without the undue influence of others — but to be completely closed off invites a naive rigidity that ensures further failure. In a healthy reality, the success of others is a harbinger for your own success. "If he can do it, so can I." Best regards, Robert PS: "The heavier crop is ever in others' fields." (
Ovid
, 43 BC-AD 17)
Esoterica: Consider the concept of the "productive rival." This is where the person you envy actually motivates you. Because of him, you work harder and smarter. He may even be your secret weapon. The popular word these days is "frenemy" — your arch enemy is your best friend. By the way, the ultimate test is when you love the success of others. The Buddhists call it "mudita" — taking joy in the good fortune of another. Like the guy with the Leakyleaks, I really hope he does well, don't you? And I hope those plumbers don't put him in the slammer.
Recipe for envy
by Lorna Dockstader, Calgary, AB, Canada 2 cups of comparison 1 cup of low self-esteem 1/2 cup of fear 1/4 cup of talent 1/2 cup of faulty problem solving Mix together first four ingredients. Then add 1/2 cup of resentment. Whisk together lightly. Pour into a shatter proof glass pan and bake at a very high temperature. After cooling, sprinkle with 1/2 of insults. Excellent envy every time!
There are 5 comments for
Recipe for envy
by Lorna Dockstader
Neutralize envy by helping others
by Nancy Ness, North Creek, NY, USA I do like the idea that in some way you are helping those that are envious of you. The truth about the link between work and creativity is clear too. Talent as Picasso said is 90% work. People see the results but miss the hours spent in the studio. I do think there's also something about holding focus and enthusiasm throughout the entire creative journey. So many artists start a painting and then lose interest someplace in the middle. Often they just push through to the finish. Finding a way to help other artists reach their potential is a worthy goal. Instead wasting emotions on jealousy, it would be nice to turn their jealous energy on living up to their own potential. Jealousy may be a cheap way to avoid work.
Good envy for motivation
by Paul deMarrais, TN, USA Envy falls into the important realm of ego management. It can be linked with many other feelings that can be very positive. Recently when standing in front of the painting
The Haymakers
by Jules Bastien LePage, I felt envy but it intertwined with amazement, wonder and admiration for the skills of the painter. Envy morphed into a trancelike state where I felt the love of artmaking and the feelings it evoked. It was as if the painting was conversing with me. I couldn't step away from that conversation without a touch of sadness. Lately I am practicing a new twist on envy. When I see a painting that moves me, I make sure and compliment the artist if I can. I know the struggle the artist went through to attain the skills and vision necessary to complete the job. Seeing a good painting gives me a sense of what I could do if I keep working. It's a motivator and a reminder that painting is a struggle without guarantees. Maturity allows a person to congratulate others on their success. That ability is a critical step for each of us. It reinforces the spiritual link between all people. If one succeeds, we all can succeed. Failure in one country is a failure in all the world. Artists tend to be stubborn individualists working many times in isolation. We can feel like we are climbing Mount Everest without a single companion. In reality success requires the help of many others and we must seek out and be open to that help. No artist, no matter how skilled, can make it alone. Bad envy produces that 'us and against them' mentality that is so pervasive in our culture. Competition can be made ugly and even dangerous if we succumb to our lower instincts. It's a worthy challenge to rise above that quagmire and see the good possibilities life can offer. Art is all about possibility.
There are 4 comments for
Good envy for motivation
by Paul deMarrais
Do away with envy
by Tatjana Mirkov-Popovicki, Port Moody, BC, Canada "If he can do it, so can I." This has always been a great motivator for me. I usually set very lofty goals for myself, rarely share them with other people, and never place myself in a rivalry scenario. I like to learn from successful, experienced people, and I see them as teachers, not rivals. This perspective caused a huge surprise for me on several occasions when I went for a longest time not recognizing envy in other people. I guess that since I never think about it, I fail to recognize it, and I definitively don't know how (or care) to use it for my benefit. You say that envy games sometimes may have a positive outcome (and we all know that researchers always know what they are talking about), but I am very suspicious of that. How can you trust that one makes a clear distinctions between "benign" and malicious envy. It sounds naïve to me to believe that a friendly envier only wants to get on par with you, and will not step on your tuxedo tails to get ahead. I don't have patience for that. History tells us that some very, very bad things were caused by envy. There are many other motivators of good character in our emotional toolbox, so I vote to do away with envy.
There are 8 comments for
Do away with envy
by Tatjana Mirkov-Popovicki
Using envy as fuel
by Terry Mason, Sarasota, FL, USA I was at an art event the other day when one woman said "In order to make it you have to know someone." I thought of all the ways I have heard that in the horribly recessed Gulf Coast of Florida. "In order to make it you have to be full time, you have to be young, you have to be male, you have to be… in other words, "something" the speaker does not think they can do or have. I have never believed any of that. You make your way. You figure it out. You bang on doors. You don't go out there too early. You don't stay in the closet if your work is singing. Discouraged? After several wipe outs you can get discouraged. But you don't whine. And you don't give up if this is what you really want. And sooner or later, if you persist, there are less and less wipe outs. Or, more and more as your critical eye grows. Both are signs of growth and achievement. There is a lot of envy and competition in my little corner. You can become a victim or perpetrator or you can decide to use any envy as fuel. Nothing fires me up more than someone with a better plan than I have to improve their work. I want that plan or I want the plan that is better so I can be better. Envy has its uses. I think you have to choose, with thought, exactly how you respond to those feelings of envy. If envious, figure out why and what and then how you got there. Envy only becomes ugly when it attempts to demean or excuse. Envy can also be as useful as a match when you need that fire to burn bright.
Try competing with yourself
by Lynda Lehmann, NY, USA Any time in my life when I have felt the slightest tinge of envy, all I had to do was look at the larger picture: of the other's person's life, goals and successes, and my own life, etc. Success comes at a price, and a balanced life requires moderate success in many areas. I would not even want the kind of success that comes with ruthless, thoughtless competitiveness. Or with striving SO hard that other things fall out of balance…. I always strive to look at things in a perspective of the total person. What has he or she had to sacrifice or give up to attain that status? Do I really want that kind of status? Are external parameters of success really reliable indicators, or was that person just at right place at the right time, with the right people? Or worse? Those who waste time preening their green would be best served by competing with themselves. We need each day to strive to do better than we did the day before, whatever the pursuit. And no one knows better than we, where we fall short and where our strengths lie.
There are 2 comments for
Try competing with yourself
by Lynda Lehmann
A flower among the weeds
by Rick Rotante, Tujunga, CA, USA Guilty as Charged! I think envy is fostered when an individual isn't recognized for his or her true worth and sees others being rewarded while you yourself go unnoticed. I know. It happens to me. Artists especially are susceptible to this "bad" sort of envy. It's the nature of the beast when you constantly put yourself and your work on the line. It's masochistic to do this repeatedly, but we do. Rejection from shows, people not buying your work or worst not noticing the good work you do. What I can offer is this — Know that what you do is honest and from the heart. Know too that you do this to bring beauty to the world even if no one sees it — like a giant Sequoia that stands for centuries while no one notices its development. Like a beautiful flower among thousands of weeds. This idea helps me get thru the day and forces me to create good work. As for those "frenemies," I congratulate them with a smile and try not to let them see the lump in my throat.
There are 6 comments for
A flower among the weeds
by Rick Rotante
Count your blessings
by Russ Henshall, Pulham Market, Norfolk, UK Years ago I discovered that throwing lead filled pieces of leather ball around and at each other was better played by others in this strange game they call 'cricket.' They were better at it than me. I also discovered that lots of folk could run faster than me, draw better than me and swim better than me. In fact there were even people who could take motors to pieces better and quicker than me. 'So what?' I say. So what can I DO? Never mind what other clever peole can do — I can use my keyboard, still ride my motor cycle, rebuild my old car, bring up five kids and say Hi to my 9.6 grandchildren. And I still have a gorgeous wife who loves us all. Envy? What is the point of being envious? I can do what I can do. I can write stories for children that make them laugh. I can make coins do magic disappearing stuff. Oh yes, I can catch English Carp in the lake near where I live. Why be envious? As history has already shown us so dramatically, envy is at the basis of love fights, wars, selfishness and greed. Best not to be envious of anything or anybody. Just be competitive with yourself. Do the best you can. If other get pleasure from your work and your hobbies. Good. Give a helping hand to all you can. From these things, true inspiration can come.
There are 3 comments for
Count your blessings
by Russ Henshall
Archived Comments
Enjoy the past comments below for Envy…
 Featured Workshop: William Scott Jennings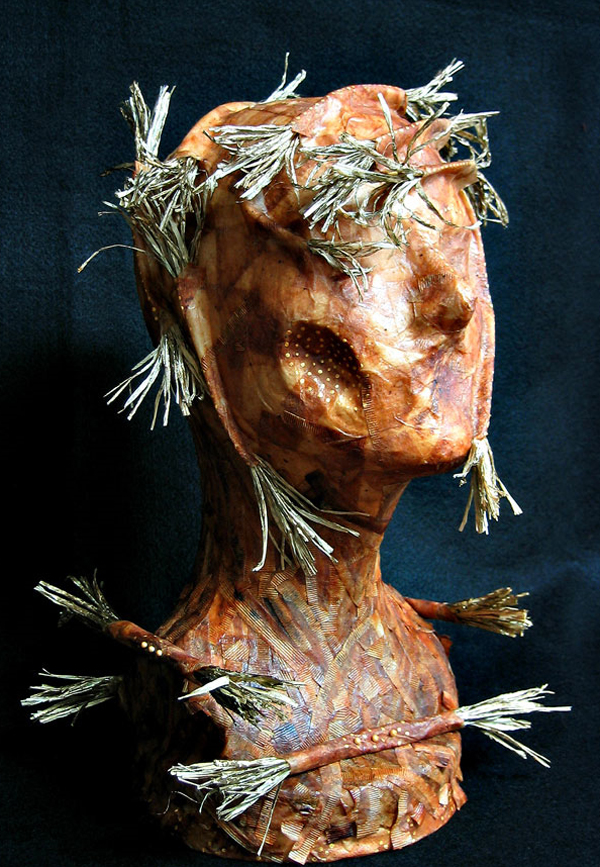 I Come From The Earth
mixed media by Barbetta Lockart, Sacramento, CA, USA
You may be interested to know that artists from every state in the USA, every province in Canada, and at least 115 countries worldwide have visited these pages since January 1, 2013. That includes Amy Markham who wrote, "I don't find envy to be all that interesting. Artist benevolence is perhaps more intriguing. I have an iPhone, never really checked out anyone's else's." And also Phil Kendall, who wrote, "I'm very lucky that: 'envy,' 'sorrow,' 'regret' and 'guilt' are not part of my emotional makeup. A very cold fish I know but that's the ADD thing for you, it's all about coping and being an artist. Artist? The best job in the world."