Dear Artist, Like most of us, I'm always looking for new ways to work, for new systems and processes that might put a different spin on things. Funnily, assembly line time-and-motion studies by management experts can be useful to an artist managing an easel. Just as a half-built Nike comes down the line, its height and distance from the worker, lighting, angle presented and speed of passage determine the quality of sole application. But no assembly-line zombies are we — we're more about extending creativity. Here are a few ideas: Close proximity palette. Hand held palettes are useful because they can be taken close to the work. Unfortunately, they tie up another hand which might be holding a maulstick, or in some cases, another brush. Table palettes, the choice of many, need to be on a movable tabouret so they can be brought closer and under the same light. In a way, pochade boxes with palettes directly below the work have the ideal configuration. The moving line. When an autoworker's shift begins, the assembly line is already moving. Ever wonder about painting on a conveyor belt? It's been done. But there's probably no better system than always having an incomplete painting on your primary easel. Even before coffee, squeeze paint and you're already moving. Avoiding worker fatigue. Random body movements rather than repetitious small muscle activity are desirable to avoid "mommy thumb," "ping-pong neck," and the countless exciting new disorders invented weekly. Standing or sitting, the back needs to be in extension, not compression. Place the work above the eye-line and stretch toward it. Try not to bend over things. Alternate mind distraction. More and more industrial workers are using headphones with downloads, satellite or information radio. Many of our Brotherhood and Sisterhood report that when the mind is otherwise engaged, paintings miraculously paint themselves. Work can be fresher and more creative, too. Avoiding unconscious dawdling. For various reasons, including self-sabotage, self-esteem issues, contrarian attitudes and garden-variety sluggishness, artists can slow down. In the words of the granddaddy of efficiency studies, Frederick W. Taylor, "Hardly a workman can be found who does not devote a considerable amount of time to studying just how slowly he can work and still convince his employer that he is going at a good pace."
No surprise or mystery
by William Newcomb
You must be kidding. Creating a work of art is not assembly line work. Dawdling is good, probably one of the most important things in creating art. This is not craft work. This is about creating something that never existed before nor will exist again. It will take time. It will take indecision as well as insight, but most of all it will require the use of that part of the brain that does not want to be shackled into a system or process. To proceed otherwise, in my opinion, is to travel down a well trod road that is boring and without any surprise or mystery and destroys the creative will while rewarding production of a product. As Lucian Freud says when he works on a painting, it is the best painting he has ever done, it is the only painting he has ever done, it is the only painting that ever existed.
There is 1 comment for
No surprise or mystery
by William Newcomb
Shaking things up
by Susie von Ammon Regarding your Esoterica: 
Woodie Guthrie
once said, "Everything flows and nothing abides; everything gives way and nothing stays fixed… Cool things become warm, the warm grows cool; the moist dries, the parched becomes moist… It is in changing that things find repose." Reverse Order Painting (ROP) sure fits the bill, and although I find it distasteful, disorienting, totally not what I want to do, shaking things up can help us to see our work in another dimension — it's like taking the blinders off!
There are 2 comments for
Shaking things up
by Susie von Ammon
Quickie warm-ups
by Sally V. Smith, Houston, MS, USA I find that watching a brief art video gets me moving. Robert Burridge suggests painting about 6 small (5 x 7) pieces of something like fruit as a warm up for acrylics or oils. You can use different colors on an apple or pear just to see how they look next to each other. With watercolor, I paint chickens, using one color for the head and front of the body and a different one for the rest. You get some cool little paintings and are ready to branch out. You will also be more aware of what colors you will want to be using. I have also painted these small pieces of paper with various watercolors on them in random order without any design. Later, I will use them as sketch papers and just draw in ink right over the colors. I often get a dynamic mixed media piece that is surprisingly interesting.
Tennis elbow relieved
by Lorna Dockstader, Calgary, AB, Canada After reaching a certain level of technical proficiency in oils, an instructor suggested I begin to read about the lives, and the struggles of other artists. Almost right afterwards, I was given a signed copy of
The Group of Seven and Tom Thomson
 by David P. Silcox. Suffering from tennis elbow in my right arm, I had feared it was from overuse while painting. Wondering if other artists had the same problem, I flipped open the book. On the current page was a photo of Lawren Harris. I noticed that his palette was directly in front of him, while his other hand was in his pocket. I attached a board underneath the screw on the front of my easel, placed my palette on top, and shortly thereafter, the pain in my elbow disappeared. Holding brushes in a bent arm can also cause an elbow problem in the opposite arm, hence the hand in pocket. Harris had helped, problem solved.
There are 3 comments for
Tennis elbow relieved
by Lorna Dockstader
Handy palette shelf
by Judy D. Berry Your commentary made me think of something my husband designed and made for me. A shelf for my palette with cutouts for water cup and brush holder. He makes them for others too. It is adjustable and only costs $40 plus shipping. He can also make them for other types of easels for a slightly higher cost.
There is 1 comment for
Handy palette shelf
by Judy D. Berry
Eye level not a good idea
by Jackie Knott, Fischer, TX, USA I couldn't disagree more about keeping your work above eye level. You don't prop a book up that high, or your computer, the kitchen counter top, or anything else to perform a task. Why on earth would you place your canvas up to where your neck, shoulders, and arms must reach beyond their position of function? Leverage is the foundation for any work. My back rarely complains but tight neck and shoulder muscles had me address my posture years ago. As long as it is below or even with my eye level I'm fine. I work with slightly larger canvases and if I have to reach I stand. Just the eye strain from looking up and then having to move my whole head downward to see my palette is much harder than a simple glance sideways. I have a three tiered rolling pie table that is my work station and it is perfectly within my reach at all times. Lillian Moller Gilbreth was a contemporary of Taylor's (and critic) and worked in the same science. Equally impressive, she did it raising twelve children … I'll listen to her.
There is 1 comment for
Eye level not a good idea
by Jackie Knott
Cruising altitude produces book
by Margaret Ferraro, Kinburn, Ontario, Canada In Sept. '09, I took 10 months off teaching art to paint. Well, instead of teaching 85%/creating 15%, I turned that upside down-85% creating, and 15% teaching. For the first time since forever, I felt I could handle the amount of work I had on my plate. It was wonderful. In that time I created 160 paintings, many of them 4.5 x 6.5. The opportunity to answer to the full extent of ones' curiosity is a privilege I enjoyed. To be in that place, between the rolling palette and several easels at once. I certainly understand that once you are in a groove, it's like being at cruising altitude. Things paint themselves. Process becomes automatic and clear, and colour choice becomes an encyclopedia of cause and effect experiments. The result was that I made 125 of the paintings into a book.
There is 1 comment for
Cruising altitude produces book
by Margaret Ferraro
The decline of education
by Richard F Barber, Watford, Hertfordshire, UK In China they pay for their education, unlike the UK, so by lowering the standards as Sir Ken Robinson suggests, there is a fatal flaw. The lack of value! How do you expect anyone to have any sense of value or self-respect, when they have not put anything into getting what they want in life! A tradesman is only as good as his tools, the reason for this is he has been taught to, not only use them, but also how to take care of them. Honing his tools is also honing his sense of values, for he knows without them he becomes non productive, he needs to be productive to replace any that become worn and damaged and make his business work. Our universities have become havens for the free loaders of life, because they have gone through the standard education system they feel that they have the right to go into university. Computer generated education. In reality they are not equipped for university. Computer gen orated education and reliance on i-phones and calculators is not using your natural brain power, it's like an athlete running a race against a sports car. No contest. So you cannot call today's student an academic in any shape or form. As for the Turner Prize in art, each year it becomes a bigger joke. Another case of people being conned into accepting bad art work which seem to flourish in our lazy society. The Georgian era brought elegance into our lifestyle in both style and decor by the end of the Edwardian era it began to fade by the year 2000 we have reverted into self-destruction of all our values in our throwaway society of lost values. A few squiggly lines and a splash of colour, bang your an artist. so composition and design are no longer needed, nor all the painstaking problems of blending or tonal values. No wonder the image of the starving artist.
There are 4 comments for
The decline of education
by Richard F Barber
Nature's distractions the best
by Robin Shillcock, Groningen, Netherlands Palettes are unimportant in that every artist finds a way that suits him. I have a moveable table with a glass top (white paper underneath). En plein air I use a toned, hand-held palette. Of more importance is the organization of colours on the palette. I'm pretty organized in how I lay my colours: light to dark, warm to cool. I'm aghast when I see a palette covered with crests and crevasses of dried paint, yet I've seen artists do great things working from such a mess. I stand, I sit, I jump up, back off, run back and jab, but indoors quietly at work most of the time. Running about would create havoc with the stacked sketchbooks and paintings turned to the wall. Stretching is good! In painting you need to stretch further than you can reach, figuratively speaking. I saw Robert Bateman paint with headphones on (CBC) and the TV on as well! He feels the need to keep track of what's going on in the world. I need to shut out the big scene, although the radio is on at times. Out in my arctic studio I have the sound of the sea & wind, calling gulls & ravens, the fall of ice from the cliff behind the studio. It's music to my ears. In the Arctic work is always "fresh"! If cold, I take a hike, have a cuppa hot tea, throw stones into the sea. Away from the modern world (mobile phones don't work, no electricity, you get water from a well, collect wood to cook a meal) there are few distractions other than what nature has to offer. A stooping falcon catches my attention, a sheep dropping off a cliff distracts, the eagles come to open it up, yep — I'm distracted. And then, when the ravens make off with streaming bits of intestine right over my head, uhuh, distracted again. But that's okay, I'm part of that landscape and I find all of it enriching.
Studio ergonomics
by Susanne Kelley Clark, Dallas, TX, USA Yes, I have a few things which I thought made me more efficient in the studio. One has been having a pile of otherwise ugly old furniture to stack up so I can have my palette higher or lower, or on the floor. Setting things up basically the same way each time, with the paint, thinner, brushes and rags on my painting hand side, and my reference on the other. Moveable lights are a must and knowing where and when the light will not work in the studio. Having multiple painting locations in my space has helped tremendously. I recently saw a video of a guy painting plein aire with acrylic using a vertical palette clipped to his easel. I thought that is a good idea, being able to see the color with the same illumination as your painting, though it would not work for the way I paint. He had created a little shelf to hold the pure color blobs there at the top and then he mixed with a brush. I guess acrylic painters do more of that since the color dries so fast. I especially like the Masterson palette seal that I can bungy to my easel and save my mixtures for another try when I return from the field, complete with dead bugs and leaf fragments. It also keeps my cats out of my paint, if they venture into the studio. I can cover the whole thing and not worry about it. If using photo reference, I find that a cookbook holder is very useful in holding up the image and of course I can go to my stack of ugly furniture and make a pile high enough so that the photo is at a level closer to my eye level. I think artists can waste a lot of time spinning around looking for things and at things which break their concentration and burn up energy faster. I find that if I am sitting, I become lazy about getting things I might need, so the best way for me is standing. Now my legs begin to buckle after a few hours, so a "stand/sit" stool is great, where I can hang my behind on the edge of that stool to take the weight off the knees and ankles and I am good for a few more hours. (it only works if you have a good size butt). I am sure that I could manufacture something more streamlined, but I am thinking of putting my money into pigment and canvas, rather than my inventions.
There is 1 comment for
Studio ergonomics
by Susanne Kelley Clark
Archived Comments
Enjoy the past comments below for Paint smart…
Featured Workshop: William Scott Jennings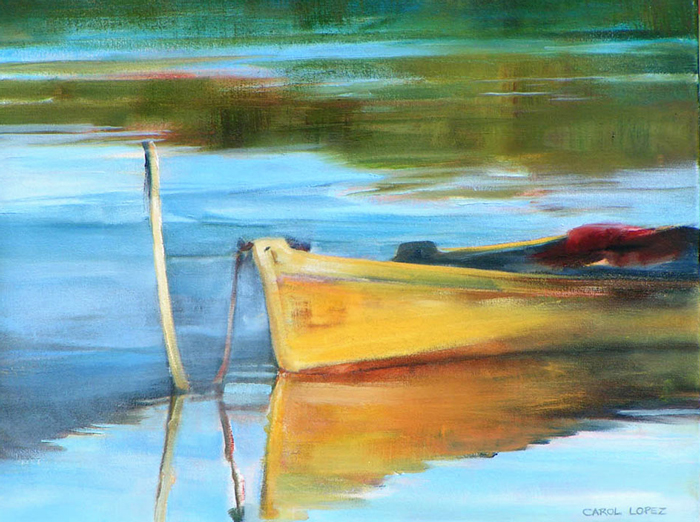 Solitary Fishing Boat
oil painting, 16 x 20 inches by Carol Lopez, Vancouver, BC, Canada
You may be interested to know that artists from every state in the USA, every province in Canada, and at least 115 countries worldwide have visited these pages since January 1, 2013. That includes Carmen Beecher who wrote, "In June I became a Daily Painter, and if anything will eliminate unconscious dawdling, that will! I now have a tempo that keeps me in motion and I really enjoy it." And also Cindy Jones who wrote, "Since I have a lot of stress in my live, your letters make me feel better."
Best regards, Robert PS: "The first object of any good system must be that of developing first class men." (Frederick W. Taylor 1856-1915) Esoterica: More efficiencies are gained between the palette station and the working surface. Watching a few different artists will soon tell you there are many roads to Poughkeepsie. One of my favourites these days is what I call ROP — Reverse Order Painting. The normal approach is to look at reference, decide what colour is needed, mix it, then apply it in its predetermined place. In ROP you mix the colour, any colour, and place it on the canvas where it might conceivably fit, with or without benefit of reference. Takes you all over the place. Great fun. Goes fast. Feels smart.