Dear Artist,
While mingling at an 85-year-old's birthday party recently, I overheard a conversation between two artists: "How's your work going?" asked the first. "It's not. I haven't picked up a brush in months," said the second. "No time to paint." They batted, back and forth, the creativity-hijacking perils of family, social obligations, sports, studio rent, Thanksgiving and the deadly word, "worthwhile" — as in, "I'm not doing it enough to make the sacrifices worthwhile." The cake came, everyone sang, the candles were blown out and a wish was made. "The secret to life," nudged our host, "is that you need to do what you really want to do."
The following day, I told my mum about the exchange, and her response was, "I remember attending a function with your dad, where several other artists were present. There was only one woman, and as the others compared their glorious focus, stretches of time and discoveries, I could see that the woman artist was about to burst into tears. An artist needs a wife."
I thought about my own wife fantasies. Then, I remembered my friend Chris, a musician, husband, father and teacher, who once confided that he hadn't written a song since his son was born. "No time" — frustrating, heartbreaking and potentially soul destroying — isn't just for women. It seems no matter your circumstances, there will always be something to pull you away. Art, for an artist, is a solitary and focus-dependent quest that's crucial to the soul, yet easy to de-prioritize. The consequences of this neglect can be irrevocably life altering.
Sincerely,
Sara
PS: "It's been my experience that dedicated artists will always find a way." (Robert Genn)
Esoterica: Just between us, I've noticed that I often struggle to enjoy activities that don't somehow involve my creative work. How indulgently focused mid-life has become; child-free, with vibrant and healthy loved ones and a close circle of extremely art-enthused friends — including you. Each day, from the start, we make micro-decisions that, if true to ourselves, reflect our innermost drives and desires. Rome wasn't built in a day, and we're each building our own Rome — be it family, community, security, adventure, or a creative purpose, which is, by the way, worthwhile and worthy of exploring by the very nature of it existing inside of us. If you're short on time, carve out what my dad called, "one lovely little hour" and focus hard and exclusively on that which burns inside of you. Before you know it, you'll have built something you really wanted.
The Letters: Vol. 1 and 2, narrated by Dave Genn, are available for download on Amazon, here. Proceeds of sales contribute to the production of The Painter's Keys.
"Real painters understand with a brush in their hand." (Berthe Morisot)
"Work is love made visible." (Kahlil Gibran)
Featured Workshop
June 7, 2020 to June 16, 2020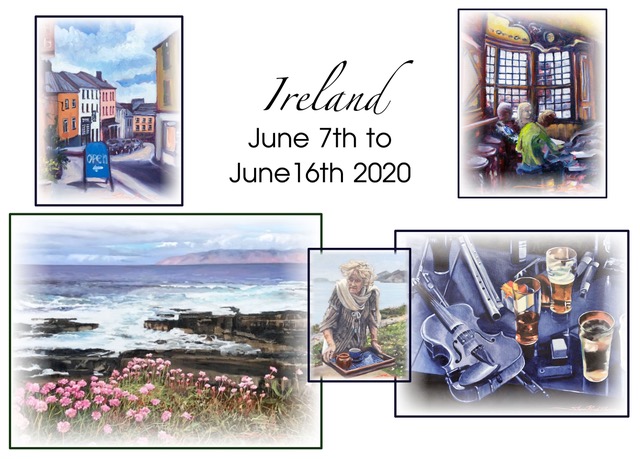 Join award-winning Plein air painter Sharon Rusch Shaver as she conducts her next exciting workshop to the Dingle Peninsula of Ireland. Painting daily in your chosen medium: oil; watercolor; pastel; pen and ink artists as well as photographers will find plenty of inspiration where the sea defines the life and creates excitement on this amazing Island. Daily demonstrations and one-on-one help will be provided for those wanting to learn how to work quickly capturing that changing light and color in their paintings.
Delicious chef prepared gourmet meals and a well-appointed ensuite rooms, as well as all ground transfers are included. All-inclusive* 9 nights accommodation, transfers, meals, and instruction. Go to: Adventure-Artists.com
Artist Sharon Rusch Shaver has postponed the Ireland Adventure until 2021. If you would like updated information about this an other upcoming adventures, you can get on her mailing list by visiting: Adventure-Artists
Join us!
Featured Artist
A professional painter in both watercolor and oil for over 35 years, I have been creating plein air workshops in Europe for artists to join me since 1996. Plein air is one of the most exciting methods of painting, and I teach a very easy to learn way of capturing the light quickly, that any artist can apply to their own work during our adventures to Europe. Travel for artists is a great way to immerse yourself in painting and make great advances in your techniques by watching other professionals work, and by sharing your own ideas with other artists we all grow! Authentic locations, such as a 12th Century Castle in Ireland, a French Maison in the countryside of France, or an Italian Villa in an historic hilltop village in Italy are carefully chosen. We want our artists and non-painting guests to feel relaxed and at home, with en-suite bedrooms, excellent chef prepared cuisine, and convenient transfers to painting and exploring locations so you can be where you want to be to create. Join me on our next exciting journey!