Dear Artist,
One foggy morning, I was painting on the edge of the Seine within a few miles of Monet's home in Giverny. In the distance and coming upstream toward me was what looked like an American birch-bark canoe. Barely able to make out the unlikely apparition in the mist, I figured the canoe to be haphazardly made, and its occupants to be two teenage boys. Sure enough, as the canoe came alongside, it was a patched-up mishmash paddled by a couple of kids who had probably overindulged on The Last of the Mohicans.
It didn't hurt that I knew a wonderful story about Jean-Marie Toulgouat. Born in Giverny in 1927, the year after Claude Monet died, Toulgouat, as a boy, had taken painting lessons from Blanche Hoschede Monet, one of Claude Monet's adopted daughters. Sometime near the beginning of the Second World War, Jean-Marie and a school-friend built an American Indian-style canoe. The story goes that they soon ran out of proper boat-building materials.
"Blanche provided the answer to the boys' problem," reported the London Daily Telegraph on the occasion of Jean-Marie's death in 2006. "In old age, Claude Monet had been in the habit of having his gardener burn those of his pictures which he had come to consider not good enough. Blanche had tried to impede this by instructing the gardener covertly to store the condemned paintings in the garage. She now told Jean-Marie that he could finish off the bow and stern of the canoe with pieces of these canvases. Thus Jean-Marie and his friend paddled the Seine in a boat partly constructed from the works of Claude Monet."
Toulgouat grew up to become a popular painter. But his greatest legacy was his restoration of Monet's home and garden in Giverny. The property, which was almost derelict by 1970, is now a National Historic Site. More than a million visitors pass through the studio, home and garden every year. On Mondays you can paint on the premises. If you get a chance, please drop me a note. I'm curious if others have experienced a deja vu while painting.
Just in case you're wondering, Toulgouat's canoe was later reported to have been burned.
Best regards,
Robert
PS: "Lots of people will protest that it's quite unreal and that I'm out of my mind, but that's just too bad." (Claude Monet)
Esoterica: I've had several of my best deja vu in France, particularly in Brittany and Normandy where my deGennes Huguenot ancestors came from. Maybe the phenomenon has something to do with the nature of painting itself. Whether we like it or not, every work of art is a reworking of something else, of something that happened before. Even the wildest abstractionist on the very cutting edge knows in her heart that a gesture, a stroke or combinations of colour or line have somehow been done before and are merely coming around again. "We go forward," said Marshall McLuhan, "looking in the rearview mirror."
This letter was originally published as "Deja vu" on November 27, 2012.
The Letters: Vol. 1 and 2, narrated by Dave Genn, are available for download on Amazon, here. Proceeds of sales contribute to the production of The Painter's Keys.
"Everyone discusses my art and pretends to understand, as if it were necessary to understand, when it is simply necessary to love." (Claude Monet)
Featured Workshop
January 15, 2020 to January 22, 2020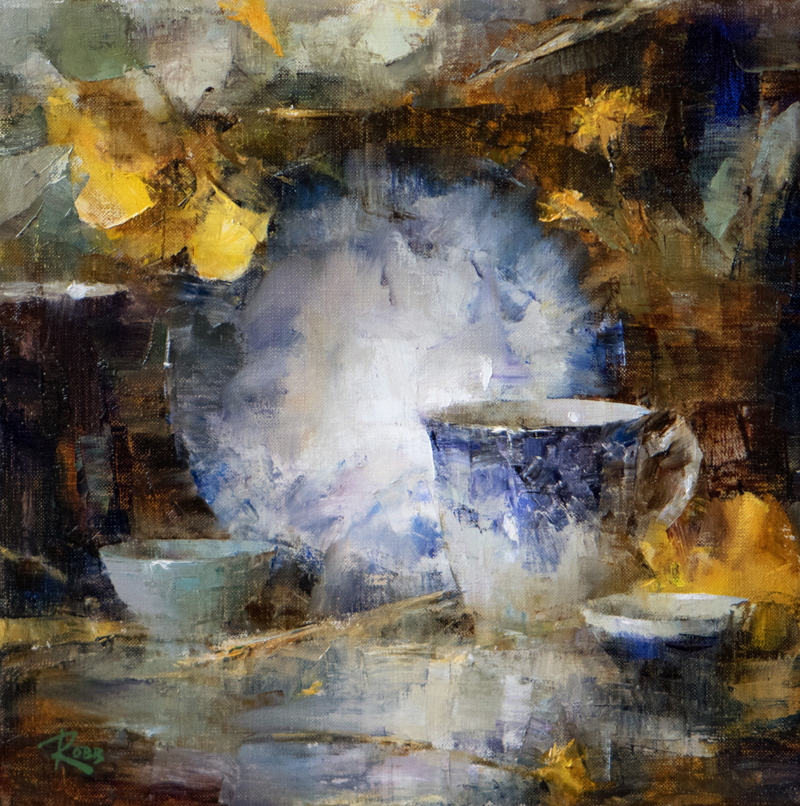 This workshop/retreat will be ideal for artists who are serious about improving their painting skills, but who also enjoy great food, terrific accommodations and a bit of adventure. The instructor has many years of experience in both teaching and painting and is dedicated to passing along her knowledge to those who are eager to learn. Small class size will insure individual attention. We will be working from life and previous experience mixing color will be necessary.
Casa Buena Art Retreat, between Puerto Vallarta and Mazatlan, is a calm and beautiful place to relax and explore your creative energy. Please check out their website for photos and detailed information about this exciting opportunity http://www.casabuenaartretreat.com/Retreat_LauraRobb.htm Non-painting travel companions are welcome too.
For more information on the instructor or to contact her, please visit http://LauraRobb.com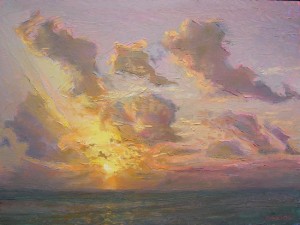 Shining Through
oil 12 x 16 inches
Featured Artist
Capturing the beauty of nature and expressing those impressions in oil paint is a joy. Every hour of the day presents new possibilities and keeps even the same landscape location, same composition, an ongoing and beckoning challenge. For this reason, I love painting series: it is exploration made visual.