Dear Artist, Yesterday, Sandra Marucci Weisenhoff of the Merrimack Valley, MA, wrote, "What about keeping one's best work back until a truly great body of work is built? Good works tend to sell in juried shows, club sales, etc., thereby breaking a collection one might need for later gallery consideration. On the other hand, local shows are a way to get work out there and improve chances of recognition, awards etc. Your advice?" Thanks, Sandra. If your goal is to build a decent stable of galleries, your best move is to avoid dribbling away your better ones. You need to keep your eye on the ball and build a portfolio of quality. On the other hand, it's popular these days to take part in clubs, sell a few here and there, and have fun. But there are more important reasons you need to think this one through. Apart from a few national and international associations, clubs provide practically no recognition or award benefits that will truly advance your career. This is a tough pill to swallow for many newish artists who might enjoy the glow of sample limelight. Spoilsports like me may be seen as holding you back but, believe me, the real fun happens when you build yourself some invincible art. Fact is, artists who get into their processes and don't have their heads turned by minor approvals are the ones who get onto the carousel. While there are exceptions, the ones who seldom enter contests are the ones who get the horses. It's all about your life of private study, maintaining flow, serious contemplation, creative progress and minimal distraction. It's all about education. For the most part, this means self-education. In our game, particularly, we have to do it ourselves. We now live in the most stimulating and distracting time in history. It's not just our kids who are paying a price for the current cult of instant gratification. Creeping mediocrity is the result and quality is the victim. For a second opinion you might take a look at the Sir Ken Robinson video below. While it doesn't have to be an epidemic, it seems entire cultures are being overtaken by Attention Deficit Disorder and the consequent lack of knowledge necessary to do the job. Artists are not excluded. Best regards, Robert PS: "We have to think differently about human capacity." (
Sir Ken Robinson
) Esoterica: One way to protect yourself from quality dribble is to set up a private archive of your favoured works. This can be in a closet in your home or somewhere away from the studio. Point is, it's a self-managed study center of individual progress, accessed primarily by yourself. How long to hide your talent under a bushel? Everybody's different. I've seen folks put away stuff for three years and then deep six the works, only to send another kind of brilliance out into the world. Such is the wisdom of going it alone.
Sell them all!
by Alex Nodopaka, Lake Forest, CA, USA You tackled the subject of 'keeping back one's best works' with great tact. As from myperspective there's no such thing as one's best work. For one, it's for history to tell. I suggest every artist sells whatever they can at whatever price their art sells because the more you sell, the more you'll be needed to produce and for the sake of creativity every new work is hopefully better and more varied than the last one. In retrospect looking at my own artwork it is rare that I'd want my old 'chef d'oeuvres' back on my walls. Besides, there are plenty of leftovers anyway.
There are 3 comments for
Sell them all!
by Alex Nodopaka
Don't bank on local shows
by Rick Rotante, Tujunga, CA, USA The question is which are your best works and for what market? Sandra, I don't want to burst your balloon but the world isn't waiting for the next Maxfield Parrish or anyone else for that matter. Don't get me wrong, your ideals on spot on. You should paint you best every time out. Life is short, especially for an artist today. The local club shows are for ego only and nothing more. Don't bank on them. After you get a dozen or so good, or better still "excellent" works, check out the galleries you are considering and see what they're showing. If you see a match, contact them. But, and this is a big But, make sure your work really is tops. Galleries never forget bad work. Or bad artists.
There are 5 comments for
Don't bank on local shows
by Rick Rotante
Grabbing them back
by Margot Hattingh, South Africa I often recognize 'prime' work in the studio and try to hold it back. However, painting and printmaking are my sole source of income — my best works normally sell comparatively easily, so I get pressured financially to show and sell them, rather than holding them back. Sometimes I don't recognize my best work while it's in my studio, it takes putting it into an exhibition, seeing it in a new environment, for the penny to drop. Some years ago, after putting up a painting for a solo that I thought I was happy selling, I changed my mind on the opening night and withdrew it just as someone prepared to buy it. The gallery owner was pretty furious — completely understandably so — but I held my ground. I managed to get past it by offering to paint something as similar as possible — the buyer aware of the 'clone,' was thankfully happy with it. Glad to say that particular painting still in my hands (illustrated) It's wax encaustic on canvas. Unfortunately there are some that I've lost forever which still haunt me.
There are 3 comments for
Grabbing them back
by Margot Hattingh
Just keep practicing
by Janet Mace, Whanganui, New Zealand I really appreciated your comments in your latest letter about 'building a portfolio of quality.' I've often thought that the 'work/play' I do in my studio — on my own, hour after hour — is my apprenticeship. And in my experience, it is very like your description of 'private study, maintaining flow, serious contemplation, creative progress and minimal distraction.' These words sum up the ongoing work involved in honing our skills and refining our vision. So thank you for reminding me that there are many of us out there serving our apprenticeships and often it is lonely and quiet and seemingly unexciting. And then a piece of magic appears! And as we go on with practicing more and more magic appears. I remember hearing an interview with B.B. King, the legendary musician, who was asked by the interviewer how it was that he was still playing such wonderful music in his 80's and he replied, "I just keep practicing."
There is 1 comment for
Just keep practicing
by Janet Mace
The tyranny of 'the sale'
by Kate Dardine, Fort Collins, CO, USA Today's letter raises the bar. I kept hearing my little voice screaming, YES! You are so right. We are so distracted, and the merry-go-round of entering shows, trying to sell online, etc. distracts the serious artist. And yes, making sales before one really knows what he or she is doing is perhaps the biggest distraction of all. I know it has been distracting to me. I've found myself bouncing all over the place chasing "the sale." Just recently I decided to hunker down in my studio bunker and just paint.
Quality is king
by Skip Rohde, Asheville, NC, USA Unfortunately, some of us have no problem hanging on to our better works! I've been building an ever-growing collection of my best works for quite a few years now. But your advice to Sandra is right on. If we're serious about our work, we're constantly trying to make it better. With every painting, I try to improve my composition, paint handling, color mixing, subject matter, even such mundane things as canvas preparation. Sometimes it works, more often not, but that's part of the game. How you exhibit your art should also show steady quality improvement. Club shows and bake sales are fine for beginners, but artists should always aim a bit higher than their current exhibition level, where the competition is tighter and the quality better. Quality is king in this business, all else follows.
There is 1 comment for
Quality is king
by Skip Rohde
Dreams of a grand gallery opening
by Carole W King, Lake Toxaway, NC, USA Thank you for validating the path I have chosen, of holding back until I have a sufficient quantity of quality work so I can throw my arms skyward with a giant yawp, "Here I am world." Yet I find that a little bit of connection is welcome and helpful. I have shown my work in the annual art shows of the two community art guilds I belong to, all of it NFS. This allows me a modest amount of critical feedback, both positive and negative, from fellow artists and from neighbors and community residents — many of whom are sophisticated collectors. I also have my work displayed in my home, and will admit to getting a thrill when a guest stops in front of a painting and says "Wow. You did that?" Then I get back to work, and dream of my grand gallery opening.
Can't hang onto paintings
by Stefanie Graves, Paducah, KY, USA You've confused me with this one. Are you advocating for waiting to develop a series of "masterpieces" before we approach galleries? I hope that's not your intent because I'd never attempt it then. Not all of my work is of absolute equality, though I think the majority of what I've been putting out over the past several years has been at least good. I don't show the "dogs" or experimental pieces. While I don't apply to every show or exhibition opportunity that comes along I do try to get my work out there. If I waited to amass a series of only my absolute best work I'd be dead by the time that were accomplished. We improve as we go (hopefully), and that is evident in our work (also hopefully). How can I get my name out there or ever hope for any kind of recognition if I don't send in my box top? If I sit in my studio hoping that eventually I'll be "good enough" I'm doomed to failure because I most assuredly will never show anything at that rate, too focused on keeping all my good ones as a whole. Hang onto my paintings? Nah, you must be kidding!
There is 1 comment for
Can't hang onto paintings
by Stefanie Graves
Keep the inventory coming
by Scott Jennings, Sedona, AZ, USA While galleries are the crucial sales arena, many are not adept at real artist promotion or willing to spend the money that is necessary to make advertising worthwhile. About a decade and a half ago I was frustrated with this reality. I decided to 'put myself out there' more by entering shows outside of the main geographic areas of my galleries… primarily plein air shows, which tended not to use up valuable studio paintings needed to provide a living. These shows broadened my name recognition and I made many new contacts with other artists and collectors. I won a few awards and show posters, adding real weight to my resume. These shows can lead to a snowball effect of recognition and invitations to more and larger events. I won't debate the issue of sending paintings to shows vs. galleries (many galleries don't like the idea of an artist withholding quality work from them to give to an annual show). I do, however, have a problem with an artist sitting on his work for some unknown event in the future. My own experience with holding on to my 'best work' was that after a year or more, my favorite work when it was produced became a more run of the mill work compared to newer paintings as my abilities grew. And one last point. I am convinced that an artist isn't necessarily the best judge of what his best work might be… at least not his most likely work to be purchased by art collectors. Invariably, I have said to myself, "This is great, it will sell immediately" and then it doesn't. Or, I decide to remove a 'lesser' work from a gallery only to have it be my next sale before I got around to pulling it. My approach is to try and cover some bases and not rely on your galleries to make your career. Keep your production steady and replace sold paintings as soon as a gallery sells them to keep the sales staff motivated. Enter events that help spread your name around; and be willing to burn the midnight oil to make sure you have the inventory to respond to opportunities.
There are 4 comments for
Keep the inventory coming
by Scott Jennings
Revolution in education
by Kim Mazzilli, Virginia, USA Off I go into my public elementary school art room. I have been teaching elementary art for 16 years. The RSA video of Sir Ken Robinson has put a bounce in my step today. Education Reform is out there… I can hardly wait until it gets to my neighborhood. I take six, 50 minute blocks of educational reform w/ 120 children each day during their art classes. It's disheartening to feel that the music teacher and I are the only ones in the building who see our students "alive," as the video describes; and downright defeating to work with administrators who have no clue at all. High-ho, high-ho, it's off to the factory I go.
Archived Comments
Enjoy the past comments below for Quality dribble…
Featured Workshop: Julie Gilbert Pollard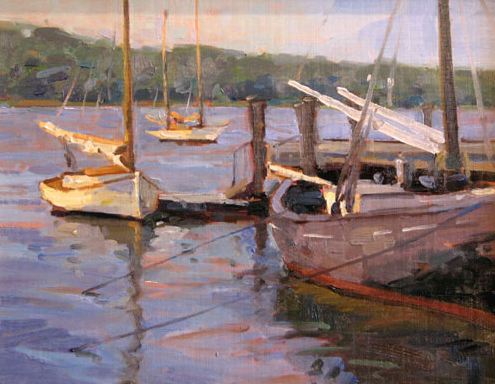 Summer Harbor
oil painting by David Lussier, USA
You may be interested to know that artists from every state in the USA, every province in Canada, and at least 115 countries worldwide have visited these pages since January 1, 2009. That includes Bill Grace who wrote, "I always enjoy your thoughts and respect the accumulation and organization that grows into an excellent resource. For the first time there is something unclear. What exactly is 'deep six'?" (RG note) Thanks Bill. It's an idiom which means to discard or to completely put an end to something. It comes from the nautical term to throw something overboard — six fathoms or more — and have it really, truly down there and outa sight. Forever.