Dear Artist, Having spent the afternoon in the Picasso show at the Seattle Art Museum, I'm laptopping you from a quiet café near First and Spring. Right now I'm digesting those Picassos along with a nice set of Samish Bay oysters.
Pablo Picasso
, 1881-1973) Esoterica: Then there's the archiving — signing, dating with Roman numerals. It's as if he knew even at an early age he was precious and important. I was taking notes in my little black book when a heavy-set guard pushed up to me. "No ball-point pens in the museum," he said, gruffly. "So here's a pencil," he added. Ambiguous, like Picasso himself, I thought. The guard had a pocket full of stubby pencils to give to the ignorant carriers of dangerous implements.
Pablo Picasso
Picasso revealed
by Bill Skuce, Sooke, BC, Canada In the 1980's a neighbour loaned me a book she insisted I read,
Picasso: Creator and Destroyer
. The author, a lawyer named Arianna Stassinopoulos Huffington, had seen in Paris a huge retrospective of Picasso's work and was so moved by the experience that she began her research for the book, contacting everyone she could who had known Picasso. Her account was riveting, her insight penetrating, her evaluation of his character ruthless, even brutal at times. Reading it as authentic, my entire attitude toward Picasso was irrevocably changed. The author had liberated me, cleared away the mists and colours of the Picasso aura, drew back the curtain, so to speak, and allowed me to see Picasso in a fresh and revealing light and to understand his work more in the context of his own life, character and times rather than solely as a product of the innovative genius many had claimed him to be.
There is 1 comment for
Picasso revealed
by Bill Skuce
Unfinished or outflanked?
by Joe Faith, PA, USA I laughed out loud when I read the passage, "A deliberate technique," we're told by the intellectual on the audio, "to leave areas unfinished to remind us that we are looking at a painting — an act controlled by the artist." One might also wonder if he abandoned these paintings because he realized he was outflanked in this department by others. The mastery of the artist allows both your and the intellectual's justifications for leaving an area "unfinished." Both views are valid; drawn out from the core of the individual viewer by Picasso whether overtly intentional or subconsciously.
No appreciation of Picasso
by Crystal Brown I am truly disappointed to hear you speak of Picasso with such reverent regard. As in your quote, even he did not think so. A hundred years from now he will be regarded as one who knew how to make money. I saw his work in the NY MOMA at the Matisse/Picasso show and found it hugely disappointing. Paint falling off canvas, hurried expressions of ego to collect fees. Matisse was far more genuine, in spite of lacking the talent (my opinion, of course). My opinions were formed in part because of the simultaneous show at the Met, which was Manet/Velasquez. What a huge difference in sincerity and talent and ability. There was no comparison. We could argue over originality or modernity (at least as to Manet, who was the least of the show), but not as to any other quality. And the Spanish masters, WOW. My reverence is there, among other places and with other masters, but not Picasso.
There are 3 comments for
No appreciation of Picasso
by Crystal Brown
Eclectic styles not safe in today's market
by Rick Rotante, Tujunga, CA, USA I used to believe Picasso was a genius and that may be so, but in promotion more than art. No doubt, he had great facility to achieve "the new." True, he could paint. But I've come to see he might have been one of many in an avant guard period of experimentation who was just run of the mill. Many others were better painters, more dexterous, but none had his genius for flamboyance and novelty, save for maybe Salvador Dali. I try and put his work into perspective and see why everyone was so enamored of his work. The answer I come up with today is they couldn't pin him down. He, himself says the more confusing his work, the better they liked it. He could spit on the ground and someone would capitalize on it — his own words. Today being eclectic in style puts galleries and buyers off. They want a "style" that is guaranteed will be there for awhile to safeguard their expensive purchases. If an artist today varies content and style, the public gets confused. It's like the latest iPod or camera device. Good today but obsolete tomorrow. Maybe Picasso was the forerunner of the world we now find ourselves. Newer, faster, better. Out with the old.
There are 3 comments for
Eclectic styles not safe in today's market
by Rick Rotante
In the eye of the beholder
by John Ferrie, Vancouver, BC, Canada I saw the Picasso show at the SAM two weeks ago. I dragged my boyfriend, who really didn't want to go. I thought it was the most interesting journey. The collection was unreal and the curation was exemplary. The show took on many facets of the man's magnificent life all the while exploring his endless loves. I was astounded to see over 40 major works as well as sculptures and some really big paintings. But, for me, the most important piece was
La Minotauro Machie
, the small etching in either room 4 or 5. This etching is considered to be one of Picasso's best works, best etchings and the pre-curser to the famed Guernica painting. We were there for several hours as it was early afternoon when we arrived and dark by the time we left. The only difference from our trip was we went off and had Crab Sandwiches and the best Clam Chowder I have ever tasted. It was truly a wonderful day.
There are 2 comments for
In the eye of the beholder
by John Ferrie
The ultimate, magnificent spoiled brat
by Tatjana Mirkov-Popovicki, Port Moody, BC, Canada I also thought that the commentary on the audio was only worth the biographical details — the opinions why Picasso did something often didn't make sense. The explanation of unfinished works caught my attention as well — I think that he just lost interest and moved onto the next thing. Both in Olga and Paolo, the designs and patterns on clothes are done with gusto and in an interesting way surround the flesh — when he was done with that, there just wasn't anything else interesting to do in those paintings, the missing parts are what his ego dismissed. There are many pieces like that, where I think he worked on them until the feeling of exploration was lost. Some pieces held his attention all the way to the finish and presentation (like the sculpture of a group of figures that he positions just so), while for others he just put together a few shapes or lines and was satisfied with that. The strongest message that came across for me was that there was a man who wanted and enabled himself to do whatever he wanted — the ultimate, magnificent spoiled brat! A pair of dudes started talking to me at the exhibition and asked me why some of Picasso's female figures have masculine bodies and strange shapes (do I look like I know something about art or did I look like those figures to them?). I think that Picasso was just playing with shapes and exploring what could be done with the female figure — something that he loved and never tired of (Sinisa fell in love with the portrait of Dora Maar, the one with red nails and yellow shadow on the face, apparently she was a woman from our home country).
There are 2 comments for
The ultimate, magnificent spoiled brat
by Tatjana Mirkov-Popovicki
Brilliant painter at an early age
by Jacqui Douglas, Australia Even though Picasso could be flippant at times regarding his experimental art he was on a path to inventing what no one else even had an inkling about. He was a true leader not a follower and in my humble opinion the greatest artists of the 20th century- maybe all time. But then I am biased. I have always loved how people can paint from their imagination so to be always pushing the idea of what art is to me is a very courageous act in deed. Not many can keep true to themselves in the midst of naysayers and ignorant uneducated so called "art critics." Regarding your comments about his inadequacy I've sent along
First Communion
(1896), he painted this at the tender age of 15 years after only one year at the Academy of Art in Barcelona. Also
The Alter Boy
(1896). They speak for themselves. He could paint anything at this young age but knew he was meant to follow a journey of complete discovery and experimentation in a different direction away from paintings of this ilk. An interesting fact is that Picasso's father Jose Ruiz Blasco (Ruiz), an artist and art professor, gave him a formal education in art starting from the age of 7. By 13, Ruiz vowed to give up painting as he felt that Pablo had surpassed him.
There are 5 comments for
Brilliant painter at an early age
by Jacqui Douglas
Most admired artists
by Ralph Papa, New York, NY, USA As an artist and art instructor, your latest letter on the Picasso exhibit at the Seattle Museum hit the mark when you quoted Picasso saying, "If you want my biography, look at my art". I encourage my students to first learn to see accurately, then to draw and paint accurately, and then to create visual works that reflect on who you are and what moves you. Three favorite artists of mine are Van Gogh, Hopper and Picasso. Their personalities and works are very different, but what they do have in common is feeling, emotion and some measure of autobiographical content. Each, in their works, I think, honestly and accurately reflects who they are. In my own paintings
Picasso and Picassos
,
Van Gogh and Van Goghs
and
To Hopper from Papa
, I tried in some way to link with these artists I most admire.
There is 1 comment for
Most admired artists
by Ralph Papa
Artist censored
by B.J. Adams, Washington, DC, USA I wonder, but doubt that Picasso's work was ever censored. Right now we are having another brouhaha concerning art work (actually a video) that was at the Smithsonian's National Portrait Gallery. This video has been yanked due to government intervention and has moved to a small gallery. This is reminiscent of the 1980's when Robert Mapplethorpe's show was canceled at the Corcoran Gallery of Art. The WPA (Washington Project for the Arts) picked it up and received many reviews and had much free advertising and visitors as a result. The whole debacle cost the Corcoran, greatly in many ways, and the WPA had never had such crowds. The general public (beyond the art loving public) always seems to want to see anything with this kind of publicity. The small Transformer Gallery is now showing the NPG censored video in their store front window for all DC to see. This small gallery will probably gain immensely in advertising and patronage much as the WPA did in the late 80's. Articles and letters to the editor are being carried in the Washington Post and I'm sure will leak into our local papers and magazines, as well, about having the government decided what is art and what is not. Actually they are deciding what is obscene and should not be seen by the public and at the same time they give the offending artwork great publicity. I don't think these congressmen realize what a great amount of advertising they are giving art when they decide to censor anything. If keeping these 'obscene' artworks away from the general public is their goal, they accomplish just the opposite. The offending video is a short video (4 minutes at the NPG and 30 minutes in its entirety to be shown at the Transformer Gallery) is by David Wojnarowicz who died of an Aids-related illness in 1992. The excerpt was from a 1987 piece titled "A Fire In My Belly, made in honor of Peter Hujar, an artist colleague who died of aids complications in 1987. Many of us in the 80's made art dedicated to censorship and I may have to dig out my old work as it probably is once again relevant. One of the artworks I created in the 80's after the Mapplethorpe incident was called True Obscenity, created in a banner format. I listed everything I thought the government should define as an obscenity like, poverty, war, joblessness, hunger, disease, illiteracy, etc.
There is 1 comment for
Artist censored
by B.J. Adams
Picasso and indigestion
by Paul deMarrais, TN, USA As artists we are supposed to love Picasso, but I can't make it happen. I like his rose period and his blue period with the poetic colors, acrobats and circus performers, but all the work that made him famous that I am supposed to love I find repellent and ugly. I get no feelings from cubism with its funky distortions and dirty dark colors. It's repetitive as well when you see miles and miles of it. Added to this lack of connection with Picasso the artist is my lack of connection with Picasso the woman hating jerk, egomaniac and narcissist. The whole Picasso thing is like the "Emperor's New Clothes" and I expect it is for many who view his work. It's like the chef saying to you "eat this lousy meal, you'll love it!" The man had wondrous drawing skills, even as a teenager. He was Mozart with a pencil, instead of a violin. I am supposed to cheer that he chose to be innovative and to create this huge body of now famous work that made him a multimillionaire a few times over. Picasso is a precursor of Warhol, another famous artist I am supposed to love. I like your image of eating those oysters while digesting the Picasso show. The oysters would go down smoothly, but for Picasso's paintings I am reaching for the antacid tablets.
There are 2 comments for
Picasso and indigestion
by Paul deMarrais
Teaching Cubism
by Norman Ridenour, Prague, Czech Republic I am just now finishing a visual arts course for business students and to keep it manageable most of it was 1815, Romanticism, to early Cubism using The Shock of the New as text. Most of the students had limited exposure to western traditions (Kazakh, Albanian, Uzbek plus two Czechs). Impressionism was strange but they GOT Picasso/Braque and the African link. Picasso is raw meat, feeling barely covered by style. I had Stravinsky's
Rite of Spring
playing as they walked in one day-Cubism in sound. I had fed them beforehand the Gothic handling of perspective, the table top problem and they were able to build a link to Cubist still life. I need to find material on south Asian art to build more ;inks for them but it nearly all in Russian and that is not my list of five languages. The real eye opener of the gallery tour was, Seurat worked in Pixels. It is a long road from my doctorate work in The Spanish Civil War to Art History in Prague. Thanks for your work. You will never know how many of your insights will end up in south Asia. Picasso I get here but I envy you the oysters.
Archived Comments
Enjoy the past comments below for The ultimate curiosity…
Featured Workshop: Julie Gilbert Pollard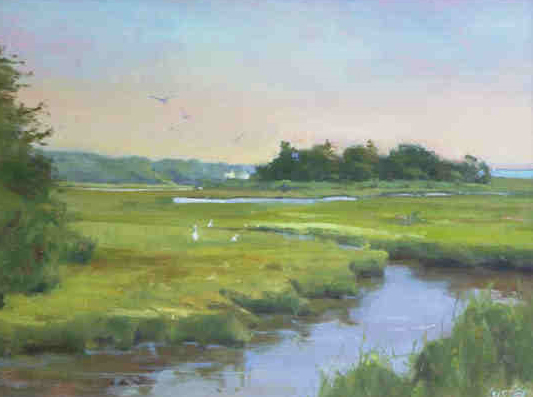 Egret Landing
original painting by Barbara Lussier, CT, USA
You may be interested to know that artists from every state in the USA, every province in Canada, and at least 115 countries worldwide have visited these pages since January 1, 2013. That includes Connie Cuthbertson of Fort Frances, ON, Canada, who wrote, "I was absolutely blown away by a Bernini statue titled
Apollo and Daphne
in the Borghese collection in Rome. The power and passion of this Greek myth forever immortalized in marble has left a lasting impression on me. But I found it interesting how absolutely no handbags were allowed in, but they did permit me to enter with a sketchbook and permanent marker!" And also Yves Dedault of Paris, France, who wrote, "Picasso commendably tried a lot of things, but he was also one of the 20th Century's greatest pioneers of amateurization."
The museum was a hefty bash. For many, seemingly exposed to his originals for the first time, it was puzzling and curious — the prodigious output, the variety of styles, the relentless change, the parade of wives, mistresses, kids. "If you want my biography, look at my art," said Picasso. People were looking closely, glued to their audios. The collection, borrowed from the currently renovating Musee National Picasso in Paris, represents the very hinges of Twentieth Century art. From the first tentative art school efforts to the mature cubist abstracts — and all the periods in between — it's a feast. Behind every work there's a story. In room 5 we see an unresolved return to realistic painting — a delicate portrait canvas of his first wife Olga and another one of their son Paulo. "A deliberate technique," we're told by the intellectual on the audio, "to leave areas unfinished to remind us that we are looking at a painting — an act controlled by the artist." One might also wonder if he abandoned these paintings because he realized he was outflanked in this department by others. It's the story of a life with serial and overlapping women. Beautiful in their distortion, classical, submissive, combative, complacent, unreachable. We come to the reclining nudes, active demoiselles and energetic cubistic torsos — club-footed, sausage-fingered women seen from front and side at the same time. The real thing beats the picture books. You feel his mind, his cover-ups, his impatience, his adulation, his angst, his fetishes. Everywhere is ego, ambiguity, stabbing energy and a flamboyant creativity. In the last room, lettered discreetly across the wall: "God is only another artist. He invented the giraffe, the elephant and the cat. He just goes on trying other things." Best regards, Robert PS: "The rich and the idlers seek the new, the extraordinary, the extravagant and the scandalous. I have contented these people with all the many bizarre things that come into my head. The less they understand, the more they admire it. By amusing myself with all these games, all this nonsense, all these picture puzzles, I became famous. I am only a public entertainer who has understood his time." (