Dear Artist,
Yesterday, Canadian art dealer Joshua Peters sent a letter to friends and patrons of his gallery: "I never thought I would have to say this because it's so fundamental, but ethics matter. We all know this and we're meant to act on this belief, but the sad truth is we're seeing shocking examples of unethical behaviour from art galleries in B.C. and it hurts everyone involved." He cited national news concerning two well-known Canadian galleries recently discovered to be selling consigned artwork without notifying consignors, halting communication with artists and consignors, quietly closing their doors, keeping profits and disappearing.
"I have spent the past week contemplating these responsibilities and decided to formalize them in a written code of ethics," wrote Joshua. "It is a code I believe all art galleries should adhere to and if you decide to read it I would love to hear your feedback. Thank you for your continued trust and friendship which we have so cherished here for the past 59 years."
Having witnessed my Dad conduct business on almost exclusively a handshake over a 50-year career, having done so myself for 30, and having heard from so many other artists – we have all experienced mostly wonderful and productive, respectful and honest professional partnerships, dotted with a small handful of not-so-great apples. I once watched my Dad negotiate for the return of paintings by mentioning that he might ask the over 50,000 subscribers to this letter to write to him if they were also having trouble getting paid, or getting missing paintings returned to their studios. In an industry where artists are easily exploited, this dealer fell to his knees and begged my Dad not to mention him by name.
Sincerely,
Sara
PS: "If your actions inspire others to dream more, learn more, do more and become more, you are a leader." (John Quincy Adams)
Hambleton Galleries Code of Ethics, May 2022
ETHICAL CONDUCT
How we behave matters! The better we act the better humans we will be and the more successful we will be as a business.
Human decency. We know intuitively what is right and our actions are guided by that instinct. This includes:
Honesty. We do not lie.
Genuineness. We do not present a false demeanour.
Reasonableness. We try to do what is fair, not just what benefits us.
People over profits. We do what is right because humans deserve respect and our integrity is more important than profit.
Choosing kindness. Difficult and confrontational situations are unavoidable in life. We strive to choose kindness in those moments.
Professionalism. We have high standards for record keeping, written agreements, and proper behaviour.
Laws. We comply willingly and thoroughly with all laws — including tax and criminal codes — and do not seek to subvert them in any way.
CLIENTS
Our clients are our guests and deserve respect, whether they purchase art or not.
Safe space. Everyone is welcome, period.
Privacy. We do not disclose the purchasers of artwork and work to keep your personal information as safe as possible.
No pressure. We do not employ sales tactics or manipulation to make sales.
Easy as possible. We want clients to enjoy their experience! We try to make purchasing and receiving artwork as simple as we can.
ARTISTS AND CONSIGNORS
Our artists and consignors are the bedrock of our business.
Professional documentation. We create and securely store accurate and complete records for sales, inventory, and payments.
Gallery agreements for artists. Artists deserve security in their partnership with the gallery! We provide thorough gallery agreements to every artist outlining our responsibilities to one another so each party has clarity in the relationship.
Consignment agreements for consignors. Consignors deserve security when entrusting their artwork to us! We provide thorough consignment agreements listing the gallery's responsibilities in caring for and selling their artwork so there is clarity and confidence in the relationship.
Prompt pay. We are the caretakers of the funds obtained for artists and consignors and we pay them promptly and accurately.
Inventory transparency. We do not own the artwork that is entrusted to us. We therefore immediately honour all requests for updated inventories or the return of artwork by an artist or consignor, and we do not withhold the sale status or whereabouts of artwork.
Respect. Artists and consignors are our equal partners and we treat them with courtesy and respect.
Communication. Good communication is essential in all relationships and so we strive to maintain honest and open dialogue with our partners.
Insurance. We properly and fully insure all artwork in our care.
EMPLOYEES
Our employees are bound by this code of ethics and we are responsible for them.
Humans, not resources. We do not treat employees as a resource but rather as the complex individuals that they are! They deserve to be respected and treated well by their employer.
Living wage. We believe that employers have a responsibility to pay a living wage. We do not seek to take advantage of underpaid labour, do not accept work without pay, and do not engage in unpaid internships.
Health benefits. We believe that employers have a responsibility to supplement shortfalls in the social safety net by providing unconditional health benefits.
Discrimination and fair treatment. We do not discriminate based on sex, gender, race, religion, personal beliefs, ethnicity, sexual orientation, or any other unjust basis, and we aim to treat everyone as fairly and equally as possible.
Sexual harassment. We do not tolerate any form of sexual harassment. We take any allegation of abuse extremely seriously and we believe survivors.
ACCOUNTABILITY
We wish to grow and better ourselves, which requires we hold ourselves accountable for our actions and words.
Tell us what we did wrong. We are open to critical feedback! How else will we learn and improve?
Report us. We are members of the Art Dealers Association of Canada (ADAC) and are bound to uphold our code of ethics. If we should fail in this, you may contact them at info@ad-ac.ca or 1-416-934-1583 to discuss your situation.
(Joshua Peters, Owner and Director, Hambleton Galleries)
Esoterica: A few years ago, a gallery consigned a few of my paintings on spec and then started behaving unusually; I didn't hear from them for months, so I emailed to have the work returned. After a week or so, I received a reply that the work had sold and they would pay me in 60 days. This happened three times, with no other communication in between. I pulled the remaining work. (By comparison, my representing dealers are in regular communication about all relevant matters, we take the time to know each other and each other's businesses, we make plans in partnership and they pay weekly or monthly.) I only mention this because sharing these details is hopefully informing and empowering to other artists. While searching for gallery reviews, I found How's My Dealing?, a kind of Glassdoor for artists where you can post anonymously about galleries, dealers, fairs, advisors or artist opportunities and share your experiences with others. I invite collectors and other consignors to check it out, too. If you are sharing, please do so responsibly and with respect and fairness. Together, we can lift and empower the ethical leaders in our industry and avoid the heartache of dealing with those less deserving. "For also knowledge itself is power." (Sir Francis Bacon)
Have you considered a Premium Artist Listing?  With each letter, an artist is featured at the bottom of this page. The Premium Artist Listings are a means of connecting artist subscribers through their work. Proceeds from each listing contribute to the production of The Painter's Keys. 
"Be true to your work, your word, and your friend." (Henry David Thoreau)
Featured Workshop
August 22, 2022 to August 25, 2022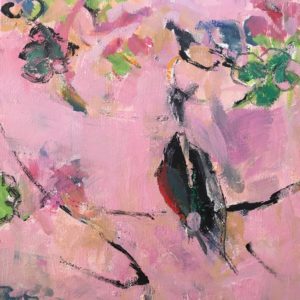 Permission to Paint Expressively Series   Session 2 
August 22-25, 2022 
Join Ellie Harold for "Expressive Painting: Making Your  Marks."  With a focus on intuitive mark-making, this workshop is designed to facilitate a fuller expression of your deepest and most essential artist Self. Content, process and lightly structured exercises give you permission to create the art that wants to be made by you in the safe space of Ellie's studio and the fresh air and cool light of northern Michigan near Sleeping Bear Dunes. You'll return home with a specific art "care plan" to assure support for "Making Your  Marks" in the world. Details and registration at www.EllieHarold.com.
Featured Artist
Essentially I am representational painter, with a real appreciation for the design aspects of abstract art.  By emphasizing strong shape relationships and connecting bands of textural color, I am able to paint the natural world in two dimensional patterns while striving to create interesting three dimensional compositions.  Andrew Wyeth, a realist who has influenced my work, painted very abstract watercolors that helped him explore the possibilities for unusual compositions.  Like him, I value the drama of a strong composition, solid drawing, complex textures, and sumptuous, rich color while attempting to ground the painting's design in essential, free form shapes.  Past Masters who have shaped my artistic direction are: Joaquin Sorolla, John Singer Sargent, Richard Diebenkorn, and the California impressionists. Richard Schmid is a contemporary painter whose instruction has contributed greatly to my ability to capture the light, intimacy, and subtle textures of the hidden landscapes.
I have found painting landscapes in the field to be an adventure of the mind, spirit, and body. It is a personal record of a distinct moment in time that captures an emotional response to a physical reality. Nature is exciting, unforgiving, yet always spiritually rewarding. I am grateful to be able to share this natural beauty with fellow wanderers hoping to discover those special moments.