Dear Artist,
While painting and listening to my sister-in-law, Tamara's podcast recently, American tech consultant Sara Wachter-Boettcher laid out the symptoms of burnout: "An increased sense of depersonalization – feeling distant from people or maybe yourself; exhaustion, foggy brain." Referencing the past two-and-a-half years of global pandemic and its disruptions and reckonings, she said, "For a lot of people, the world has changed and their lives have changed – and so sometimes you don't care about the things you care about just because you're different now." She suggested asking yourself what your "current you" cares about. "When burnout gets bad, people get cynical and that's hard to come back from."
In creative circles, burnout, if caught early, is attended to locally with a salve called, "diffuse thinking mode." The layman's term is "daydreaming." I know it's obvious, but when working toward deadlines, or juggling family life, or grief, daydreaming can tumble from its vital spot at the top of the creative totem pole. Crystallized by Professor of engineering at Oakland University and McMaster University Barbara Oakley in her 2014 book A Mind for Numbers, diffuse thinking is the magic that happens when our minds are free to wander. By breaking up intensive work periods – what scholars call "focussed thinking" – with daydream periods, we have a chance to subconsciously mull over problems and make associations and connections that were not at first apparent. This moment, they say, is the very essence of creativity. Focussed mode, therefore, is for the details; diffuse mode is for this comprehension and context. Here's a simple plan:
Break up studio tasks with non-studio ones, including resting outdoors, walking and talking with fellow travelers.
Spend time at the secondary easel: contemplate unfinished or nearly completed work regularly; step back, position it away from your primary workspace, sit in a comfortable chair.
Take a trip: around the block, around town, around the world.
In A Mind for Numbers, Dr. Oakley offers tools for how to learn new skills – like math – efficiently and effectively. Rather than studying problems with laser-focus until a solution is reached, she suggests stepping away from them in order to allow a more relaxed and creative part of the brain – and its magic – to take over.
Sincerely,
Sara
PS: "We want to be healthy and supportive to the people around us; to know that burnout is not only harming you and those around you can be a wake-up call." (Sara Wachter-Boettcher)
Esoterica: Peter calls it "Working on the business as opposed to at the business." In advertising, his profession of over 25 years, a master cocktail of creativity and hyper attention to detail is essential for good work. These days, he shifts between creative enthusiasm and agency acumen with the rhythm of a road-tested racer. He also knows when to rest. Watching him work his system has taught me that, as a long-time striving artist, my default has probably erred on the side of overwork. Perhaps it's time to adopt the 20-minute snooze my Dad prioritized every afternoon of his life. "Every now and then go away, have a little relaxation," wrote Leonardo da Vinci. "For when you come back to your work your judgment will be surer. Go some distance away because then the work appears smaller and more of it can be taken in at a glance and a lack of harmony and proportion is more readily seen."
Have you considered a Premium Artist Listing?  With each letter, an artist is featured at the bottom of this page. The Premium Artist Listings are a means of connecting artist subscribers through their work. Proceeds from each listing contribute to the production of The Painter's Keys. 
"The best cure for an off day is a day off." (Frank Tyger)
Featured Workshop
August 8, 2022 to August 12, 2022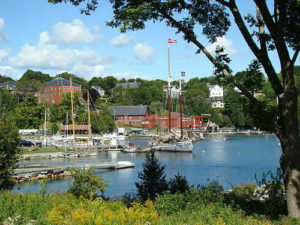 Painting Plein Air on the Coast of Maine
August 8th to August 12th 2022
Adventure-Artists will be painting on the Coast of the United States this summer! This exciting painting and writing opportunity includes instruction and demos of Plein air painting techniques with award winning Artist Sharon Rusch Shaver in inspiring nautical surroundings. Comfortable, en-suite accommodations with balcony views of the harbor, all ground transfers, airport pickup and return, and to painting sites. Join us for a lobster roll or pizza night, and an optional Schooner boat adventure. Walk from your accommodation to the coastal village of Rockport to experience east coast hospitality on your own. $2,950 all Inclusive*, book now for early bird discount! $450 holds your spot. Join us on this next exciting adventure for artists!
Featured Artist
Candace studied at the Ecole des Beaux Arts in Angers, France but it is her travels in the deserts of Africa and Oman, Antarctica and the Arctic, and sacred sights of Machu Picchu and Petra that serve as her true place of learning. A desire to combine these experiences with a deeper understanding of her own spirituality has provided the underlying focus and inspiration for her paintings.