Dear Artist,
Yesterday, Rich Woy of Ocala, Florida asked, "How do you know when a painting is overworked? Are there boundaries or clues? Is this judgment left to the artist or the critic?"
Thanks, Rich. Good question. Funnily, at dinner last night a subscriber happened to mention that I habitually overworked the word "overworked." I had to explain myself.
For sure, it's a term among artists. "Too many notes," said the Emperor-composer Joseph II to Wolfgang Amadeus Mozart. Similar thing comes up in painting. Too many strokes. Having said that, you have to know that tight photo-realism is not necessarily overworked. A close-up look at evolved realism can show understated brushwork and strokes in appropriate places. Overworked mainly applies to expressive, impressionist and broad-treatment works where freshness and surface quality are denied.
Overworking takes place when you lose control. As you fail in facility and freshness, you try to save the day with fiddle and fuss. The passage looks laboured.
Overworking happens when you're overtired, distracted, suffering from desire deficit, and particularly when you're not paying enough attention to reference material or personal creative vision. More crudely, it happens when you don't know what you're doing. The clue comes when you see you've gone too far. Work doesn't look as good as it might. "A painting," says Harley Brown, "is always finished before the artist thinks it is."
While the general public may not be so sensitive to overworking, and sophisticated critics may be looking at other criteria, to the actively creative eye, overworking is easily spotted and often spoils the look of otherwise fine work. Artists have ruses, however. The bad areas can sometimes be obfuscated by nearby passages of bravura or other visual distractions, but smoke and mirrors doesn't always hide the true measure of the artist. The main antidote is to scrape off and start over.
The overwork boundary often lies in the grey zone between the intuitive mode and controlled rendering. The fine art is in watching yourself in the act of intuiting. As Ted Smuskiewicz says, "You learn to leave your strokes alone."
Best regards,
Robert
PS: "Great is the art of beginning, but greater is the art of ending." (Henry Wadsworth Longfellow)
Esoterica: The most powerful antidote to overworking is a habitual, timely pause. Work periods need to be laced with both brief and long ones. Lean back, stand back, walk around, move the work to another easel. In my much-celebrated case of Attention Deficit Disorder, long pauses are difficult, so I work on more than one at a time. As Quebec plein air painter Sylvio Gagnon says, "The best way to finish a painting is to start a new one." In any case, you need to neutralize indecision. "When you've just done it, you're not sure. But when you've sat with it for a couple of hours and you don't want to do anything more to it, that's a great feeling." (Damien Hirst)
This letter was originally published as "Overworked" on May 13, 2008.

Have you considered a Premium Artist Listing?  With each letter, an artist is featured at the bottom of this page. The Premium Artist Listings are a means of connecting artist subscribers through their work. Proceeds from each listing contribute to the production of The Painter's Keys. 
"We only have our nervous system to paint." (Francis Bacon)
Featured Workshop
June 27, 2022 to June 30, 2022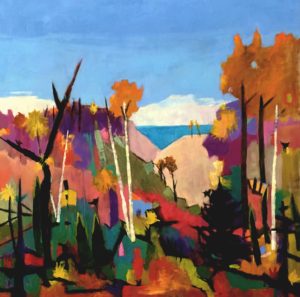 Permission to Paint Expressively Series   Session 1     
June 27-30, 2022
Join Ellie Harold for "Expressive Painting: Color from the Inside Out."  Do you struggle with color? For chromophobics or anyone who would like greater freedom in their use of color, this workshop focuses on activating and applying your innate color sense. Content, process and lightly structured exercises allow you access to a wider range of color expression in the safe space of Ellie's studio, located only 3 blocks from Lake Michigan near Sleeping Bear Dunes. "Expressive Painting: Color from the Inside Out" has the potential to transform not only your art but your life! Details and registration at www.EllieHarold.com.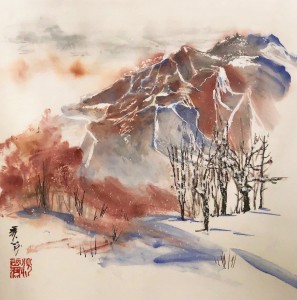 Midwinter Chill
Featured Artist
Los Angeles-based artist Lisa Chakrabarti works in a variety of media: oils, acrylics, pastels, watercolors, graphite and colored pencils. Focusing on a style she calls "romantic naturalism" – impressionism based largely on subjects in the natural world – her works have found their way into galleries in Los Angeles, Florida, Colorado and New York. In 1995, after being introduced to sumi-e and Chinese ink painting by Asian friends, Lisa became captivated by the apparent freedom and subtlety of this ancient medium.  This shift in focus has informed her work ever since.