Dear Artist,
A friend's high schooler recently mentioned she was working on a still life assignment. "What are you doing?" I asked. "I've only just started," she replied. Without a beat, I blurted a rhapsody of how she might go about such a fun activity. She nodded warmly. Later in bed – while dreaming of still life – I wondered if my zealous instructions had been clear enough. I texted images of still life heroes to inspire her. I remembered what a valuable exercise the whole set up and activity can be, in general. Anyone – and I mean anyone – from a preschooler to a centenarian can do this and get thrilling results.
Choose a spot in your house or studio with a good source of light. Because still life is so controllable, you can even test the light by placing an object in front of, behind or perpendicular to it and see what feels interesting or is most effective. Let the day pass. Look on your object for cast shadows, hard shadows, gradations in shadow, and from warm to cool.
Next, gather up a few items from around the house or garden. Choose vessels, objects, plants and/or textiles of varying sizes. Classics include a half-filled clear glass jar or vase, a couple of stems, a pitcher, animal skulls, shells, feathers or other signifiers of nature. Riding stuff like boots and hats. Table settings, books. I once visited a class of first-graders. When it was time to draw, I asked them to throw their shoes into a pile in the middle of the room – they immediately went to work.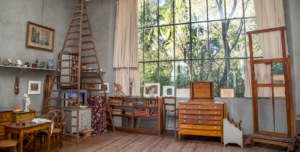 Now, step back and set up at a middle distance from the arrangement.
Grab a viewfinder. If you don't have one, use a slide mount or make your own from a piece of cardboard by cutting a small rectangle in the middle of it. The goal here is simply to have a small window you can look through.
Hold the viewfinder up to your eyes and slowly move it away from your face while looking through it. This allows you to consider a cropped composition, that, in turn, transforms your arrangement into an abstraction of form, negative and positive space and value. You are helping yourself forget what the objects are for the time being, so you can study what they look like as form, together. "I do not know if you bridle your pen," wrote Henri de Toulouse-Lautrec, "but when my pencil moves, it is necessary to let it go, or – crash! Nothing more."
Sincerely,
Sara
PS: "With an apple I will astonish Paris." (Paul Cézanne)
Esoterica: "There is no abstract art," wrote Pablo Picasso. "You must always start with something. Afterwards you can remove all traces of reality. There's no danger then, anyway, because the idea of the object will have left an indelible mark." Also, if you're thinking of skipping the viewfinder, I implore you to not. I gave every one of those first graders a slide mount. "Composition, the aim of which is expression, alters itself according to the surface to be covered," wrote Henri Matisse. "If I take a sheet of paper of given dimensions, I will jot down a drawing which will have a necessary relation to its format."
Have you considered a Premium Artist Listing?  With each letter, an artist is featured at the bottom of this page. The Premium Artist Listings are a means of connecting artist subscribers through their work. Proceeds from each listing contribute to the production of The Painter's Keys. 
"Fruits… like having their portrait painted. They seem to sit there and ask your forgiveness for fading. Their thought is given off with their perfumes. They come with all their scents, they speak of the fields they have left, the rain which has nourished them, the daybreaks they have seen." (Paul Cézanne)
Featured Workshop
August 22, 2022 to August 25, 2022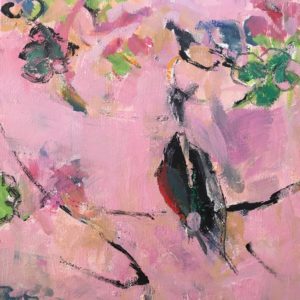 Permission to Paint Expressively Series   Session 2 
August 22-25, 2022 
Join Ellie Harold for "Expressive Painting: Making Your  Marks."  With a focus on intuitive mark-making, this workshop is designed to facilitate a fuller expression of your deepest and most essential artist Self. Content, process and lightly structured exercises give you permission to create the art that wants to be made by you in the safe space of Ellie's studio and the fresh air and cool light of northern Michigan near Sleeping Bear Dunes. You'll return home with a specific art "care plan" to assure support for "Making Your  Marks" in the world. Details and registration at www.EllieHarold.com.
Featured Artist
My aim as a painter is to bring to life a slice of the world as I experience it. Light, color and form are my vocabulary.