Dear Artist,
Vincent van Gogh died in 1890. Theo van Gogh, art dealer and brother of Vincent, died six months later, in 1891. Johanna, Theo's wife, inherited all the shop remainders including virtually all of Vincent's work. She soon moved with her small son from Paris to Bussum near Amsterdam. Johanna, age 29, went into distribution mode.
Reading the brothers' correspondence, she became convinced of her brother-in-law's genius and set about to do the right thing by him. "I am living wholly with Theo and Vincent," she wrote in her diary, "Oh, the infinitely delicate, tender and loving quality of that relationship." Placing work in various commercial galleries in the Netherlands, she also arranged for the gifting of works to strategic museums. It was hard going at first — people laughed at Vincent's work. The critics were skeptical at best, but in the end her writings and her persistent, visionary advocacy fanned the Vincent flames. She typed and revised the Theo-Vincent letters, finally publishing many of them in Dutch in 1914. When she died in 1925, she was still working on letter 526. Johanna also assisted in publishing a handbook for detecting Vincent forgeries.
In the "all's well that ends well" story of artists' lives and successes, there are worthwhile prerequisites. Some artists try some of them so the fruits of their labour can be enjoyed while their creators are still walking around. Vincent, who never saw a guilder from his art, had benefit of all five of the prerequisites:
Distinctive, recognizable style
Limited supply (200, plus drawings)
Controlled distribution (one caring person in charge)
Story (failure, poverty, passion, health issues, ear-off)
Tragic, preferably early, end (shot himself)
A shot of nepotism helps too. The van Goghs and the Bongers (Johanna's maiden name) were educated, professional, well connected and upwardly mobile. Vincent was the black sheep. It was Vincent's publisher-uncle C. M. van Gogh who was first in print with Vincent's story. Another uncle designed the Stedelijk Museum in Amsterdam. Johanna was herself a sensitive, literate yet practical type who spoke and wrote beautifully in three languages. After thirty years of hard work, she finally and graciously consented to allow England's National Gallery to buy Vincent's "Sunflowers."
Best regards,
Robert
PS: "Everything is but a dream!" (Johanna van Gogh, 1891)
Esoterica: It may take bereavement, another generation, or a canny dealer to see preciousness and perhaps value in a body of work. The combination of hoarding and distribution is part of the art. Work should not be too readily released or made commonly available to just anyone. Stratospheric prices come after the groundwork is laid. After that, as in the National Gallery, "Sunflowers" are now made available on mugs, calendars, shirts and brassieres. Theo and Vincent now lie side by side in the cemetery at Auvers-sur-Oise. If those two idealists hear about those mugs, they'll be rotisserating in their graves.
This letter was originally published as "Johanna van Gogh" on May 16, 2008.

Have you considered a Premium Artist Listing?  With each letter, an artist is featured at the bottom of this page. The Premium Artist Listings are a means of connecting artist subscribers through their work. Proceeds from each listing contribute to the production of The Painter's Keys. 
"What would life be if we had no courage to attempt anything?" (Vincent van Gogh)
Featured Workshop
August 8, 2022 to August 12, 2022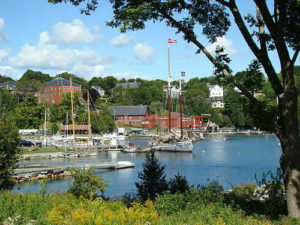 Painting Plein Air on the Coast of Maine
August 8th to August 12th 2022
Adventure-Artists will be painting on the Coast of the United States this summer! This exciting painting and writing opportunity includes instruction and demos of Plein air painting techniques with award winning Artist Sharon Rusch Shaver in inspiring nautical surroundings. Comfortable, en-suite accommodations with balcony views of the harbor, all ground transfers, airport pickup and return, and to painting sites. Join us for a lobster roll or pizza night, and an optional Schooner boat adventure. Walk from your accommodation to the coastal village of Rockport to experience east coast hospitality on your own. $2,950 all Inclusive*, book now for early bird discount! $450 holds your spot. Join us on this next exciting adventure for artists!
Featured Artist
The way that I interpret what I see
is my Way.
I paint, because it's the most satisfying way that I've found
to be myself.
Fish swim.
Birds fly.
I paint.
Boldly.
On canvas,
with acrylics.